Ovation TV adds Agatha Christie's Partners in Crime to its Saturday Night Mysteries lineup starting next month.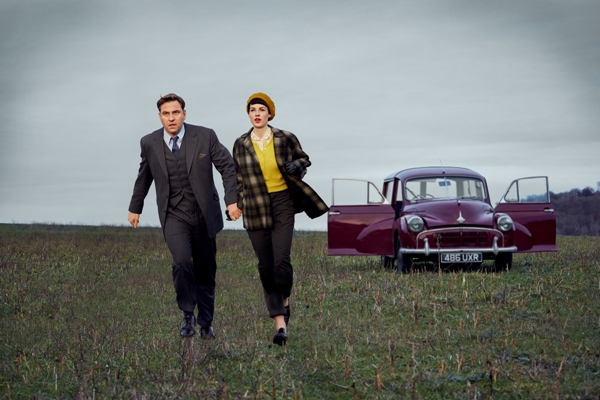 Based on Agatha Christie's 1922 novel The Secret Adversary and the 1941 novel N or M?, Agatha Christie's Partners in Crime stars David Walliams (Little Britain, Big School) and Jessica Raine (Call the Midwife, Baptiste) as two of the author's most beloved characters, suburban married couple Tommy and Tuppence Beresford.
The six-part espionage adventure series follows Tommy and Tuppence as they solve mysteries and foil plots in 1950s Cold War Britain. They may approach their cases in a somewhat haphazard manner, but their natural guile and derring-do are more than a match for the spies, assassins, and double agents that stand in their way.
The series comprises two stories: "The Secret Adversary," in which our heroes search simultaneously for a missing girl and a recording that could identify a Soviet hit man living within their midst, and "N or M?", where Tommy and Tuppence must identify which person in a guesthouse in a coastal town has stolen a nuclear bomb — before it's too late.
Agatha Christie's Partners in Crime premieres on Ovation TV with its first episode on Saturday, June 13, at 7 PM ET / 4 PM PT. The rest of the episodes will air on subsequent Saturdays (except July 4) at the same time. (Episodes will also be available on Ovation NOW and on demand.) Descriptions are below.
"The Secret Adversary, Part 1" (June 13th, 7 PM ET / 4 PM PT)
On a train from Paris, Tommy and Tuppence meet an agitated young woman who mysteriously disappears, and Tuppence is determined to find her. Major Anthony Carter (James Fleet, The Vicar of Dibley), Tommy's uncle who works for the "Third Floor," a branch of British military intelligence, warns them off, but soon the pair is searching for the woman, a secret recording, and a Soviet hit man named Brown.
"The Secret Adversary, Part 2" (June 20, 7 PM ET / 4 PM PT)
Tommy is mistaken for a wealthy mastermind who is working with Brown's violent criminal gang, and Tuppence takes a job as maid to Rita Vandemeyer (Alice Krige, The Syndicate), a faded soprano with ties to Brown. Vandemeyer receives a package from Brown, Major Carter is no help at all, and the Beresfords work to maintain their cover in the face of increasing peril.
"The Secret Adversary, Part 3" (June 27, 7 PM ET / 4 PM PT)
With Tommy's cover blown, the gang gives him an assignment: steal a file from the Third Floor or risk the life of his young son, George. Tommy gets the file with help from Tuppence, and the Beresfords race to foil a plot that threatens the British government.
"N or M? Part 1" (Saturday, July 11, 7 PM ET / 4 PM PT)
There's a leak on the Third Floor, and Tommy is the only man Major Carter can trust. Carter sends him on a mission so secret that he can't even tell Tuppence: find a missing British scientist, a nuclear bomb, and a Soviet spy code-named N… or is it M? Tommy goes in search of the kidnapper, but Tuppence is two steps ahead of him.
"N or M? Part 2" (Saturday, July 18, 7 PM ET / 4 PM PT)
When their prime suspect turns up dead, the Beresfords look elsewhere for the bomb thief. Tommy thinks it's Carl Denim (Ed Speleers, Downton Abbey), a beatnik who's flirting with Tuppence, while she thinks it's the glamorous Mrs. Sprot (Christina Cole, Lost in Austen), who has her eye on Tommy — who lets his guard down and ends up in trouble.
"N or M? Part 3" (Saturday, July 25, 7 PM ET / 4 PM PT)
Tommy finds the missing scientist, but both of them are held captive while the agent's identity is still unknown. Luckily, the scientist hid an important key to the bomb before his capture. Tuppence comes to the rescue, and together she and Tommy attempt to retrieve the key, but danger lies in wait. The Beresfords turn to Carter for help in devising a risky plan to save thousands of innocent lives.
__________________

Add your comments on our Facebook and Twitter pages.
Share this post/page.

Outbound links on this page include non-affiliate links and affiliate links; the latter allows us to earn income for qualifying actions.
Agatha Christie's Partners in Crime: Mystery Series Begins Airing in June on Ovation TV