Psychopaths hide in plain sight in the British thriller Cheat, even on a college campus.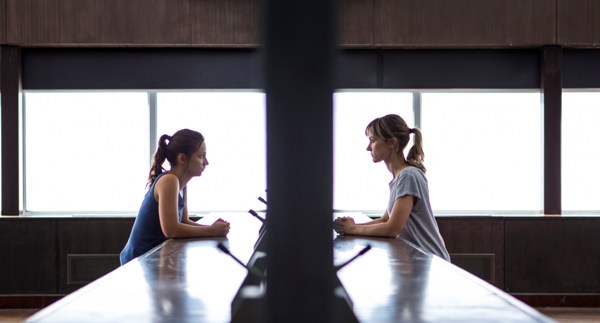 Set in and around the fictional St. Helen's College (which looks remarkably like Cambridge University), Cheat follows the tense-and-getting-ever-tenser relationship between Leah (Katherine Kelly, Criminal: UK, Class, Mr. Selfridge), a lecturer, and Rose (Molly Windsor, Three Girls, The Runaways, Make Up), one of her students.
While awaiting word about whether she will get a permanent position at the school, Leah goes about the business of teaching, including lecturing and grading papers. One amongst the recent batch catches her eye, as its rich content and style are dramatically better than the works previously submitted by the same student: Rose. A meeting between them about the paper doesn't clear things up; rather, it's the beginning of some very nasty business.
Things for Leah aren't so terrific on the home front either. She and husband Adam (Tom Goodman-Hill, Humans, Mr. Selfridge), also a lecturer, have been trying to have a baby. So far, they've been unsuccessful, and he isn't very gracious toward Leah about it. Nor is he very understanding about her situation with Rose. (He's a bit of a cad, really.)
Meanwhile, things between the two women are escalating. Then they become deadly.
There are a few tropes in Cheat, and the flash-forwards give glimpses of what's to come. But there is still plenty of suspense from one episode to the next in this four-parter, all leading to the what-the-what? twist at the end.
Cheat premieres in the US today, Thursday, November 21, exclusively on Sundance Now and its digital channels, including Sundance Now on Amazon.
__________________

Add your comments on our Facebook and Twitter pages.
Share this post/page.

Outbound links on this page include non-affiliate links and affiliate links; the latter allows us to earn income for qualifying purchases and actions made through the links.
Cheat: Binge-Worthy Psychological Thriller Premieres in the US