Clunatics, rejoice! The North American debut of the ninth season of Doc Martin, the international hit dramedy now celebrating 15 years on air, happens in a few hours!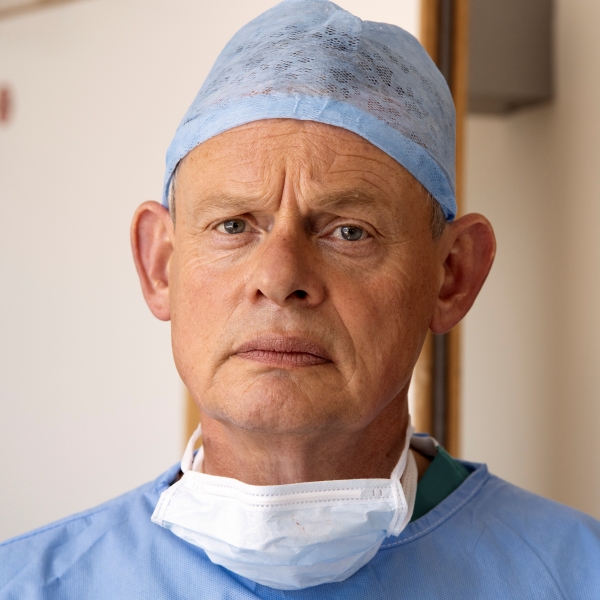 The two-year wait for the new season of Doc Martin is just about over. Hurrah!
The ninth season, which premiered in the UK on ITV roughly six hours ago, is set to make its North American debut tomorrow, Thursday, September 26, exclusively on Acorn TV. (That's just a few hours from now!)
Starring BAFTA winner Martin Clunes (Warren, Manhunt, Men Behaving Badly) as the eponymous tactless, brusque, and blood-phobic GP, Doc Martin first appeared on telly 15 years ago this month. It has since developed a worldwide following of fans and spawned local adaptations in the Czech Republic, France, Germany, Greece, the Netherlands, and Spain.
In "To the Lighthouse," the British version's ninth season opener, Martin helps a woman who's injured in a cattle crush. It is from her and others at the scene that Martin hears the latest village gossip — that he's being forced out as the GP in Portwenn. It's news to him.
The fact of the matter is this: Following his tribunal hearing (in Series 8), it is required that a representative of the General Medical Council (GMC) observe Martin's interactions and work with patients to determine if he should keep practicing or be struck off. The GMC sends Rebecca Hedden (Hermione Gulliford, Monarch of the Glen), a no-nonsense doctor who does more than shadow Martin — and who catches the attention of PC Penhale (John Marquez, In the Club). (As an aside, she reminds me of the Edith Montgomery character in Series 4.)
Meanwhile, Martin's wife, Louisa (Caroline Catz, DCI Banks, Murder in Suburbia), is continuing to pursue her studies to become a child counselor. Then a teacher's comment about a brother or sister for James Henry prompts her and Martin to consider the possibility of having another child.
Elsewhere in the seaside town of Portwenn, Al (Joe Absolom, The Level) is doing his best to make his pub a success, with underappreciated help from girlfriend Morwenna (Jessica Ransom, Our Zoo) and unwanted meddling from dad Bert (Ian McNeice, Doctor Who).
And the widowed Mrs. Tishell (Selena Cadell, Queens of Mystery), she of the unrequited love for Martin, asks his Aunt Ruth (Dame Eileen Atkins, The Crown) for fashion advice — for a date (!) with fellow book club member Donald Abbott (Simon Chandler, Judge John Deed). But their outing at a lighthouse turns into a disaster on multiple levels, and it's Martin to the rescue!
"To the Lighthouse" is everything we've come to know and love about Doc Martin — storylines filled with fun and funny bits as well as medical and interpersonal dramas, all set against the beauty of Cornwall. (The shots of the lighthouse are gorgeous!)
Guest stars in upcoming episodes include Danny Huston (Yellowstone), Conleth Hill (Game of Thrones), and Tom Conti (Parents), as well as Caroline Quentin, Martin Clunes' costar in Men Behaving Badly (who I'm guessing returns as her Doc Martin character, Angela Sim).
Series 9's eight new episodes will premiere weekly in the US, Canada, and Mexico exclusively on Acorn TV — only a day after they air for the very first time in the UK — on Thursdays from September 26 through November 14.
__________________

Add your comments on our Facebook and Twitter pages.
Share this post/page.





Outbound links on this page include non-affiliate links and affiliate links; the latter allows us to earn income for qualifying purchases and actions made through the links.

Doc Martin: Series 9 Set to Debut in the US, Canada & Mexico