Inspired by the hit BBC podcast, Brexitcast aims to deliver geeky and cheeky insights into the complicated world of Brexit. And it's coming to the US.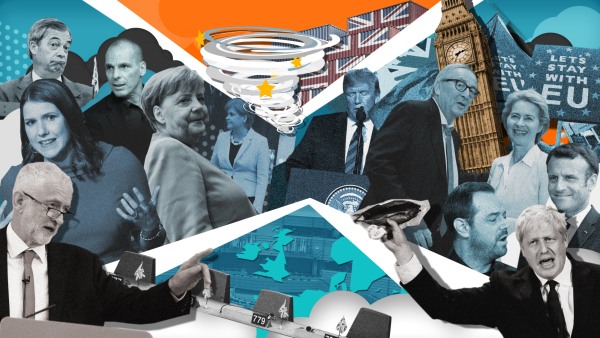 With UK Prime Minister Boris Johnson having prorogued Parliament until mid-October, and there being just six weeks left until the October 31st deadline for the UK to leave the European Union (EU) — deal or no deal — a Brexit-specific TV program couldn't be timelier.
Enter Brexitcast.
Recently launched on BBC One, Brexitcast — the first BBC podcast to be commissioned as a television program — will make its debut on this side of the pond tomorrow, September 19, exclusively on BritBox.
The show is inspired by the incredibly popular BBC podcast of the same name, which was launched in June 2017, a year after the referendum in which 52% of UK voters supported the UK's withdrawal from the EU.
Featuring geeky and cheeky insights into the complicated world of Brexit from Westminster and Brussels, both the Brexitcast podcast and TV show are anchored by BBC political editor Laura Kuessenberg, Europe Editor Katya Adler, Europe Correspondent Adam Fleming, and Political Correspondent Chris Mason.
The Brexitcast podcast, which won the Listeners' Choice accolade at the British Podcast Awards back in May, will still be available to listen and download on BBC Sounds (accessible in the US as well as UK) as weekly episodes, with special editions recorded as unpredictable and momentous Brexit developments dictate.
__________________

Add your comments on our Facebook and Twitter pages.
Share this post/page.





Outbound links on this page include non-affiliate links and affiliate links; the latter allows us to earn income for qualifying purchases and actions made through the links.

Brexitcast: First BBC Podcast-Turned-TV Show Set to Premiere on BritBox US