Manhunt took UK viewers by storm in January, and its North American debut next week could very well be your next watched-it-all-in-one-sitting binge.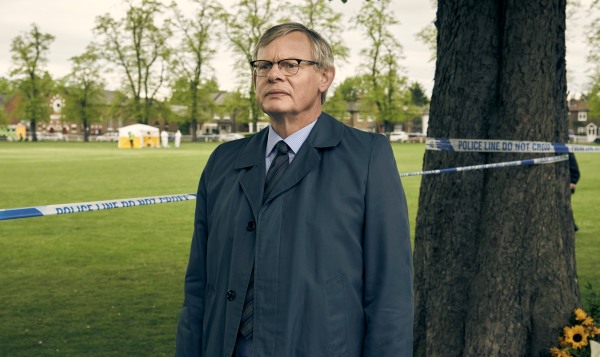 The real-life story of Manhunt centers on a murder investigation and the painstaking work done by the Senior Investigating Officer and his team to link this homicide to two other murders and to catch the serial killer who committed them.
That officer is now-former Detective Chief Inspector Colin Sutton, an actual investigator with the Metropolitan Police in London, whose memoir Manhunt recounts the police efforts on the case and serves as the basis for the television series. Delivering an understated yet forceful and convincing performance as Sutton in the drama is Martin Clunes (Doc Martin, Arthur & George).
On the evening of August 19, 2004, Amélie Delagrange is brutally attacked on Twickenham Green. The 22-year-old French national later dies of her injuries.
DCI Sutton, a dedicated, hard-working and instinctive senior detective, is assigned to the Delagrange homicide case as the SIO. The postmortem reveals the victim died from injuries caused by a weapon comparable to the one used in the 2003 murder of Marsha McDonnell. Sutton believes the two cases could be related. His bosses don't.
Regardless, the DCI and his team must get cracking in order to stand a chance of catching Amélie's killer. With no witnesses, no forensics, and no apparent motive, the officers start with what they do have: CCTV footage and the River Thames. Sutton also sees a similar victimology in an attack that happened near the green a few months earlier.
"What have you found? What does it mean? And what do we do next?"
— DCI Colin Sutton
The investigation is painfully slow-going, but Sutton's determination and tenacity on the case, his methodical investigative approach, and the diligence of his fellow officers result in a couple of breaks in the case. Coupled with a concerned citizen's statement, Sutton is now onto Levi Bellfield (Celyn Jones, Above Suspicion).
Once Bellfield is in custody, Sutton et al. have a big problem: evidence. As in the lack thereof. Now the cops must race against the 72-hour holding clock to secure evidence that will give them grounds to formally charge Bellfield with murder.
If all that stress weren't enough for Colin, there is his now-failing marriage to Louise (Claudie Blakley, Lark Rise to Candleford), an analyst with the Surrey Police — which plays a role in his investigation.
While watching Manhunt, I was reminded of the miniseries Code of a Killer, another binge-worthy police procedural-historical drama (one of my favorite new shows of 2017) that features a dog-on-a-bone detective and meticulous police work. Unlike it, though, the success in catching the killer in Manhunt is bittersweet.
Still, the three-part drama is quite compelling and well worth a watch.
Costarring as Sutton's team members and colleagues at the Met are Katie Lyons (Bluestone 42), Stephen Wight (The Paradise), Steffan Rhodri (Gavin & Stacey), James Puddephatt (Dalziel and Pascoe), Cornelius Booth (Pride & Prejudice), Steve Furst (Father Brown), Jay Taylor (Prime Suspect: Tennison), Peter Forbes (Victoria), Philip McGinley (Game of Thrones), and Nicholas Burns (The Crown).
Christopher Fulford (The Brief) and Howard Ward (Downton Abbey) also feature in the limited series written by Ed Whitmore (Silent Witness, Strike Back) and directed by Marc Evans (Safe House, Hinterland).
Manhunt, an Acorn TV Original series, premieres in the US on Monday, March 11, exclusively on Acorn TV and the Acorn TV channel on Amazon.
__________________

Add your comments on our Facebook and Twitter pages.
Share this post/page.

Manhunt: Riveting True-Crime Drama Starring Martin Clunes Set to Premiere in the US, Canada & Mexico