It has action. It has drama. It has eight binge-worthy episodes. It is Cuffs, a top-notch cop drama that is finally available in the US.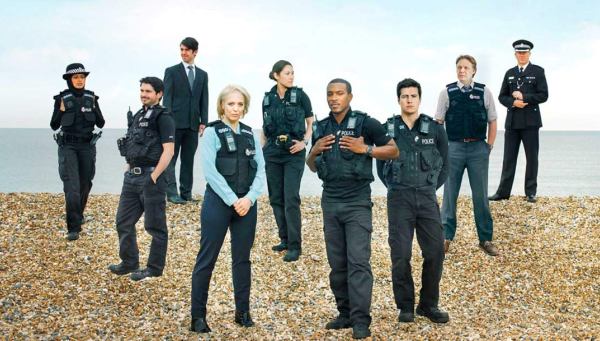 Cuffs is a tough and gritty cop drama that follows uniformed cops on the streets of Brighton and plain-clothes detectives working in and out of their South Sussex Police offices.
It opens on PC Jake Vickers' (Jacob Ifan, Bang) first day on the job. Chief Supt. Robert Vickers (Peter Sullivan, The Borgias) has hand-picked PC Ryan Draper (Ashley Walters, Top Boy) to be the tutor constable for Jake and to mentor his son in what it takes to be a good copper.
Suffice it to say that things do not start off well for Jake.
During his first shift, Jake and his fellow officers respond to incidents involving the harassment of people at a naturist beach, the vicious attack of an Asian man in a shop, a child abduction, a mentally unstable man's self harm, and two daylight robberies — including the heist of an ATM.
It isn't just Jake; things don't happen without a hitch for his colleagues, either. And not every incident has a tidy and happy ending.
But Jake does save someone from what could have been a fatal attack. And he's caught the eye of the dishy (but kinda skeevy) duty solicitor, Simon Reddington (Andrew Hawley, Borgia).
Off the job, the lives of some officers are more complex than others. DS Jo Moffat (Amanda Abbington, Sherlock) is having an affair with the Chief Super, whose wife is ill with cancer. DI Felix Kane (Paul Ready, The Terror) has a particular, um, interest that he wrestles with himself about. And the widowed PC Draper is doing his best to raise his son and daughter.
The series costars Shaun Dooley (Gentleman Jack) as DC Carl Hawkins, Alex Carter (Dark Heart) as PC Lino Moretti, Eleanor Matsuura (Shetland) as PC Donna Prager, Karen Bryson (Safe) as Custody Sgt. Melanie Pyke, Bhavna Limbachia (Coronation Street) as PC Misha Baig, and Robbie Gee (The Frankenstein Chronicles) as Duty Inspector Graham Webb.
Cuffs, which arrived in the US on August 2nd, is currently available for streaming on Prime Video. Go check it out!
__________________

Add your comments on our Facebook and Twitter pages.
Share this post/page.

Brit TV Binge-Watch: Awesome Cop Drama 'Cuffs'