Get your binge on with Bang, the part mystery, part thriller, and entirely can't-miss drama that premiered in the US yesterday.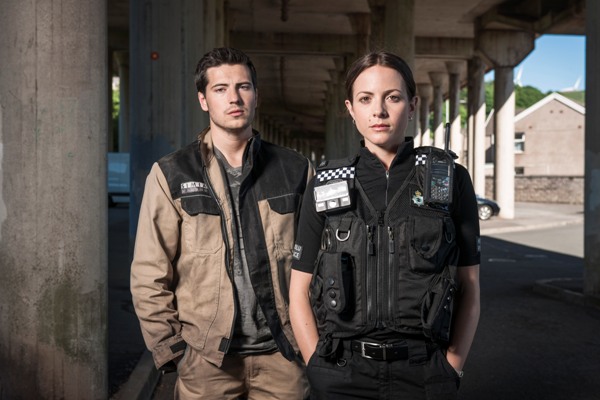 Bang opens in 1995 with the murder of Gwyn Jenkins, a husband and father who is shot to death by a shadowy figure in front of his young son, Sam (Jacob Ifan, Cuffs, Hinterland).
Fast forward to 2017. In the steel town of Port Talbot, a couple of violent hooligans hold up a pool hall. While police officers Gina Jenkins (Catrin Stewart, Stella, Doctor Who) and Luke Lloyd (Jack Parry-Jones, Our Girl, The Crimson Field) are making inquiries, they discover the corpse of local businessman Stevie Rose.
Gina is Sam's sister, a cop with a lot of ambition, a lack of patience, and a convenient disregard for police protocol or authority. While she's chasing down criminals, Sam's living within spitting distance of a couple of them on a housing estate.
And Sam isn't above committing crime himself. A troubled loner and ne'er-do-well who ran away from home to his beloved nan's house as a teenager, he's now on a zero-hour contract job at a distribution warehouse where he nicks personal electronics that he sells on the street for quick cash.
Then Sam gets hold of a gun.
Newly-emboldened by the weapon, he continues thieving and begins terrorizing.
Meanwhile, Gina gets a temporary promotion from her boss and lover, DCI Carl Roberts (Gareth Jewell, Keeping Faith, The Indian Doctor), and is brought into the Stevie Rose homicide investigation. The case becomes more complex after the dead bodies of not one but two additional victims are discovered.
Then Gina learns disturbing details about Gwyn, prompting her to question everything she knew about her father and to conduct her own inquiries into his life and murder.
Elsewhere in Port Talbot, Sam's life is in danger.
Before all is said and done, yet another person will be dead and a killer will be revealed.
Three things make Bang such a brilliant and compelling watch. One is its storyline, whose essence is the relationships of the characters — between family members, lovers, colleagues, and adversaries.
Another is the characters themselves. From the sympathetic and the utterly hateful, to the willful and the willfully ignorant, these individuals are accessible, if not wholly relatable or likable, as they reflect a range of human foibles, frailties, and failings that viewers easily grasp, regardless of agreement.
Last but certainly not least is the deft handling of the narrative's intricate threads by writer Roger Williams (Tir) and directors Philip John (Downton Abbey) and Ashley Way (Torchwood). Of note are certain reveals that force us, the audience, in those moments to get reoriented, shift our context, and plot a different path for the story in our minds.
The series, whose second season is in development, just won the 2018 BAFTA Cymru Award for Best Television Drama.
The eight-episode first season co-stars Suzanne Packer (Keeping Faith), Chris Reilly (The Last Post), and Nia Roberts (Hidden), and features Sarah Lloyd (The Indian Doctor), Gwyneth Keyworth (Doctor Thorne), Matthew Aubrey (The Passing Bells), and Gillian Elisa (Hidden).
The bilingual Welsh and English Bang is currently streaming in the US on Acorn TV and the Acorn TV channel on Amazon. Go check it out!
__________________

Add your comments on our Facebook and Twitter pages.
Share this post/page.

Binge-Watch of the Week: Unmissable Welsh Drama 'Bang'