HBO and the BBC announced today that they have renewed Gentleman Jack, one of the best new dramas of the year, for a second season.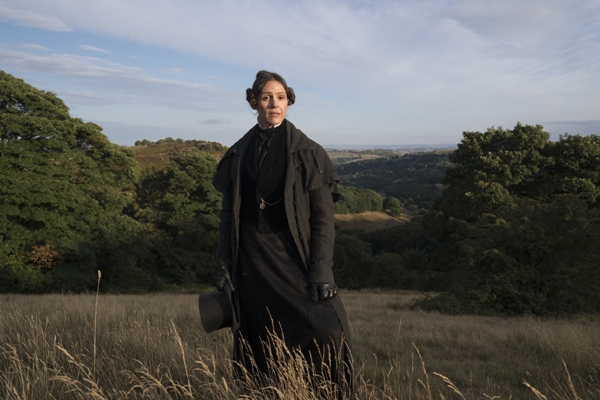 Created, written, and co-directed by BAFTA Award winner Sally Wainwright (Happy Valley, Last Tango in Halifax), Gentleman Jack stars fellow BAFTA winner Suranne Jones (Doctor Foster, Save Me) as Anne Lister, the real-life English landowner who lived life fully and on her own terms and bucked society's expectations at every turn.
The series — funny, heartwarming, and inspiring — is solidly entertaining. And Jones, who gives a rousing performance as the charismatic, wise, and witty Anne Lister, is fabulous.
Set in 1832 Halifax, West Yorkshire, the first season follows Lister, suited and booted from head to toe in black, as she sets about transforming her ancestral home of Shibden Hall by reopening the coal mines, as well as wooing Ann Walker (Sophie Rundle, Jamestown, Peaky Blinders), a wealthy heiress that Lister falls in love with and wants as her wife.
Said Sally Wainwright about the show's renewal:
"It's so exciting that so many people have had such a positive response to Suranne's exuberant performance as the brilliant, life-affirming Anne Lister and to Sophie Rundle's beautiful performance as her courageous partner, Ann Walker. I'm utterly delighted that we've been recommissioned, because there are so many more big, bold stories to tell about Anne Lister and Ann Walker. A massive thank you to the BBC and HBO and to everyone at Lookout Point."
Added Suranne Jones:
"I'm so thrilled that I will be joining Sally Wainwright on the second part of Anne's journey. We always dreamed there would be more, and now we get to play it all out. A huge thank you to the BBC, HBO and Lookout Point for giving us our second series. It's such amazing and positive news. I love working with the brilliant and talented Sophie Rundle and can't wait to create some more Lister and Walker moments with her too."
Based in historical fact, the show examines Lister's relationships with her family, servants, tenants, industrial rivals, and would-be wife. The real-life Anne Lister had recorded her story in the five million words of her diaries, nearly a million of which were written in a code that she devised, since decoded and revealed for the series.
Costars in Season One include Gemma Whelan (Game of Thrones) as Anne Lister's sister, Marian; Timothy West (Bleak House) as Jeremy Lister, the sisters' father; Gemma Jones (Unforgotten) as their Aunt Anne Lister; Peter Davison (Doctor Who) as William Priestley, Ann Walker's cousin; Amelia Bullmore (Scott & Bailey) as Eliza Priestley, William Priestley's wife; Stephanie Cole (Doc Martin) as Ann's Aunt Caroline; Vincent Franklin (Cucumber) as Christopher Rawson, a fierce business rival to Anne Lister; Shaun Dooley (Gunpowder) as Jeremiah, Christopher's brother and business partner; and Rosie Cavaliero (The Enfield Haunting) as Elizabeth Cordingley, the Listers' housemaid.
Produced by Lookout Point for HBO and BBC One, Season One of Gentleman Jack is written by Sally Wainwright; directed by Sally Wainwright, Sarah Harding and Jennifer Perrott; produced by Phil Collinson; and executive produced by Sally Wainwright, Faith Penhale and Laura Lankester for Lookout Point and Ben Irving for BBC One.
The US premiere of Gentleman Jack continues on Monday evenings at 10 PM ET through June 10 on HBO, as well as HBO GO, HBO NOW and the HBO channel on Amazon.
__________________

Add your comments on our Facebook and Twitter pages.
Share this post/page.

Gentleman Jack: HBO & BBC Renew Historical Drama for Second Season