London Kills returned today with members of the Murder Investigation Team investigating several homicides… and their boss.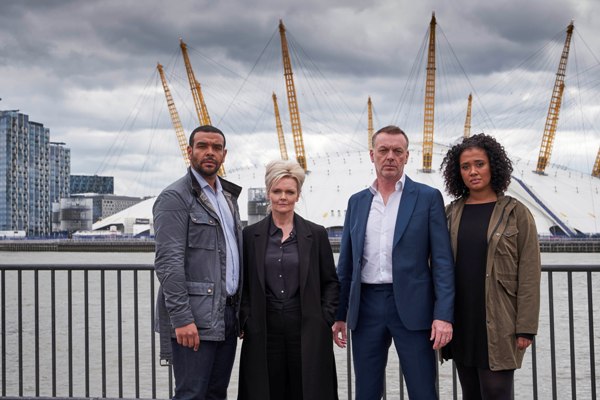 After that "what the what!" cliffhanger in Series 1 of London Kills, I was looking forward to seeing how it would be brought to a conclusion in Series 2, which, thankfully, debuted today in the US — just five months after the series premiere — rather than in, say, 2020.
I won't get into spoilers but will say the resolution is quite satisfactory. Before it comes about, though, another mystery arc is introduced: Who are the woman and baby that DI David Bradford (Hugo Speer, The Musketeers, Father Brown) has been seeing on the q.t.?
DS Vivienne Cole (Sharon Small, Inspector Lynley Mysteries, Mistresses) and DC Rob Brady (Bailey Patrick, Good Omens, Bodyguard) suspect something is up, especially when Rob catches David in a lie, so the pair launch their own private and unofficial investigation.
With regard to official police business, the entire Murder Investigation Team, including TDC Billie Fitzgerald (Tori Allen-Martin, Pure, Unforgotten), who recently returned to work after being nearly fatally injured in the line of duty, has several cases to investigate. The first concerns the discovery by construction workers of a skeleton buried in the ground in the Camden section of London. Others involve the bludgeoning death of a publican, the murder of a Portuguese au pair, two apparent gangland assassinations, and the killing of a cab driver.
Then, as the last case is solved and the team is taking a breath, comes another cliffhanger.
Now the mystery for viewers is: Will the be a Series 3 of London Kills?
Guest stars in the new season include Sophie McShera (Downton Abbey).
London Kills: Series 2 is currently streaming in the US exclusively on Acorn TV, as well as on the Acorn TV channel on Amazon.
__________________

Add your comments on our Facebook and Twitter pages.
Share this post/page.

London Kills: New Season of Bingeable Crime Drama Premieres in the US