Tomorrow is Independence Day in the US, so if you have the day off and prefer watching British TV to attending a parade or cookout, here are seven recent shows worth bingeing.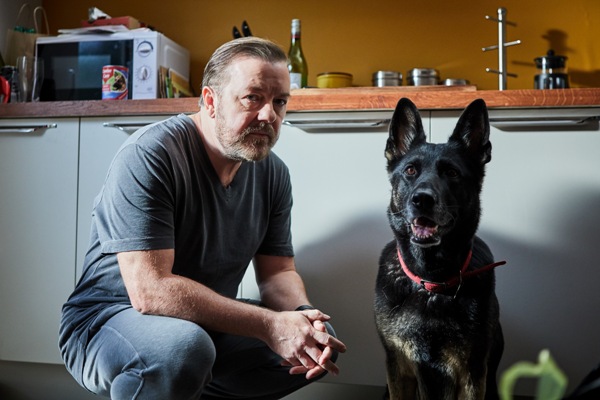 After Life
Ricky Gervais (The Office) reunited with his Derek costar Kerry Godliman (Save Me) for this brilliant comedy-drama series in which he plays Tony, a reporter for a local paper who takes a bleep-you attitude toward life and everyone in it following the death of his wife Lisa (Godliman). In mourning her and believing he has nothing left to lose, Tony says and does what he wants with abandon. The show is by turns heartbreaking and hilarious. Where to watch: Netflix
This miniseries is a standout. The narrative revolves around the Chernobyl nuclear power plant disaster in April 1986, and most of the persons and events depicted are real. Jared Harris (Mad Men) stars as nuclear energy expert Valery Legasov, and Stellan Skarsgård (River) stars as Soviet politico Boris Shcherbina; their characters oversee the clean-up effort and expose the deceit that led to the worst nuclear accident in history. Emily Watson (The Politician's Husband) stars as Ulana Khomyuk, a fictional character representing the myriad scientists who helped solve the nuclear reactor issue in the aftermath of the disaster. Where to watch: HBO (online), HBO on Amazon
Filled with romance, magic and thrills, this delicious supernatural drama, based on Deborah Harkness' "All Souls Trilogy," stars Teresa Palmer (Hacksaw Ridge) as historian Diana Bishop and Matthew Goode (Downton Abbey) as geneticist Matthew Clairmont — a witch and a vampire, respectively, who are supposed to be sworn enemies but who fall in love after she finds a magical manuscript that he and lots of other creatures have been searching for. Where to watch: Amazon Video, AMC (online), BBC America (online), Shudder, Shudder on Amazon, Sundance Now, Sundance Now on Amazon
Adapted from Neil Gaiman and the late Terry Pratchett's fabulous novel of the same name (which I've read three times), this fun and funny fantasy miniseries stars David Tennant (Doctor Who) and Michael Sheen (Masters of Sex) as the demon Crowley and the angel Aziraphale, respectively, who team up (and become friends of sorts) to prevent Armageddon from happening, because they quite enjoy and would like continue life as we and they know it here on Earth. Where to watch: Prime Video
Victor Hugo's classic novel of love and redemption, set against the backdrop of political upheaval and social injustices in early 19th-century Paris, comes to life on the small screen in this magnificent adaptation starring Dominic West (The Affair) as former convict Jean Valjean and David Oyelowo (Selma) as Valjean's pursuer and nemesis Police Inspector Javert. The six-part miniseries costars Lily Collins (Tolkien) as the tragic belle-turned-single mother and prostitute Fantine, Ellie Bamber (The Musketeers) as Fantine's daughter Cosette, and Josh O'Connor (The Durrells in Corfu) as Cosette's beloved Marius. Where to watch: Amazon Video, PBS Passport
It isn't often that a mystery-crime drama is described as delightful, but this one is decidedly that. And the murder mysteries are clever, too. The series follows Matilda Stone (Olivia Vinall, The Woman in White), a newly-promoted Detective Sergeant assigned to the constabulary in her hometown of Wildemarsh, where she reunites with and gets help from her three crime-novelist aunts — Cat (Julie Graham, Shetland), Jane (Siobhan Redmond, Unforgotten), and Beth (Sarah Woodward, Endeavour) — to solve murder cases. What Matilda hasn't been able to solve is the mystery of her mother's disappearance. Where to watch: Acorn TV, Acorn TV on Amazon
David Tennant (Broadchurch) and Jessica Hynes (W1A) star in this heartfelt dramedy as Simon and Emily, the parents of Rosie, their learning-disabled daughter. Occasionally humorous and at times tough (emotionally) to watch, it is a series born of love and steeped in courage, as storylines are based on the real-life experiences of the show's creator and writer, Shaun Pye, and his family. (Read my interview with him here.) Where to watch: BritBox, BritBox on Amazon
__________________

Add your comments on our Facebook and Twitter pages.
Share this post/page.

British TV Shows to Binge: July 4th Edition