After nearly two years, the wait for the new season of Line of Duty is nearly over in the US, thanks to Acorn TV.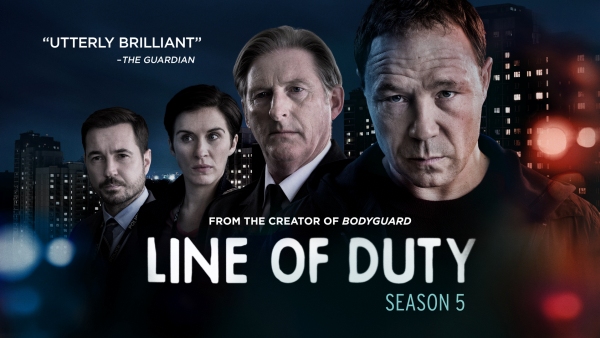 With its debut last Sunday, Season 5 of Line of Duty became the highest-rated UK program of 2019 and gave BBC One its highest ratings ever for the multiple award-winning series.
Created and written by Jed Mercurio, who also gave us last year's breakout hit, Bodyguard, Line of Duty returns to telly on this side of the pond on Monday, May 13, 2019.
All six episodes will be available at once.
The story opens with the shooting deaths of three police officers during the hijack of a seized-drugs transport, prompting AC-12, the Met's anti-corruption unit, to open an investigation into possible police collusion. AC-12 Superintendent Ted Hastings (Adrian Dunbar, Blood), DI Kate Fleming (Vicky McClure, Broadchurch), and DS Steve Arnott (Martin Compston, In Plain Sight) suspect corrupt police officers of leaking information, and as the body count rises, they realize they're facing their most vicious adversary yet.
Stephen Graham (Boardwalk Empire, "This Is England" trilogy) is the lead guest star in Season 5, playing John Corbett, the ruthless leader of an Organized Crime Group (OCG).
Costarring alongside Graham in Season 5 are Rochenda Sandall (Love, Lies and Records) and Sian Reese-Williams (Hidden).
Reprising their roles for the new season are Tony Pitts (Scott & Bailey) as Detective Superintendent Les Hargreaves and Aiysha Hart (A Discovery of Witches) as DS Sam Railston. Joining the cast is Taj Atwal (In the Club), who plays AC-12 PC Tatleen Sohota.
Elements within the Season 5 storyline originated in earlier seasons, so if you haven't watched Seasons 1 through 4 — which guest star Lennie James (The Walking Dead), Keeley Hawes (Bodyguard), Daniel Mays (Ashes to Ashes), and Thandie Newton (Westworld) — get thee to Acorn TV and immerse yourself in all 23 episodes.
Then clear your calendars for binge-watching Line of Duty: Season 5, premiering Monday, May 13, 2019.
__________________

Add your comments on our Facebook and Twitter pages.
Share this post/page.

Line of Duty: Acorn TV Sets US Premiere Date for Season 5 of Hit Crime Thriller