Mark your calendars for Queens of Mystery, Acorn TV's third series commission, which arrives on the international TV streaming service in three weeks. Yay!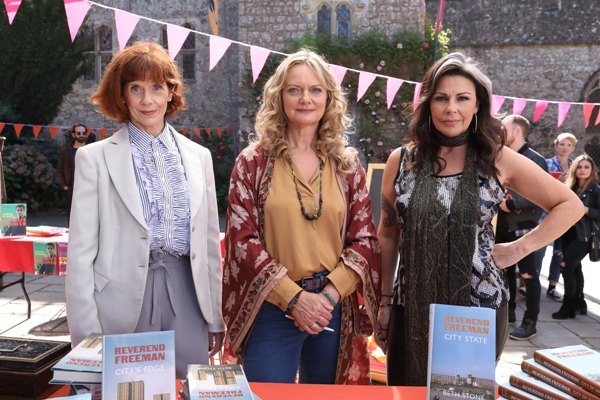 Queens of Mystery, a fun, female-led, contemporary British murder mystery series, follows the perennially-single detective DS Matilda Stone and her three aunts. The latter are well-known crime writers who help Matilda solve whodunit-style murders, as well as set her up on blind dates. As for the young detective, in addition to working on murder investigations, she is also preoccupied by the fact that her mother Eleanor disappeared without a trace when Matilda was three.
Olivia Vinall (The Woman in White, Maigret, Apple Tree Yard) stars as Matilda. Playing Matilda's aunts are Julie Graham (The Bletchley Circle, Shetland, William and Mary) as her rebellious Aunt Cat, Sarah Woodward (The Politician's Husband, Poirot, I Capture the Castle) as her motherly Aunt Beth, and Siobhan Redmond (Taggart, Alfresco, Between the Lines) as her book-smart Aunt Jane.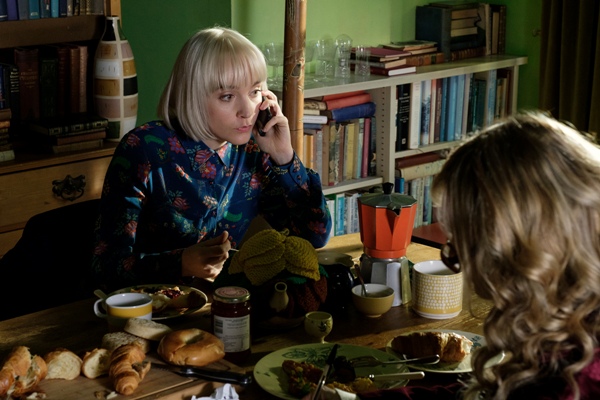 Queens of Mystery has its world premiere on Monday, April 8, exclusively on Acorn TV.
The series opens with the two-part mystery "Murder in the Dark," which finds the newly-promoted DS Matilda Stone dispatched to Hiddledean Hall, where all three of her aunts are attending the 15th Wildermarsh Crime Writer's Festival. In a crime as strange as the fiction on display, the prestigious Golden Pick Axe Award is found buried in the head of a prize nominee, and pages from his latest manuscript have been stolen. Everyone present is a suspect, from hot-headed agents and slimy publishers, to the victim's rival nominees — including Matilda's Aunt Beth.
Following on April 15 is the two-part "Death by Vinyl," in which Cat Stone and the '80s new wave girl band she was in, along with their entourage, have been invited to an exclusive retreat not far from Wildermarsh to record a reunion album. It's not long before one of them is found dead in the studio. Matilda begins her investigations and soon becomes aware of motives for murder buried in the band's past. And in assisting Matilda to catch the killer, Cat must confront the long-buried tragedies of her own past.
The final two-part mystery in Series 1 — "Smoke and Mirrors" — debuts on April 22. The story revolves around a stage adaptation of one of Aunt Jane's books being mounted at a local theatre. When a large sandbag falls and crushes one of the cast, Matilda's investigation lead her to conclude this was no accident. As she works her way through her suspects, including the larger-than-life cast and crew of the play, Cat and Beth do some sleuthing of their own. But unless Matilda acts fast, there will be more dead bodies on the stage floor.
Created and written by Julian Unthank (Doc Martin, New Tricks), the series features Andrew Leung (Doctor Who) as the dashing Dr. Daniel Lynch; Rebecca Grant (Holby City) as Daniel's mean-spirited girlfriend Natasha; Michael Elcock (The Grey Tarmac Road) as Police Constable Terry Foster, who has long been in love with Matilda; and Martin Trenaman (The Inbetweeners) as the dry Inspector Derek Throne.
Guest stars include Selina Cadell (Doc Martin), Nancy Carroll (Father Brown), Frances Barber (Silk), Con O'Neill (Happy Valley), Ken Bones (A Discovery of Witches), and Carmen Du Sautoy (The Man with the Golden Gun).
__________________

Add your comments on our Facebook and Twitter pages.
Share this post/page.

Queens of Mystery: New Series' Exclusive World Premiere on Acorn TV in April