Hit mystery-crime drama series Endeavour returns to this side of the pond in one week. Yay!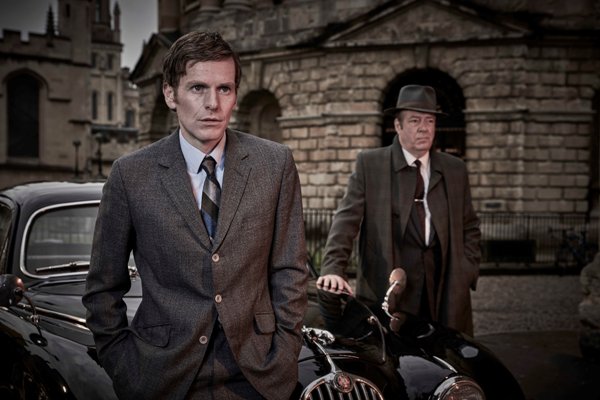 It's happy dance time, stateside Endeavour fans! Well, it will be this coming Sunday, because that's when Season 5 premieres in the US. (Woo hoo!)
Starring Shaun Evans (Silk, The Take) as Detective Sergeant Endeavour Morse and Roger Allam (The Missing, The Thick of It) as Detective Chief Inspector Fred Thursday, the new season features six episodes, up from the four of the previous seasons.
Season 5 is set between April and September 1968 — the period during which both Martin Luther King, Jr. and Robert F. Kennedy were assassinated in America. In the Oxford of Endeavour, grassroots organizations hold rallies to promote racial equality while acts of discrimination and violence occur across the city.
The main arc this season relates to the Thames Valley Constabulary — the police organization formed from the merger of county and city police forces in and around Oxfordshire, within which is the Oxford City Police and its Cowley Police Station.
So while Morse, Thursday, DS Jim Strange (Sean Rigby, Gunpowder), WPC Shirley Trewlove (Dakota Blue Richards, Skins), and DC George Fancy (Lewis Peek, Poldark), the newest member of the Cowley CID team, investigate murders and other major crimes in Oxford under the command of Police Chief Superintendent Reginald Bright (Anton Lesser, Game of Thrones), questions about their futures with the Thames Valley Constabulary are not far from their thoughts.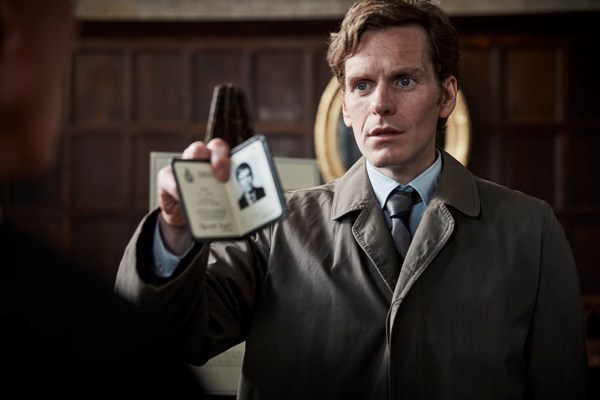 Opening the new season is the episode "Muse," in which a thief fails in his (or her) attempt to steal the Fabergé egg that is about to be auctioned at Lonsdale College. Elsewhere in the city, a former boxer and gangster connected to local mobster Eddie Nero (Mark Arden, Agatha Raisin) is killed. More murders follow, the Fabergé egg is stolen, and Morse tries to determine if there are links between the cases while begrudgingly mentoring Fancy.
And given how things ended in the Season 4 finale, Morse is quite surprised to see Joan (Sara Vickers, Shetland) back in Oxford. What's more surprising is who hasn't seen her since her return: her father. DCI Fred Thursday.
"Cartouche" finds Cowley CID investigating the mysterious death of a former detective while movie star Emil Valdemar (Donald Sumpter, Game of Thrones) is in Oxford to shoot a new film. Then another murder victim is discovered within days of Endeavour's night out with the daughter of Charlie Thursday (Phil Daniels, Quadrophenia), Fred's flashy brother. Morse has a theory about the killings and (no surprise) it proves to be accurate. And deadly.
A lorry driver is killed, his cargo stolen, and a married young woman goes missing, in "Passenger." When her lifeless body is discovered, Morse thinks her murder could be connected to an unsolved case from a decade ago, but the killing of another woman points to something more recent. Meanwhile, Thursday is confident Eddie Nero is responsible for the hit on the lorry and its driver, but the case is taken over by two burglary squad officers. And Morse meets and falls for a French friend of Joan.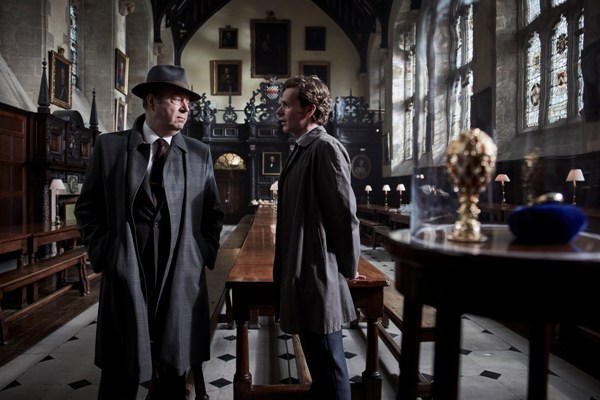 "Colours" opens with Fred and his wife Win (Caroline O'Neill, Last Tango in Halifax) tripping the light fantastic in a dance competition, while Endeavour and his petite amie attend a debate about immigration and repatriation. Racial tensions are on full display at a protest that turns violent in front of a business in Oxford, as well as at the local army base where Fred's son Sam (Jack Bannon, The Loch) is stationed and a black soldier is accused of murdering a model after an on-site photo shoot. Hers is not the only homicide that happens here, and Morse is in danger of becoming another victim.
Oxford plays host to an international sporting competition in "Quartet," where a participant is murdered during an event and a young spectator is critically wounded. Given the sensitive nature of the case, Special Branch takes it over, but Endeavour continues to investigate on his own. Meanwhile, Thursday delves into a turf war between Eddie Nero and an up-and-coming racketeer, and suspects domestic abuse is the cause for a woman's injuries. Things get quite cloak and dagger when two mysterious men approach Morse and an unassuming woman warns him off his inquiries. But something that has nothing to do with murder makes Morse stop in his tracks.
Lastly, "Icarus" opens with PCS Bright's announcement that Cowley Police Station is closing. Before it does, Morse and Trewlove go undercover — he as a teacher and she as his wife — to investigate a public school teacher's disappearance, while Thursday works to put Eddie Nero away for multiple murders before retiring from the force. Only his becoming a pensioner will have to be put off and his marriage might not survive, no thanks to Charlie. Meanwhile, Morse's case gets more complex after a former student turns up dead, and surveillance in Thursday's Nero case ends in tragedy.
James Bradshaw and Abigail Thaw reprise their roles as Forensic Pathologist Dr. Max DeBryn and Oxford Mail Editor Dorothea Frazil, respectively. And featuring in Season 5 are Roger Barclay (House of Anubis), Celeste Dodwell (Home and Away), Richard Durden (Agatha Raisin), Justin Edwards (The Thick of It), Claire Ganaye (Nicolas Le Floch), Caroline Goodall (The White Princess), Ellie Haddington (Foyle's War), Charlotte Hope (The Spanish Princess), and Emma Rigby (Prisoners' Wives).
Endeavour: Season 5 premieres in the US on Sunday, June 24, at 9 PM ET, on PBS.
A co-production of Mammoth Screen and PBS Masterpiece, Endeavour has been renewed for Season 6, which goes into production later this year for airing in 2019. The sixth season will be set in 1969. Series creator Russell Lewis will once again pen the scripts, and stars Shaun Evans and Roger Allam are confirmed for returning. Stay tuned for updates.
__________________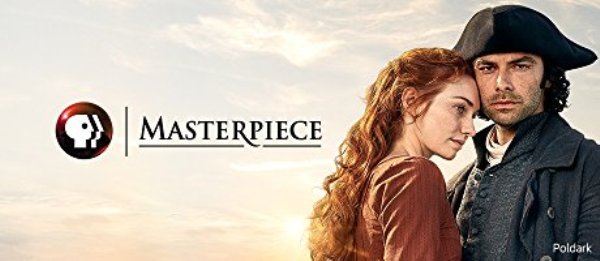 Add your comments on our Facebook and Twitter pages.
Share this post/page.

Endeavour: Season 5 Set to Premiere on PBS Masterpiece