One of the most highly-anticipated program premieres on PBS this spring is Unforgotten, the award-winning mystery drama starring Nicola Walker and Sanjeev Bhaskar.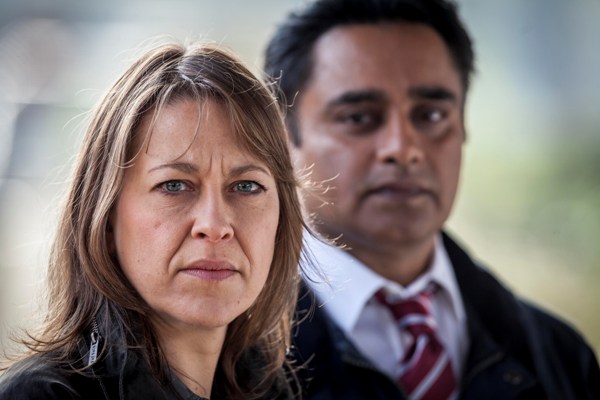 Created and written by Chris Lang (Amnesia, Innocent, The Tunnel), Unforgotten is one of the best mystery-crime drama series you're likely to see this year. Any year, really, as each season — consisting of three feature-length episodes — follows a dark and intricately-plotted storyline full of secrets, lies, and a decades-old unsolved murder.
Unforgotten stars Nicola Walker (Collateral, Last Tango in Halifax, River) and Sanjeev Bhaskar (The Indian Doctor, The Kumars, Goodness Gracious Me) as DCI Cassie Stuart and DI Sunny Khan — detectives in London who investigate cold cases involving historic crimes.
In Season 1, a skeleton is discovered in the basement of a house being demolished in Willesden, North London. Clues point to foul play, but the crime could be a 130-year-old one as the house was built in the mid-1880s. After forensic and investigative research, Cassie and her team learn the identity of the victim: James Niall Sullivan, a 17-year-old student who went missing in November 1976.
Meanwhile, the wheelchair-bound Eric Slater (Tom Courtenay, Dad's Army, Little Dorrit) is planning a celebration in Ely, Cambridgeshire, while Father Robert Greaves (Bernard Hill, Wolf Hall, Five Days) is asked to find out how roughly £2000 went missing from the church coffers in Southend, Essex. And in White City, West London, Lizzie Wilton (Ruth Sheen, Prime Suspect: Tennison, Mr. Turner) is trying to help a black youth with a drug-addicted mum while Sir Phillip Cross (Trevor Eve, Waking the Dead, Kidnap and Ransom) becomes "the new entrepreneur czar" at Westminster.
Each of these people has a connection to Jimmy Sullivan. What the nature of the connection is, how the four might be connected to his murder, and whether one of them is his killer are the questions Cassie and Sunny aim to answer.
Regular cast members include Peter Egan (Downton Abbey, Reilly: Ace of Spies) as Cassie's father, Martin Hughes, Lewis Reeves (Crazyhead, Uncle) as DC Jake Collier, and Jordan Long (Prime Suspect: Tennison, The Wrong Mans) as DS Murray Boulting.
Featuring in Season 1 are Adam Astill (Mistresses), Brian Bovell (Hollyoaks), Claire Goose (The Coroner), Hannah Gordon (Hustle), Gemma Jones (MI-5), Cherie Lunghi (Secret Diary of a Call Girl), Ade Oyefeso (Youngers), Tessa Peake-Jones (Grantchester), Dominic Power (Emmerdale), Zoe Telford (Criminal Justice), and David Troughton (Grantchester).
Season 2 opens with the discovery of a skeleton locked inside a suitcase, found while workers are dredging the River Lea in North-East London. Two items of significance are found with the remains: one leads Cassie and Sunny to the victim's identity — David Ewan Walker, a businessman and Conservative Party consultant who disappeared at age 39 in May 1990 — and the other points them to people who might have information about what happened to him.
In addition to Walker's ex-wife, the remarried Oxford cop DI Tessa Nixon (Lorraine Ashbourne, Jericho, The Interceptor), the detectives delve into the histories of Marion Kelsey (Rosie Cavaliero, Prey, The Enfield Haunting), a hospital nurse in South-East London who develops a bond with a teen-aged cancer patient; Colin Osborne (Mark Bonnar, Shetland, Catastrophe), a gay criminal barrister in Brighton in the process of adopting with his husband their young foster daughter; and Sara Mahmoud (Badria Timimi, Father Brown, DCI Banks), a married mum, Muslim, and teacher interviewing for an academy director position in Salisbury.
Despite evidence showing that David Walker knew Marion, Colin, and Sara in some capacity, they all deny knowing him. As for Tessa, Cassie and Sunny sense she isn't being as forthcoming with details about her late ex-husband as she could. Clearly, each of the four is hiding something, but getting to the truth proves to be quite difficult for the detectives. But not impossible.
Carolina Main (Grantchester) plays DC Fran Lingley in Season 2, which features Holly Aird (Waking the Dead), Adeel Akhtar (River), Josef Altin (River), Will Brown (Call the Midwife), Charlie Condou (Coronation Street), Wendy Craig (Girlfriends), Bryony Hannah (Call the Midwife), Douglas Hodge (Penny Dreadful), Nigel Lindsay (Victoria), and Jodie Tyack (Midsomer Murders).
Unforgotten: Season 1 premieres in the US on Sunday, April 8, at 9 PM ET, on PBS. Season 2 debuts Sunday, April 29, at the same time. (Check your local listings)
__________________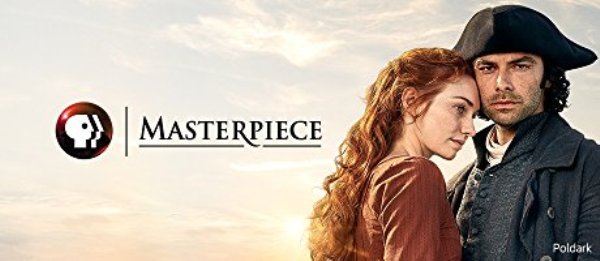 Add your comments on our Facebook and Twitter pages.
Share this post/page.

Unforgotten: Seasons 1 & 2 Premiere in the US on PBS