Stateside fans of Striking Out, rejoice! The second season of the hit Irish drama series Striking Out premieres in the US tomorrow, just in time for St. Patrick's Day weekend.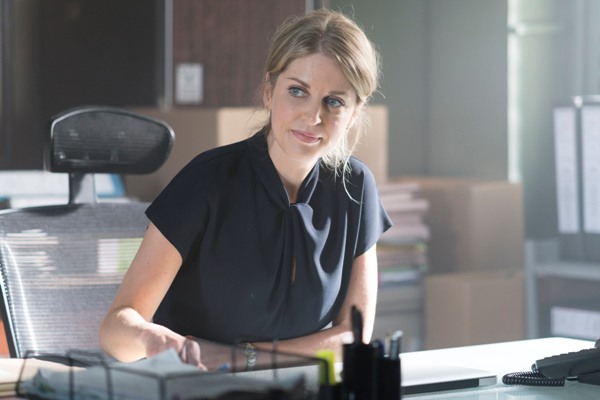 Let me be the first to wish you a top o' the mornin' for tomorrow, as that is when Striking Out, the breakout new series from Ireland last year and one of my favorite shows of 2017, returns with not four but six new hour-long episodes.
Starring Amy Huberman (The Clinic), the 2017 Irish Film and TV Academy Winner and a 2018 nominee for Best Actress in a Lead Role in a Drama Series for her portrayal of solicitor Tara Rafferty, the second season of Striking Out is darker, more intricate, and more intense than Series 1.
(If you haven't watched Series 1 yet, binge it before reading further to prevent spoilers.)
Opening just days after the first season's finale, the second series starts with Tara saying these words to Eric Dunbar (Rory Keenan, War & Peace, Peaky Blinders), a fellow solicitor and her ex-fiancé:
"Meg is working with your father. Now Ray is in jail. Pete and I have been evicted. See?"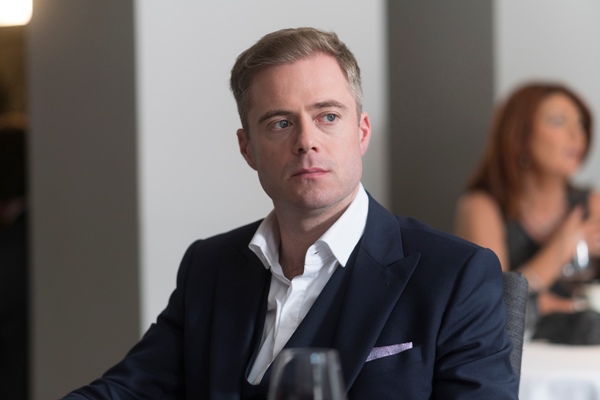 As a refresher, Meg (Fiona O'Shaughnessy, Utopia) is a single mum and a private investigator who betrayed Tara's trust, Ray (Emmet Byrne, Red Rock) is Tara's street-smart assistant with a criminal past, and Pete (Brahm Gallagher, Red Rock) is the owner of the café where Tara had her office. As for Eric's father, he is Richard Dunbar (Paul Antony-Barber, House of Anubis), the Cersei Lannister-like senior partner in the Dunbar & Calloway law firm where Eric works (and where Tara did before their split).
Those words are the lead-up to Tara's challenge to Eric — for him to look into Richard's  involvement in the arrest and the eviction. Then there's the matter of the fire in the shed, which destroyed files that could have proved useful in the public inquiry being conducted by Vincent Pike (Neil Morrissey, The Good Karma Hospital, Line of Duty), a QC and Tara's friend and mentor.
Tara, firmly on her feet now as her own boss, is getting more clients, but money is still short, so renting nice office space in Dublin is unaffordable. Enter George Cusack (new cast member Maria Doyle Kennedy, Orphan Black, Corp + Anam), a sharp-minded and sharp-tongued criminal solicitor who shares her office space with Tara — a convenient arrangement that, if they're not careful, could open them up to unintentional malfeasance.
Her work can be a bit complicated, what with cases involving deportation, child custody, divorce, and insurance claims, but the pieces in Tara's personal life are oftentimes more challenging for her to deal with. Such as learning that the problems in her parents' marriage haven't been resolved but gotten worse, being a target of both Richard and Eric when it suits them, and having another Dunbar — Eric's younger brother Sam (Moe Dunford, Vikings), just returned to Dublin from the Pacific islands — enter her life.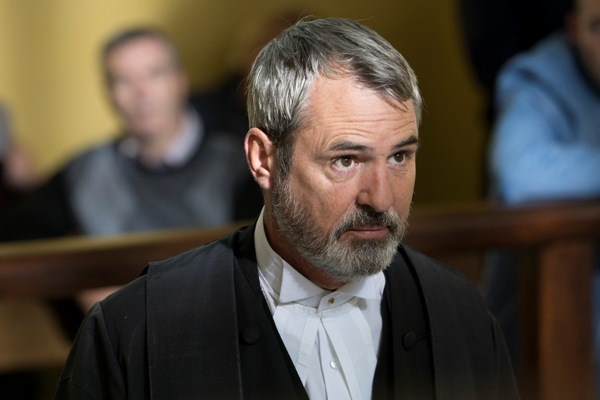 Although Tara is busy with her cases, a couple of which include Eric as the opposing counsel, she also assists Vincent on the inquiry, one that could have dire consequences for members of the Irish political and social elite, including Richard — if Vincent can gather the evidence to implicate them. To help him find it, the QC hires Joe (Sam McGovern, Quirke), a young and effective barrister he quickly nicknames Bookworm.
Meanwhile, Eric conducts on the sly his own inquiry of sorts into his father's increasingly dubious (or should that be devious?) actions, while Meg continues her ethically-questionable investigative work for both Richard and Tara, and Ray chooses a path for his future that's a departure from the one he's known.
Everything comes to a head in the humdinger of a season finale — the perfect set-up for a third season. (Fingers crossed that there will be one!)
[fvplayer src="https://thebritishtvplace.com/wp-content/uploads/2018/03/SO2_Promo-v2.mov" splash="https://thebritishtvplace.com/wp-content/uploads/2018/03/Striking-Out-Series-2-pic-2.jpg" width="600″ height="338″]
Like Tara's character, Series 2 of Striking Out is strong and confident. The arcs and episodic storylines and the acting are solid. Even the shots of Dublin and the coast are bold. This is the stuff binge-watching is made of.
Returning for the new season are Ingrid Craigie (Jack Taylor), Sean Doupe (The Survivalist), Nick Dunning (The Tudors), Michael James Ford (Bridget & Eamon), Olwen Fouere (Above Suspicion), Kate Gilmore (Fair City), Conall Keating (Fair City), Enda Oates (Jack Taylor), Ciara O'Callaghan (Mrs. Brown's Boys), Simon O'Gorman (The Clinic), Lorraine Pilkington (Monarch of the Glen), Natalie Radmall-Quirke (Doctors), and Elva Trill (Line of Duty).
Guest stars include Charlotte Bradley (Titanic: Blood and Steel), Jane Brennan (The Tudors), Adam Fergus (Clean Break), Owen McDonnell (Dominion Creek, Single-Handed), Paul Ronan (Ballykissangel), and Emily Taaffe (X Company).
Striking Out: Series 2, an Acorn TV Original series, premieres in the US tomorrow, Friday, March 16, 2018, exclusively on Acorn TV and the Acorn TV channel on Amazon.
__________________

Add your comments on our Facebook and Twitter pages.
Share this post/page.

Striking Out: Hit Irish Drama Returns to the US with Binge-Worthy Series 2