What's the craic? The award-winning, hilarious Irish sitcom Bridget & Eamon, that's what.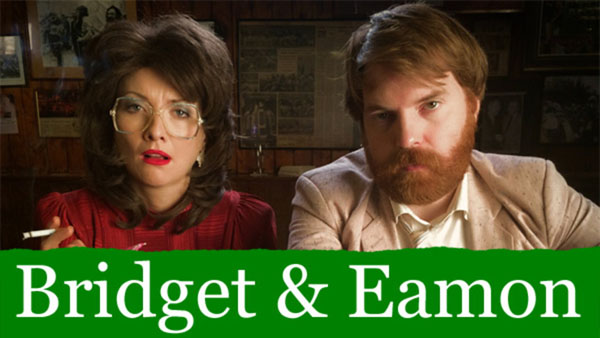 Nearly a year after IFTA Best Comedy award winner Bridget & Eamon premiered as a full-fledged comedy series on Ireland's RTÉ Two, it arrived in the US on Hulu.
In its earlier incarnations, Bridget & Eamon was an RTÉ Player exclusive web series, based on the recurring comedy sketch on the Republic of Telly series (similar to, say, The Simpsons shorts on The Tracey Ullman Show, before the animated series went on to become a cultural phenomenon).
Also similar is the live action series' satirical take on life. But rather than looking at life in contemporary Ireland, the sitcom takes us back to the pre-Celtic Tiger days of the 1980s, when the Emerald Isle's unemployment and inflation rates were high, its economic growth had slowed to a crawl, and divorce and homosexuality were still illegal in the country.
Written by series stars Jennifer Zamparelli (née Maguire) and Bernard O'Shea and series director Jason Butler (who won the 2016 IFTA Best Director, Comedy, for his work on the show), Bridget & Eamon revolves around the lives of the eponymous couple. She's a high-strung, shrill-voiced, big-haired, chain-smoking housewife, he's a sour, dour eejit. Together they're unhappy Catholics living in the Irish Midlands with their wishes, fantasies, and in-the-flesh "six to eight children."
If that sounds a bit uninspiring, I assure you that the backstory and setting are fodder for plenty of laughs. That the lead characters can be dumb as dirt, unknowingly rattling off double entendres, only adds to the hilarity.
Series regulars include Edwin Sammon as Father Gabriel, Colum McDonnell as neighbor Frank, and Moone Boy alums Norma Sheahan and Sharon Mannion, who play neighbors Noreen and Concepta, respectively.
The six episodes of Bridget & Eamon: Series 1 are currently streaming exclusively on Hulu. Series 2 finished its first run on RTÉ Two back in December, so fingers crossed that it won't take a year for it to arrive stateside.
To see a list of other Irish programs streaming in the US, click here.
__________________

Add your comments on our Facebook and Twitter pages.

Share this post/page.

Bridget & Eamon: Hilarious Irish Comedy Now Streaming in the US