The good father returns to solve more murder mysteries in the latest season of the hit Brit series, which premieres in markets across the US on public TV stations.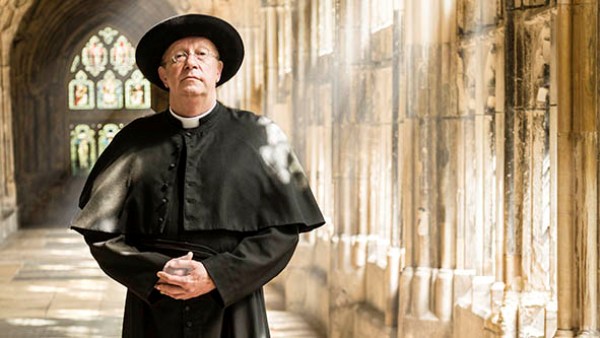 Based on the short stories by English author G.K. Chesterton, Father Brown has been a favorite amongst British mystery fans on both sides of the pond since the BBC launched the series as a daytime drama back in January 2013.
Five years later, the series returns to the US with ten new episodes in its sixth season.
For fans who miss socialite Lady Felicia and her driver Sid Carter, since the departures of Nancy Carroll (Prime Suspect: Tennision) and Alex Price (Doctor Thorne) as series regulars in Series 5 and Series 4, respectively, know that both actors make guest appearances in Series 6.
The dastardly Flambeau (John Light, Maigret's Dead Man) is back, too, with another scheme to steal another priceless relic.
Before we get to the episode featuring Flambeau, the new season finds amateur sleuth Father Brown (Mark Williams, "Harry Potter" films) and Inspector Mallory (Jack Deam, DCI Banks) reopening a seven-year-old murder case, rebellious socialite Bunty Windermere (Emer Kenny, Pramface) being kidnapped, the Catholic priest suspecting foul play in the death of a friend of no-nonsense parish secretary Mrs. McCarthy (Sorcha Cusack, River), and Lady Felicia being blackmailed. There are also murders by bludgeoning, garrotting, and gunshot, as well as the suspicious death of a ballroom competition contestant and the near-death of a schoolgirl.
Returning as Sergeant Goodfellow is series regular John Burton (Brookside), and reprising their roles from earlier seasons are Alan Williams (Starlings), Kate O'Flynn (No Offence), Roger May (Doctors), and Daniel Flynn (The Bill).
Guest stars in Series 6 include Richard Harrington (Hinterland), Jane Hazlegrove (Casualty), Sara Martins (Death in Paradise), Sammy Moore (Ordeal by Innocence), Wanda Ventham (Sherlock), James Wilby (Lady Chatterley), and Clive Wood (In the Dark), amongst others.
Contact your public TV station to find out if Father Brown: Series 6 will be shown in your local area. Premiere dates and times vary by market, so check your local listings for details.
__________________

Add your comments on our Facebook and Twitter pages.
Share this post/page.

Father Brown: Season 6 of Hit Brit Mystery Premieres Locally in the US on Public TV Stations