Brit TV fans in North America, mark your calendars for the Acorn TV premiere of the can't-miss crime dramedy No Offence.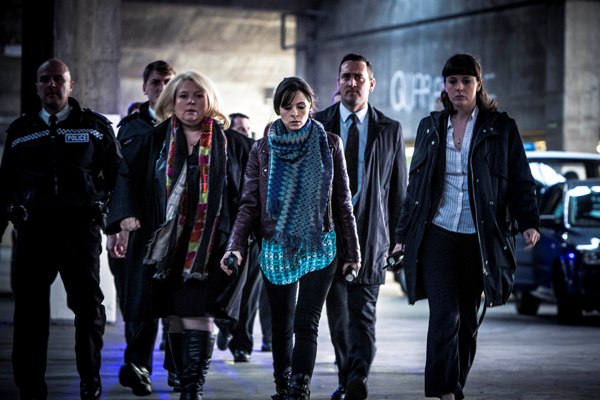 No Offence, the Royal Television Society winner for Best Drama Series in 2016 and one of my favorite UK TV premieres of 2015, is crossing the pond to Acorn TV next month.
Created and written by Primetime Emmy® and BAFTA Awards winner Paul Abbott (Shameless, Clocking Off, Cracker), No Offence is a cracking good police procedural dramedy that follows the rather quirky team of cops from the Friday Street station of the (fictional) Manchester Metropolitan Police.
Heading up the cast is BAFTA nominee Joanna Scanlan (Getting On, Requiem, The Thick of It), who stars as DI Vivienne Deering, a no-nonsense cop with a quick, zinger-filled wit and a lack of decorum when it comes to certain of her habits. Costarring are IFTA Award winner Elaine Cassidy (Harper's Island, Acceptable Risk) as the passionate and impulsive DC Dinah Kowalska, and Alexandra Roach (Hunderby, Utopia) as the neurotic and brilliant DS Joy Freers.
Working alongside the (more humorous) Scott & Bailey-like triad of female coppers are DC Spike Tanner (Will Mellor, In the Club, Broadchurch), the team's emotional glue, and Randolph Miller (Paul Ritter, Friday Night Dinner, Vera), the often hungover forensics expert.
Series 1 finds the Friday Street squad working feverishly to catch a serial killer before there's another victim, while also investigating crimes ranging from drugs to slavery — oftentimes using unorthodox tactics to catch the perpetrators.
A production of Paul Abbott's Abbott Vision, the series features Ste Johnston (Fungus the Bogeyman), Tom Varey (Ackley Bridge), Neet Mohan (Line of Duty), Saira Choudhry (Hollyoaks), Charlie May-Clark (Death Comes to Pemberley), Colin Salmon (Arrow), Hannah Walters (Whitechapel), and Kate O'Flynn (Doctor Thorne).
All eight episodes of the first season of No Offence premiere in North America on Monday, April 16, exclusively on Acorn TV. Series 2 bows on the streaming service this fall, so stay tuned for updates about its debut date, as well as for info about Series 3, which is currently in production.
__________________

Add your comments on our Facebook and Twitter pages.
Share this post/page.

No Offence: Acorn TV Bringing Dramedy Police Procedural to North America