In a bit of reverse engineering of sorts, Lifetime will premiere the hit British comedy, Catastrophe, currently streaming on Amazon Prime Video in the US.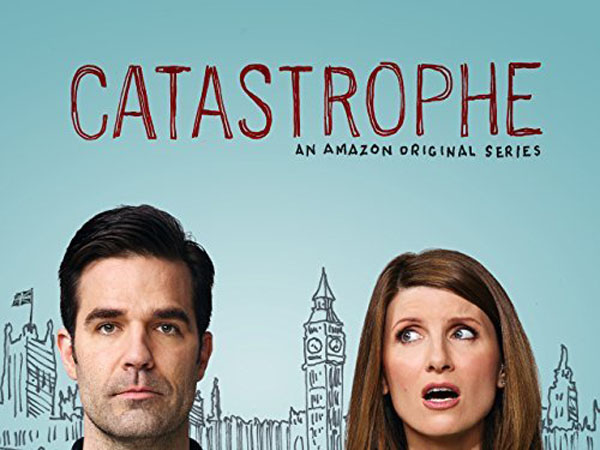 Usually it happens the other way around. A show debuts on cable, then moves to a streaming service. Not so for Catastrophe, at least not in America.
A Best Comedy Series nominee at the 2016 Critics Choice Television Awards, the first season of Catastrophe premiered as an exclusive on Amazon Prime Video US in 2015, exactly six months after its UK debut on Channel 4. Season 2 premiered stateside earlier this month, and next year Lifetime brings both seasons to linear TV in the States.
Lifetime's acquisition of Catastrophe is part of its initiative to be the ultimate destination for women's entertainment. Thus, the cable network's "Fempire" slate of titles for the 2016-2017 season, of which the comedy series is one (and the only one that's British).
This move follows the US premiere of the smash hit drama, Doctor Foster, on Lifetime, which aired the Season 1 finale last night.
Catastrophe, one of my of favorite new series in 2015, follows the relationship between American ad exec Rob Norris (Rob Delaney, Key & Peele, Burning Love)) and Irish teacher Sharon Morris (Sharon Horgan, Pulling, Psychobitches). The two meet in a London bar and have a sex-fueled and -filled six-night stand before he heads back to Boston and she discovers she's pregnant.
What follows, upon Rob's return to London to be the baby daddy up close and personal, is the pair's attempt to have a proper relationship, despite knowing next to nothing about each other and often getting on each other's last nerve.
The second season picks up a couple years after the Season 1 finale, with Sharon and Rob now the mum and dad of a toddler son and newborn daughter. Domestic, yes. Bliss, not so much.
With their love life being lackluster at best, the couple have other, more pressing issues to consider, including aging parents, baby-bonding problems, and workplace accusations, among others. Then there are Sharon and Rob's friends, from the one who unfriends her to her face, to the one who ODs, to the one who wants to have sex with… let's just say someone other than his wife.
Where do they all go from here? We'll only know if there's a Season 3.
A pedestrian rom-com, this isn't. Catastrophe is straight-up bold, brutally honest, and in-your-face real. Ergo the TV-MA rating for language, nudity, and sexual content. (How Lifetime will handle all the f-bombs, c-bombs, etc. during primetime, we shall see.) And it's freaking hilarious.
Created and written by Delaney and Horgan, Catastrophe costars Mark Bonnar (Shetland), Ashley Jensen (The Escape Artist), Jonathan Forbes (Titanic: Blood and Steel), Daniel Lapaine (Zero Dark Thirty), Gary Lilburn (Mrs Brown's Boys), Frances Tomelty (Unforgotten), and Carrie Fisher (Star Wars).
Lifetime will air all twelve episodes of Catastrophe: Seasons 1 and 2 in early 2017.
__________________

Add your comments on our Facebook and Twitter pages.

Share this post/page.

Catastrophe: Lifetime to Screen Both Seasons of Hit Brit Comedy