Julian Fellowes Presents Doctor Thorne, the new period drama miniseries from the award-winning creator of Downton Abbey, is headed for Amazon Prime Video in the US.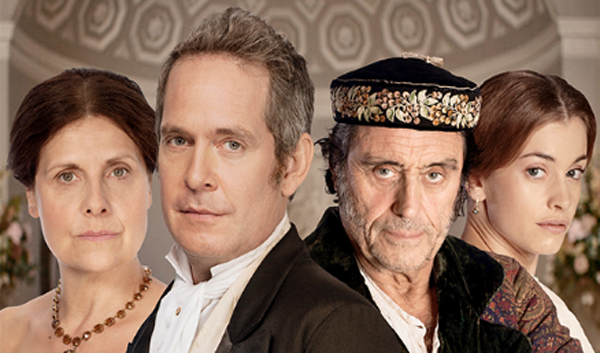 What? Not PBS?
Correct. Julian Fellowes Presents Doctor Thorne is an Amazon Original Series.
It makes sense, actually. Now that the multiple Golden Globe, Primetime Emmy®, BAFTA TV, and other awards-winning Downton Abbey has its stateside SVoD streaming home on Prime Video, it seems appropriate that Julian Fellowes' follow-up should be in the same space.
(As an aside, Catastrophe, another Amazon Original Series, will air on Lifetime next year, so US viewers might very well see Doctor Thorne on PBS at some point.)
Written by the prolific English author Anthony Trollope, the classic Doctor Thorne is one of Oscar® winner Julian Fellowes' favorite novels. Thus, his three-part adaptation of it.
"Doctor Thorne is a wonderful example of Trollope's gift for understanding the tangles we humans get into. He is sharply observant, critical and merciful in equal measure and, above all, highly entertaining."
It's a story of love, vanity, arrogance, and illegitimacy.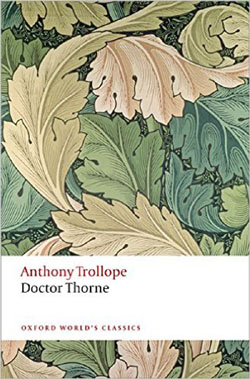 In Julian Fellowes Presents Doctor Thorne, Tom Hollander (The Night Manager, Rev.) stars as the eponymous physician, a mild-mannered man who lives a quiet life with his beautiful niece, Mary Thorne (Stefanie Martini, Endeavour, Emerald City), in the English village of Greshambury in Barsetshire.
Blessed with every gift except money, Mary has grown up alongside the Gresham sisters, Augusta (Gwyneth Keyworth, Case histories), Beatrice (Nell Barlow), and Alexandrina (Kate O'Flynn, No Offence), and their handsome brother Frank (Harry Richardson, Looking for Grace), whose home is the great house and estate at Greshamsbury Park.
But the peace is shattered after their mother, Lady Arabella Gresham (Rebecca Front, Humans, Inspector Lewis), the terrifying, manipulative shrew who lords over the village, discovers to her horror that her beloved son, Frank, is in love with and intends to marry Mary, a mere commoner with no title and no money.
The plot thickens.
You see, the Greshams are basically broke, most of their fortune squandered away by patriarch Francis Gresham Senior (Richard McCabe, Wallander, The Great Fire), although no one outside the family, except Dr. Thorne, knows this. Ergo Lady Arabella's panic about her son's plans, which are decidedly not what she has mapped out for him… and the Gresham family. To secure someone else's fortune for their own, she has arranged a marriage between the younger Frank and the rich American heiress, Martha Dunstable (Alison Brie, Community, Mad Men).
Meanwhile, to keep up appearances, the Greshams have been borrowing heavily from the drunken railway millionaire, Sir Roger Scatcherd (Ian McShane, The Pillars of the Earth, Deadwood), loans secured on their behalf by none other than Dr. Thorne. The thing is, Scatcherd is drinking himself into an early grave, putting the Gresham's survival at stake. So Lady Arabella insists it is her son's duty to make a rich marriage to save the family estate.
Except Frank wants none of it, and Scatcherd's equally drunken and wholly unlikable son, Louis (Edward Franklin, Being Human), throws a wrench into the Greshams' affairs… unless he gets his way, which could allow Lady Arabella to get hers.
Julian Fellowes Presents Doctor Thorne will premiere exclusively for Prime Video members in the US, to stream and download in its entirety, on Friday, 20 May 2016.
And according to Harvey Weinstein, Co-Chairman of The Weinstein Company:
"Each episode will feature an exclusive, special introduction from Julian Fellowes himself."
Produced by Hat Trick Productions and The Weinstein Compnay, Julian Fellowes Presents Doctor Thorne costars Phoebe Nicholls (Fortitude), Janine Duvitski (Little Dorrit), Tim McMullan (Foyle's War), Tom Bell (Wizards vs. Aliens), and Danny Kirrane (Critical).
The miniseries is written by Julian Fellowes (Downton Abbey, Gosford Park), directed by Niall MacCormick (Crossing Lines, The Game), and produced by Helen Gregory (The Enfield Haunting, Case Histories). It is executive produced by Julian Fellowes, The Weinstein Company's Bob and Harvey Weinstein, and Hat Trick's Mark Redhead, Christopher Kelly, and Ted Childs.
__________________

Add your comments on our Facebook and Twitter pages.

Share this post/page.

Julian Fellowes Presents Doctor Thorne: Amazon Prime Video to Premiere Period Drama in the US