Earlier this evening Netflix confirmed to me that Season 3 of Peaky Blinders, the hit period crime drama, will premiere in the US less than a month after it bows in the UK on BBC Two.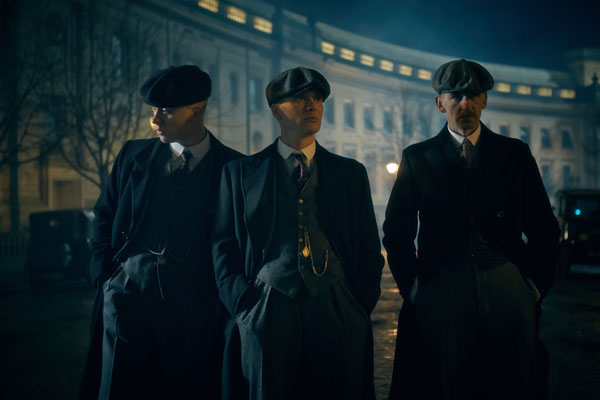 The highly-anticipated third season of Peaky Blinders, the multiple award-winning, epic gangster drama, is set to premiere on Netflix US at the end of this month.
Leading the top-notch cast once again is Golden Globe nominee Cillian Murphy, whose Tommy Shelby, the charismatic leader of the Peaky Blinders, barely escaped death in the Season 2 finale.
Season 3 opens two years after that fateful event. Now wealthier and more successful than ever, thanks to both his legal and illegal enterprises, Tommy is about to face his most dangerous adversary yet — a person series creator and writer Steven Knight describes as "the most evil character that has ever appeared in Peaky."
First, though, Tommy gets married. But as nothing ever goes smoothly for members of the Shelby family, a mysterious stranger shows up on the day of Tommy's nuptials, and the groom is forced to leave his bride's side to deal with business matters.
Upon learning of his new associates' plans, Tommy finds himself pulled into a web of intrigue more lethal than anything he has yet encountered. The illicit game being played is one that propels him into the center of an international arms deal that could change the course of history for the world at large.
Meanwhile, Arthur, John, Polly, and the rest of the Shelby family have their own issues to reckon with. The lot of them are becoming increasingly difficult for Tommy to handle, all while he's trying to keep them safe at the same time.
The Roaring '20s have never been so good, and so horrific, for Tommy Shelby. And the way he responds to the forces within and around him will define the measure of this man.
Oscar® nominee Tom Hardy (The Revenant) reprises his role as Alfie Solomons, criminal boss of Camden Town and Tommy Shelby's former adversary, for Season 3.
Joining the cast are two-time BAFTA Awards winner Paddy Considine (Tyrannosaur), Kate Phillips (Wolf Hall), Alexander Siddig (Game of Thrones), and Dutch actress Gaite Jansen (Lover of Loser) and actor Jan Bijvoet (Cordon).
Returning to Peaky Blinders are Helen McCrory as Aunt Polly Gray, Paul Anderson as Arthur Shelby, Joe Cole as John Shelby, Annabelle Wallis as Grace Burgess, Sophie Rundle as Ada Shelby, Finn Cole as Michael Gray, Harry Kirton as Finn Shelby, Aimee-Ffion Edwards as Esme Shelby, and Natasha O'Keeffe as Lizzie Stark.
Produced by Caryn Mandabach Productions and Tiger Aspect Productions, Peaky Blinders is executive produced by Primetime Emmy® winner Caryn Mandabach, directed by Tim Mielants (Cordon), produced by Simon Maloney, and production designed by Emmy nominee Richard Bullock (Fortitude).
A Netflix Original Series, Peaky Blinders: Season 3 premieres in the US on Tuesday, 31 May 2016, exclusively on Netflix.
__________________

Add your comments on our Facebook and Twitter pages.

Share this post/page.

Peaky Blinders: Netflix US Confirms Season 3 Premiere Date