Get ready to get your binge-watch on, because Line of Duty is back and its better-than-ever third series is set to premiere in the US this weekend.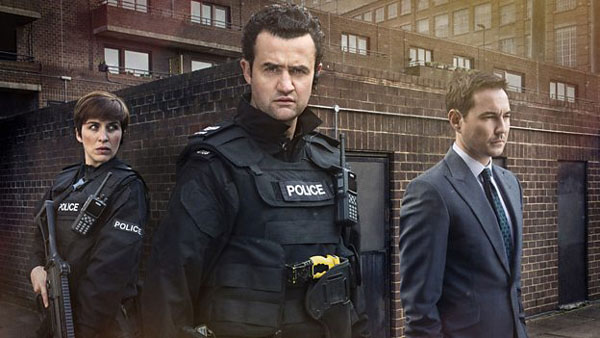 Prepare to be blown away.
Jed Mercurio, the multiple award-winning creator and genius writer of Line of Duty, has outdone himself with Series 3 of the hit police drama. From the riveting opener, to the heart-pounding finale, to every oh-my-gawd, I-did-not-see-that-coming moment in between, his latest story about cops versus cops is an absolute do-not-miss, must-watch one.
It begins with a criminal suspect being gunned down by an armed-response unit led by Sergeant Danny Waldron (Daniel Mays, Mrs Biggs, The Great Fire). He and his team of officers, including PC Rod Kennedy (Will Mellor, In the Club, No Offence), PC Hari Bains (Arsher Ali, Arthur & George, The Missing), and WPC Jackie Brickford (Leanne Best, Home Fires, Ripper Street), claim they fired in self-defense, but evidence suggests it was cold-blooded murder.
Enter AC-12, the Met's anti-corruption unit. Led by Superintendent Ted Hastings (Adrian Dunbar, The Hollow Crown: The Wars of the Roses, Ashes to Ashes), AC-12 launches an investigation into the conduct of Waldron and co. DS Steve Arnott (Martin Compston, Barney Thomson, Monarch of the Glen) and DS "Dot" Cottan (Craig Parkinson, Indian Summers, Prey) are the face of the investigation, while DC Kate Fleming (Vicki McClure, Broadchurch, This Is England '86/'88/'90) goes undercover in the squad where the four suspects return to active duty.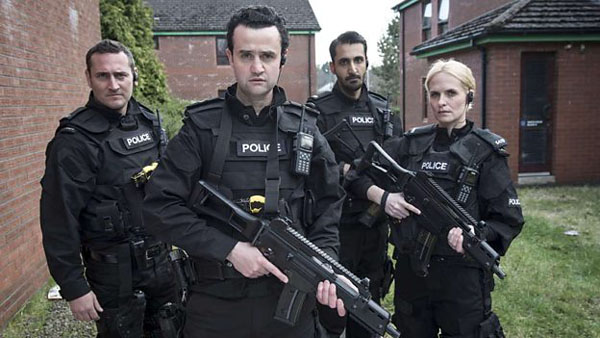 Waldron is ambitious and efficient to the point of being fearless. Yet glimpses of vulnerability appear. Mostly he's unpredictable and menacing, armed with the threat to destroy the career of anyone on his team who doesn't toe his line. So it doesn't bode well for Fleming and her part of the investigation when Waldron determines she can't be trusted and wants her off his squad.
Meanwhile, Kennedy, Bains, and Brickford are sweating their involvement in the shooting death. The fear in each of them is growing, the tension between them is mounting, and their conflicts with Waldron are getting harder and harder to suppress, made worse by being under the scrutiny of AC-12. If all that weren't plenty already, their new colleague seems to be putting two and two together, and she is definitely adding to their paranoia.
Another raid by the armed-response unit also ends in gunfire, and the shocker of a cliffhanger that closes the Series 3 opener is but the first in a series of gotcha moments in all six episodes.
Mercurio upped the stakes for the characters in this series, and his script is so tight and complex that to say anything more about the storyline requires revealing spoilers. Trust me, you do not want to know in advance what happens next, because it will absolutely ruin the experience of watching this brilliant drama unfold.
Here's what I will say: Re-watch Series 1 and Series 2, for reasons that will become apparent when you get into Series 3 — a helluva good story and compelling, engrossing watch.
In addition to Mays, Mellor, Ali, and Best, Polly Walker (Mr Selfridge, Prisoners Wives) costars in Series 3 as Gill Bigelow, a lawyer assigned to AC-12 and a friend and wanna-be intimate of Supt. Ted Hastings. Also appearing are George Costigan (Happy Valley) as former Chief Superintendent Patrick Fairbank, Jonas Armstrong (Robin Hood) as Joe Nash, a man with a connection to Danny Waldron, and Neil Morrissey (Men Behaving Badly), who reprises his role as DC Nigel Morton.
As with the first two series, props go to every actor in a featured role in the third. Kudos especially to Mays, who is frighteningly good as Waldron, and Parkinson, who has never been better in the role of the nefarious Cottan. Likewise, Dunbar, Compston, and McClure deliver performances that do justice to Mercurio's story, as do the rest of the cast.
Final word: ★★★★★ out of 5.
Line of Duty: Series 3 premieres in the US this Sunday, 1 May 2016, exclusively on Hulu.
__________________

Add your comments on our Facebook and Twitter pages.

Share this post/page.

Line of Duty: Best Series Yet of Must-Watch Police Drama Premieres in the US