Stateside fans of cooking, baking, and food competition shows, this is for you. A list of 26 programs from lands across the pond and Down Under that will bring out the foodie in you.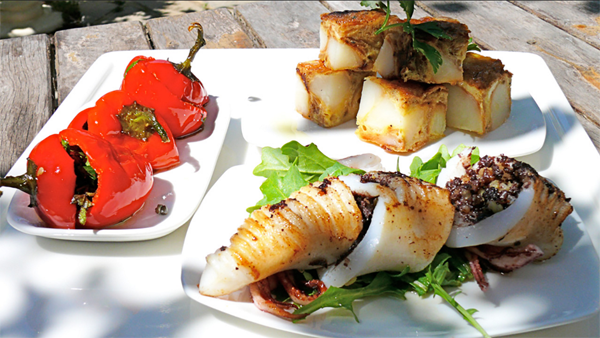 These food-centric shows from Australia, Britain, Ireland, and New Zealand are currently streaming in the US.
Baking Mad (Britain)
French Master Patissier, celebrity chef, and author Eric Lanlard, twice-named Continental Patissier of the Year at the British Baking Awards, presents this series and another called Glamour Puds (see below). In each episode of Baking Mad, he offers tips for baking success, easy-to-follow recipes, and a bake-off.
Where to watch: Hulu/Hulu Plus
The Best in Australia (Australia)
Nominated for Most Outstanding Lifestyle program at the Astra Awards, this series features three chefs — top Aussie chef Ben O'Donoghue, award-winning Irish celebrity chef Darren Simpson, and Quickies in My Kitchen (see below) host Anne Gare — competing against each other to make the best dish using the same main ingredient or theme. In each episode they have two challenges and offer tips on choosing, sourcing, and cooking ingredients.
Where to watch: Hulu/Hulu Plus, Vibrant TV
Britain's Best Bakery (Britain)
It's like The Great British Bake-Off, except for professional bakeries. Starting in regional challenges that culminate in the national finals, celebrity cake baker Mich Turner MBE, of the world-renowned Little Venice Cake Company, and restaurateur, cookery school owner, and cookbook writer Peter Sidwell, sample and critique the delicacies to crown one amongst the bakeries as "Britain's Best Bakery." If you'd like to try your hand at the recipes, you'll find them in the Britain's Best Bakery book.
Where to watch: Tubi TV
Chef's Protégé (Britain)
Three of the UK's most renowned and Michelin-starred chefs  — Scotsman Tom Kitchin, Londoner Theo Randall, and French/English Michel Roux Jr. — head to catering college, so each can find a young student to take under his wing and mentor as a protégé.
Where to watch: Tubi TV
The Cook and the Chef (Australia)
The internationally-famous Australian food icon Maggie Beer and the award-winning English chef Simon Bryant team up in this series to celebrate Australian food traditions. Together the pair have laughs and adventures as they prepare tasty, easy-to-make dishes using seasonal produce and other locally-sourced ingredients.
Where to watch: Hulu/Hulu Plus
Family Food Fight (Britain)
This competition series pits UK families against each other in head-to-head cook-offs, where family recipes and cooking skills are put to the test. Doing the tasting and judging are Michelin-starred chef Paul Merrett and television presenter Amanda Lamb.
Where to watch: Tubi TV
Food Safari (Australia)
Hosted by award-winning food and cooking author Maeve O'Meara, Food Safari features the many cuisines brought to Australia by its immigrants. Each episode focuses on the cuisine of a particular culture, and segments include commonly used ingredients and the preparation of traditional dishes.
Where to watch: Tubi TV
Glamous Puds (Britain)

In this other of Eric Lanlard's series, the French Master Patissier, whose clientele includes Madonna, Elton John, and the Beckhams, shares his tricks of the trade for making scrumptious puddings, better known as desserts in the US.
Where to watch: Hulu/Hulu Plus
The Great British Baking Show (Britain)
This series, titled The Great British Bake-Off across the pond, has been a hit with PBS viewers like no other food program, and for good reason. It's filled with drama, conflict, humor, and interesting, real-life characters — from judges Mary Berry and Paul Hollywood, to hosts Mel Giedroyc and Sue Perkins, to the contestants. There's even mystery and intrigue, as everyone wants to know who will be crowned the Best Amateur Baker in Britain.
Where to watch: Amazon Instant Video, Netflix, PBS Video (limited time)
James Can Cook (Australia)
British-born chef James Reeson cooks up a variety of recipes, with new twists on familiar favorites, in just five minutes. See his other series, The Occasional Cook, below.
Where to Watch: Hulu/Hulu Plus
Jamie's 15 Minute Meals (Britain)
Chef, restaurateur, author, and foodie revolutionary Jamie Oliver has several TV series under his belt, and this one finds the MBE tackling fast food as only he can: by preparing in each episode two 15-minute main dishes that aren't drive-thru fare.
Where to watch: Hulu Plus
Kevin Dundon's Modern Irish Food (Ireland)
With Dunbrody Country House Hotel, an 1830s Georgian manor on Ireland's southeast coast, as the backdrop, this series finds award-winning Irish chef and author Kevin Dundon sharing the histories of Irish country houses and putting his modern twist on their time-honored recipes, using locally produced, seasonal ingredients, and contemporary flavors to enhance the simplicity of the beloved Irish dishes.
Where to watch: Public TV stations (check your local listings)
Kylie Kwong: Cooking with Heart and Soul (Australia)
The easy-to-follow instructions, flavorful dishes, and personal stories of Australian restaurateur and cookbook author Kylie Kwong make this series as popular today as it was when it premiered more than a decade ago.
Where to watch: Hulu/Hulu Plus
The Naked Chef (Britain)
In the days before Jamie Oliver became an international celebrity chef, he demonstrated that almost anyone could create delicious dishes at home in next to no time, using naked (fresh) ingredients and foolproof, step-by-step instructions.
Where to watch: Hulu Plus
Neven Maguire: Home Chef (Ireland)
Irish celebrity chef Neven Maguire helps experienced home cooks elevate their skills with challenging dishes and techniques. By creating a variety of dishes from his award-winning MacNean Restaurant in Blacklion, County Cavan, Ireland, he takes viewers step by step through complex recipes and divulges trade secrets in the process. He also visits other top chefs representing Michelin-starred restaurants across and beyond Ireland.
Where to watch: Public TV stations (check your local listings)
New Zealand's Hottest Home Baker (New Zealand)
Hosted by model and actor Colin Mathura-Jeffree, and judged by professional baker Dean Brettschneider and Julia Crownshaw, founder of the award winning dessert business Dollop Puddings, this series features eight contestants competing in a bake-off to be New Zealand's "hottest home baker."
Where to watch: Tubi TV
Note: I've notified the folks at Tubi TV that the audio and video are out of sync, and they've let me know their techies are looking into the issue to resolve it.
Nigellissima (Britain)
Bestselling food author and cooking show presenter Nigella Lawson gets her Italian on here, with quick and easy recipes designed to elevate everyday eating into no-fuss feasts.
Where to watch: Hulu Plus
The Occasional Cook (Australia)
James Reeson tackles various cooking challenges in this series, including camping, nearly-bare cupboards, a meat tray, wine, a kids' party, and a dinner party.
Where to watch: Hulu/Hulu Plus
Quickies in My Kitchen (Australia)
Designed for time-starved working couples and families who enjoy great food and fun in the kitchen, this series finds Anne Gare creating delicious dishes in quick and easy ways.
Where to watch: Hulu/Hulu Plus
Rachel Allen's Dinner Parties (Ireland)
This is one of two TV series from Irish celebrity chef and cookbook author Rachel Allen. In showing viewers how to create a successful dinner party, Rachel has one of her dinner party guests act as her sous chef to help her prepare a mouth-watering three-course meal.
Where to watch: Tubi TV
Rachel Allen's Home Cooking (Ireland)
This other of Rachel Allen's TV series finds her meeting Michelin-starred and other top chefs in their homes, where they share with her some of their favorite family recipes.
Where to watch: Tubi TV
Restaurant in Our Living Room (Britain)
Pop-up restaurants get competitive and crazy in this series. In each episode, two couples compete against each other to host the most successful home-restaurant experience for one night. Customers pay what they think their meal was worth, and the winner is the couple that makes the most money.
Where to watch: Tubi TV
Stefano's Cooking Paradiso (Australia)

Chef and restaurateur Stefano de Pieri takes viewers on a culinary adventure, while combining traditional Venetian techniques with Outback gusto to prepare his special Italian/Australian dishes with locally-sourced ingredients.
Where to watch: Hulu/Hulu Plus
Surfing the Menu (Australia)
More than a decade ago, Ben O'Donoghue of The Best of Australia, and Curtis Stone of TLC's Take Home Chef, returned to Australia from London to host this "gastronomical adventure across the sun, fun and food-filled land of Oz." And in Series 4 the two venture to New Zealand, where Kiwi chef Mark Gardner joins them.
Where to watch: Hulu/Hulu Plus
Taste of Australia (Australia)
Australian food and cooking personality Lyndey Milan sets out to discover the best traditional and contemporary food and wine Australia has to offer, as she travels across the country, meets locals, and shares her experiences with other celebrated Aussie foodies.
Where to watch: Amazon Instant Video
Two Fat Ladies (Britain)
This has been and will always be one of my favorite cooking shows, because hosts/cooks Clarissa Dickson Wright and Jennifer Paterson, sadly both deceased, were hilarious. And while many of the dishes they made leaned far from being healthy, they certainly looked delish on telly. If not for the food, watch it for the entertainment.
Where to watch: Amazon Instant Video
__________________
Add your comments on our Facebook, Google+, and Twitter pages.
Share this post/page.

26 British, Aussie, Irish, and Kiwi Cooking and Competition Shows Streaming in the US