He's fully clad in the photo, but no matter, as filming has started on Series 2 of Poldark with star Aidan Turner, who's joined by new cast members, including John Nettles.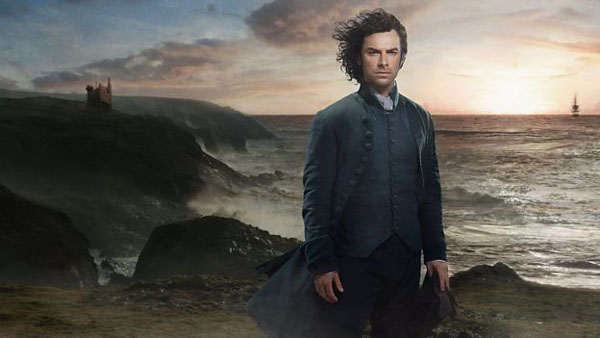 Filming began last week in Cornwall for the second series of the hit period drama Poldark, adapted from "The Poldark Saga" novels by Winston Graham.
Even better news: Series 2 consists of ten episodes, up from Season 1's eight.
For the second series, Aidan Turner (The Hobbit trilogy, Being Human, The Clinic) returns as the hero, Ross Poldark, as does Eleanor Tomlinson (Death Comes to Pemberley, Agatha Christie's Poirot, The White Queen) as Poldark's wife Demelza.
Also reprising their roles are Heida Reed (Silent Witness, DCI Banks) as Elizabeth, Kyle Soller (Anna Karenina, Bad Education) as Francis, Ruby Bentall (The Paradise, Larkrise To Candleford) as Verity, Jack Farthing (Blandings, Da Vinci's Demons) as George Warleggan, Luke Norris (The Duchess, Our World War) as Dr Dwight Enys, Phil Davis (Whitechapel, Silk) as Jud Paynter, Beatie Edney (Inspector Lewis, Agatha Christie's Poirot) as Jud's wife Prudie, and Robin Ellis (original Poldark) as Reverend Halse.
Poldark: Series 2 introduces other key characters to this sweeping 18th century saga of Cornish life, including John Nettles (Midsomer Murders) as Ray Penvenen, one of the county's wealthiest landowners, and Gabriella Wilde (Endless Love) as his niece Caroline Penvenen, a beautiful and manipulative heiress. Hugh Skinner (W1A) plays Unwin Trevaunance, a prospective MP who hopes that Caroline (and her fortune) will consent to marry him, but her heart might lie elsewhere.
When Series 2 opens, it's 1790 and there is riot and revolution in the air. Ross Poldark must once again fight for his freedom when George Warleggan tries desperately to steal his mine and have him hanged as a revolutionary. It's up to Demelza to save Ross from George as well as himself.
Crippled by debts, Ross and Francis try to heal old wounds by joining forces in a new mine that is free of the Warleggans. However, Ross and Elizabeth's feelings for each other cannot be stifled. Ross also risks everything in a desperate smuggling venture, while the fate of the Poldarks is tied to Dr Enys and Caroline Penvenen in unexpected ways.
The Poldark clan must learn to settle their differences once and for all. The question is, at what cost?
Writer Debbie Horsfield (All the Small Things, Cutting It) adapted Books 3 and 4 of "The Poldark Saga" for Series 2, which is produced by Mammoth Screen (And Then There Were None, Endeavour). William Sinclair (Vera, Misfits) and Charles Palmer (Agatha Christie's Poirot, Death in Paradise) are the directors, the producer is Margaret Mitchell (Vera, Goodbye Mr. Chips), and the executive producers are Debbie Horsfield, Karen Thrussell, and Damien Timmer for Mammoth Screen and Liz Kilgarriff for the BBC.
Filming will take place across Cornwall and Bristol over the coming months and the series will transmit in 2016 on BBC One in the UK and (most likely) PBS in the US.
__________________
Add your comments on our Facebook, Google+, and Twitter pages.
Share this post/page.

Poldark: Series 2 Begins Filming with Aidan Turner, John Nettles