Doc Martin fans, it's time to do a happy dance, because the hit dramedy's new series is set to premiere on both sides of the pond soon, and Acorn TV has just announced when for the US.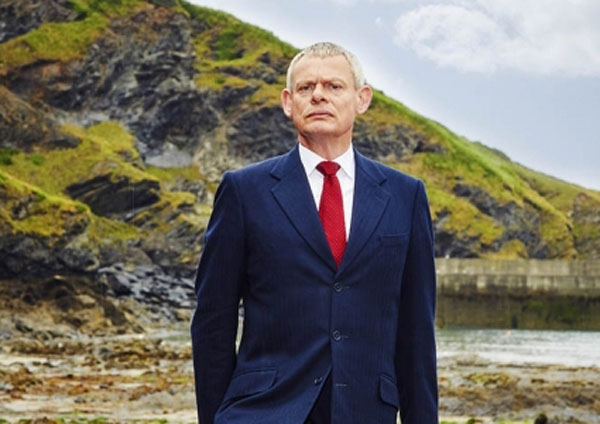 Starring BAFTA winner Martin Clunes (Arthur & George, Men Behaving Badly) as the general practitioner with the constant scowl, no sense of humor, and no bedside manner to speak of, the international hit comedy-drama Doc Martin is soon to return to telly with Series 7.
Set in a sleepy seaside town in Cornwall, the new series finds Doc Martin alone in Portwenn in the opener, as Louisa (Caroline Catz, Murder in Suburbia) and their son are off in Spain visiting her mum. Realizing that he needs to make changes for the sake of their marriage, Martin promises Louisa that he will see a therapist and work to win her back.
In addition to Martin and Louisa's troubles, the quirky residents of Portwenn — including Bert Large (Ian McNeice, Doctor Who) and Mrs. Tishell (Selina Cadell, The Lady Vanishes) — face their own ups and downs.
Series regulars reprise those roles for the seventh series, including Dame Eileen Atkins (Upstairs, Downstairs) as Martin's Aunt Ruth, Joe Absolom (Hatfields & McCoys) as Bert's son son Al, and Jessica Ransom (The Escape Artist) as receptionist Morwenna Newcross.
Doc Martin is one of ITV's highest-rated drama series, and in the US Series 6 was the #1 show on many public television stations and Acorn's fastest-selling DVD of all-time.
The series is shown in more than 70 countries, and has been so successful across the globe that its format has been translated into several foreign-language versions, produced in France, Germany, Spain, and Russia, as well as in other countries. (There's even an American version of Doc Martin in the works.)
Acorn TV debuts the first two episodes of the eight-episode season on Monday, the 5th of October 2015, followed by a new episode every Monday through its season finale on Monday, the 16th of November.
Acorn will release Series 7 on DVD and Blu-ray on 8 December 2015, and American Public Television (APT) will syndicate Series 7 to public TV stations, which will begin broadcasting the series in January 2016. (Check back here for the station list.)
Additionally, the new public television pledge special, Doc Martin: Seven Grumpy Seasons, featuring new, exclusive interviews and behind-the-scenes segments, begins airing the weekend of Thanksgiving.
Filmed in the picturesque Port Isaac on the North Cornwall coast, which serves as the fictional town of Portwenn, Doc Martin is created by Dominic Minghella (Robin Hood) and produced by Buffalo Pictures.
__________________
Add your comments on our Facebook, Google+, and Twitter pages.
Share this post/page.

Doc Martin: Series 7: Acorn TV Sets US Premiere Date for Hit Dramedy