What makes the island known as Great Britain so great? According to Julia Bradbury, the host of The Wonder of Britain, a lot. So she's handpicked her favorites for this fascinating and fun documentary series, which is about to premiere in the US.
For stateside viewers wondering "Who is Julia Bradbury," she's a well-known English television presenter (Countryfile, Julia Bradbury's Canal Walks) and author (Where to Go When: Great Britain and Ireland, Julia Bradbury's Wainwright Walks: Coast to Coast) who's traveled extensively across Great Britain for her shows and books.
In the five-part documentary The Wonder of Britain, viewers get to tag along with Bradbury as she travels to various parts of England, Scotland, and Wales, as well as Northern Ireland, to show us the many things that make her list of what makes Great Britain great.
The series has a bit of something for practically everyone, from history buffs and nature lovers, to inveterate travelers and the simply curious, and watching it will tickle your brain cells while it fires up your wanderlust to head across the pond for the first or fifteenth time.
Episode 1 — "Our Beautiful Buildings"
Bradbury begins with the British buildings that make Britain great, and the first stop on her travels is Castle Howard in Yorkshire. The residence of ten generations of the Howard family since construction began in 1699, the 9000-acre Castle Howard estate boasts a five-mile driveway, a pyramid on the grounds, and 220 or so rooms in the mansion ("nobody seems to know the exact number") filled with countless items from across Europe and elsewhere.
From there we're along for the ride as Bradbury zooms through the air on a zip wire to the Eden Project in Cornwall, where futuristic greenhouses covered in plastic sheeting ("cling film with attitude") and maintained by "sky monkeys" are home to thousands of plant species, making Eden Project what Bradbury calls "a veritable Noah's Ark for plant life."
Then it's off to Caernarfon Castle in Wales, the "crowning achievement of the English King Edward I" that was modeled after the walled city of Constantinople, followed by visits to the terrace houses of the lovely Royal Crescent in Bath, England, and the cramped ones called "back-to-backs" in Birmingham.
No story about Great Britain's great buildings would be complete without a visit to St. Paul's Cathedral in London, "the heart of the nation" with a secret inside its famous dome, revealed to Bradbury and viewers by Oliver Caroe, St Paul's Surveyor of the Fabric. Then it's off to London's financial district, to the top of the Leadenhall Building, aka "the Cheesegrater," which has the fastest lifts in Europe.
Episode 2 — "Our Industrial Story"
The Industrial Revolution began in Great Britain. With coal. To give viewers a sense of what working life was like for miners, Bradbury takes us with her deep into the pits of the Caphouse Colliery in Yorkshire, which closed just thirty years ago. Back into the daylight and fresh air, she travels by barge on the Llangollen Canal, carried above the River Dee in Wales by the Pontcysyllte Aquaduct, the longest and highest-situated aqueduct in Great Britain and a UNESCO World Heritage site.
"The invention that drove the Industrial revolution into a higher gear" was the steam engine, so Bradbury gives us a brief tour of Mid Hants Railway's Watercress Line. Steam locomotives also "left Britain with a legacy of stunning architecture, engineering, and design, like our Victorian mainline stations at Paddington and Bristol Temple Meads" that were designed by the renowned civil and mechanical engineer Isambard Kingdom Brunel.
We also get a glimpse of the Brunel-designed Clifton Suspension Bridge (one of my recommendations of must-see attractions for visitors to Bristol), and go aboard (and high up with Bradbury on) the SS Great Britain, "in its day the largest ship on the planet" and "the first modern ship," now dry-docked in Bristol.
We then head to the north with Bradbury to marvel at the interior of Manchester Town Hall, filled with art reflecting civic pride, and tour the cotton mills of New Lanark in Scotland (another UNESCO World Heritage site), where "enough cotton was spun… to go around the world two-and-a-half times." One of the most poignant parts of The Wonder of Britain is during the segment that follows a former resident through one of the New Lanark tenement houses that he had called home.
After a quick look at the the Saltburn Cliff Lift at Saltburn-by-the-Sea, Bradbury takes viewers to Blackpool Tower, "a giant steel tower of fun" modeled after the Eiffel Tower, and the tallest building in Britain when it opened in 1894.
Closing out this episode is the segment about how "organized sport began to flourish" following the Factory Acts of 1847 and 1850. For this Bradbury takes us home with her to Sheffield, to the stadium that is home to Sheffield FC, the world's first football club, founded in 1857.
Episode 3 — "Our Coastal Story"
Great Britain has 19,000 miles of coastline, reachable by traveling no more than 70 miles from any location in Great Britain. One spot that Bradbury visits is the Farne Islands on the Northumberland coast, home to numerous seabird colonies, including those of arctic terns and puffins.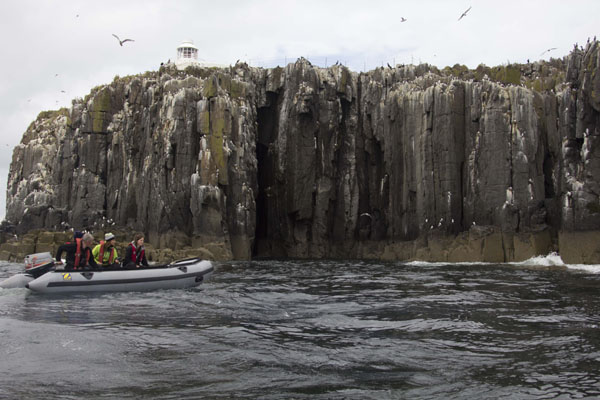 Another spot is Barra Airport in Barra, Scotland, "the only airport in the world where planes land on sand, not tarmac." Then Bradbury visits the "timeless, spiritual" Isle of Lewis in the Outer Hebrides of Scotland, and its mystical Callanish Stones, "one of the most important megalithic sites in Europe" (and the inspiration for Craigh na Dun in Outlander). For more earthly matters, Bradbury goes to Loch Roag in Lewis, Scotland, where she helps to harvest some of the seaweed that ends up in her on-the-beach bath.
In Cornwall we get to watch a ginormous cargo ship pull into port in Fowey, the largest deep-water port in the country, before Bradbury attends a fish auction (two, actually) at the neighboring Port of Looe. This is followed by a trip to the Harland & Wolff Shipyards in Belfast, Northern Ireland, where the RMS Titanic was built and, a century after its fateful maiden voyage, where a descendant of one of the 1500 who perished shares a deeply-moving story.
Bradbury segues from tragedy to success at the coastal fortress of Dover Castle in England, near the famous White Cliffs of Dover. Here she tells us the story of the largest castle in England — its vital strategic point, nearly 1000-year-long stretch of active service, and role in a special military operation that saved British and French soldiers in the spring of 1940.
Episode 4 — "Our Royal Story"
Following a brief tour of, and a bit of sword-fighting in, Tintagel in Cornwall, birthplace of the legendary King Arthur and site of the wizard Merlin's cave, Bradbury takes viewers to the Tower of London for a quick look at Henry VIII's, um, large armor before venturing to his "ultimate pleasure palace" — Hampton Court — "the most over-the-top royal residence in the country."
But wait, there's more! As in the "utterly bonkers" and chinoiserie-filled Royal Pavilion, located near the sea in Brighton and built by King George IV when he was Prince Regent.
A regal residence built for, rather than by, a British monarch is Kenilworth Castle in Warwickshire. From amidst its ruins and gardens, Bradbury regales us with the story of how Robert Dudley, 1st Earl of Leicester, built Kenilworth Castle as a future home for his lady love Queen Elizabeth I. Too bad for him that she chose duty over love and remained the Virgin Queen.
The monarch who married for love and had nine children was Queen Victoria, who with Prince Albert made Osborne House on the Isle of Wight their family home. From there Bradbury travels to Edinburgh Castle in Scotland (another must-visit) before returning to London, where she takes us behind the scenes at the Hyde Park Barracks in Knightsbridge, home of the Household Cavalry, the Queen's official bodyguards.
Episode 5 — "Our Countryside Story"
In this closing episode of The Wonder of Britain, Bradbury travels to the "hauntingly beautiful" Isle of Skye in the Inner Hebrides of Scotland, and shares with us the geological history of the Black Cuillin mountains and Loch Coruisk, one of Britain's most remote freshwater lochs.
She then heads to the western side of Great Britain, to Sidonia National Park in North Wales, where "volcanoes, ice, and continents collided" and "fossilized sea creatures can still be found." Then it's a quick stop back in Edinburgh, followed by a longer one at the Giants Causeway, "the most popular tourist attraction in Northern Ireland" whose folklore about the giant Fionn mac Cumhaill (Finn MacCool) "adds the magic to this place."
And folklore segues to farming when Bradbury visits Castle Farm in Kent, England, the largest lavender farm in the UK.
For other types of getaways to the countryside, Bradbury gives us glimpses of Glencoe in the Scottish Highlands and Durdle Door on the shore in Dorset, England, before taking us to "one of the country's first tourist attractions": Cheddar Gorge in Somerset, the location of Britain's highest inland cliffs, as well as caves where a particular discovery led to a more gruesome one.
Bradbury closes the series with visits to the Hawk Conservancy in Hampshire and a beach in Northumberland, and a father-daughter hike through the Hope Valley in Derbyshire's Peak District, the UK's first national park.
The Wonder of Britain, a very cool documentary for any Anglophile, premieres in the US on the following public TV stations beginning Tuesday, 1 September 2015. (Check your local listings.) For viewers in other cities who would like to watch this series, please contact the station that serves your area or American Public Television.
| STATE | CITY | STATION |
| --- | --- | --- |
| COLORADO | Colorado Springs, Denver, Durango, Grand Junction, Pueblo, Steamboat Springs | |
| FLORIDA | Tampa | |
| KENTUCKY | Ashland, Bowling Green, Concinnati/Covington, Elizabethtown, Hazard, Lexington, Louisville, Madisonville, Morehead, Murray, Owensboro, Owenton, Paducah, Pikeville, Somerset | |
| MONTANA | Billings, Bozeman, Great Falls, Kalispell, Missoula | |
| NORTH CAROLINA | Asheville, Chapel Hill, Charlotte, Concord, Edenton, Greensboro, Greenville, Jacksonville, Linville, Lumberton, Raleigh-Durham, Roanoke Rapids, Wilmington, Winston-Salem | |
| NORTH DAKOTA | Bismarck, Devil's Lake, Dickinson, Ellendale, Fargo, Minot, Valley City, Williston; Crookston MN | |
| TEXAS | Austin | |
| WISCONSIN | Milwaukee | |
__________________
Add your comments on our Facebook, Google+, and Twitter pages.
Share this post/page.

The Wonder of Britain: People, Places, and Things That Put the 'Great' in Great Britain