"Never can say goodbye." Thankfully, we don't have to, because Freddie, Stuart & co. are returning to our screens for Season 2 of Vicious, and things are downright hi-la-ri-ous.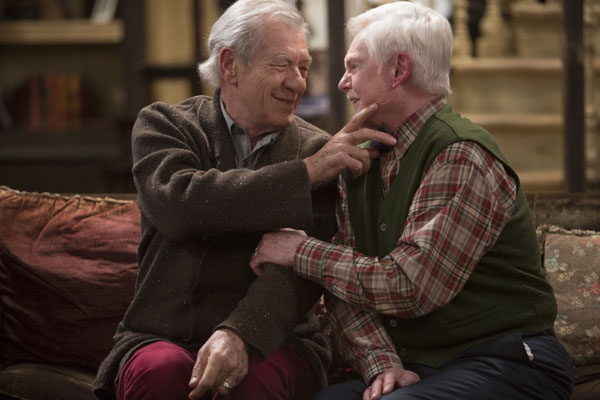 You know them. Actor Freddie (Ian McKellen) and partner Stuart (Derek Jacobi), the couple who have loved and bickered their way through 50 years together.
Ditto their friends. Violet, the man-crazy cougar (Frances de la Tour). Ash (Iwan Rheon), the couple's upstairs neighbor and Violet's wanna-be boy toy. Penelope (Marcia Warren), a kook when she's not altogether there and a worthy rival to the Dowager Countess in zingers when she is. And Mason (Philip Voss), Freddie's brother.
They're all back, along with a few new faces, in six new ferociously funny episodes of Vicious: Season 2.
"Sister"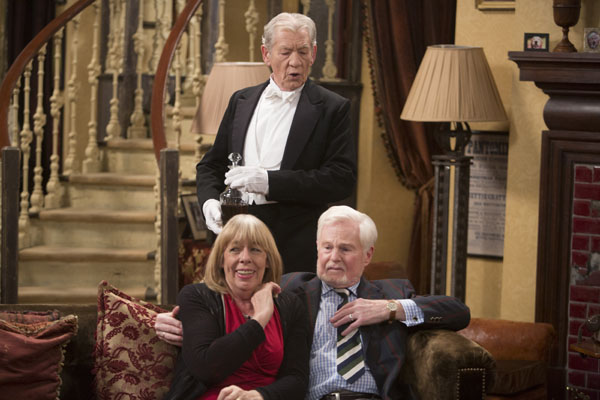 Ash has a new girlfriend that he wants everyone to meet, and Violet has a sister that no one knew about. Their worlds collide after Freddie and Stuart concoct a scheme to help Violet save face with the married and wealthy Lillian (Celia Imrie, The Best Exotic Marigold Hotel), and introduce themselves to Jess (Georgina King, Little Dorrit) in a way Ash doesn't expect.
"Gym"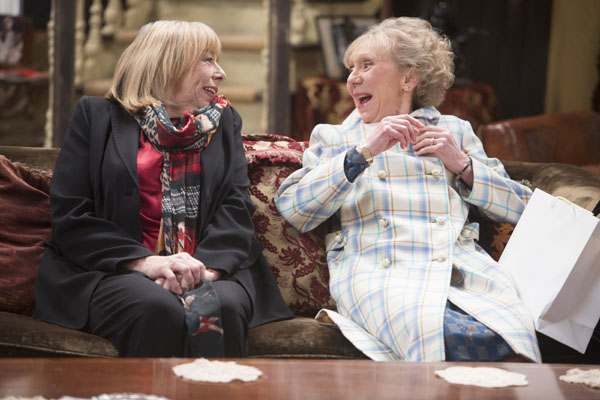 Ash is off to the gym, so Freddie and Stuart decide to get fit, too. While the pair spend hours at the gym after taking advantage of the special membership offered by fitness trainer Theo (Jack Ashton, Call the Midwife), Violet and Penelope make themselves at home at the flat.
"Ballroom"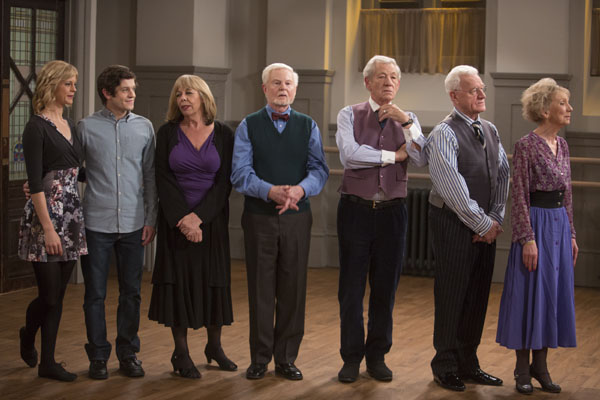 A ballroom dancing class sets the stage for much hilarity after dance instructor Antonio (Geoffrey McGivern, Grantchester) takes a shine to Violet and thinks Stuart is a better dancer than Freddie. Ego wounded, Freddie flies off in a huff, only to return in a way that only he can. Meanwhile, Ash wants to take his relationship with Jess to the next level, with a bit of help from Freddie.
"Stag Do"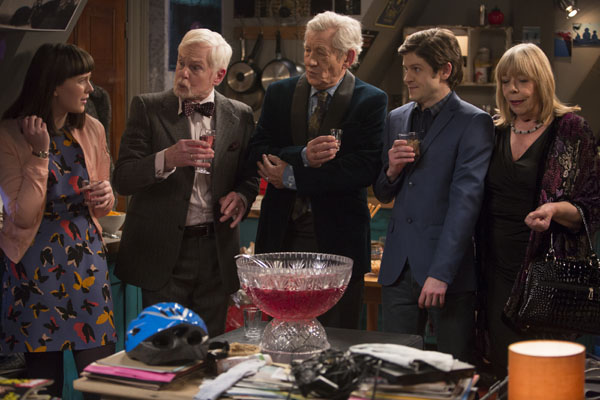 Violet's husband Jasper is still missing and Ash's wounded heart is mending, so each considers dating again while Stuart is planning his and Freddie's wedding with help from Ash's ex-girlfriend Chloe (Alexandra Roach, Utopia). The thing is, they're short on funds to pay for it, so it's up to Freddie to land that acting role he's auditioning for.
"Flatmates"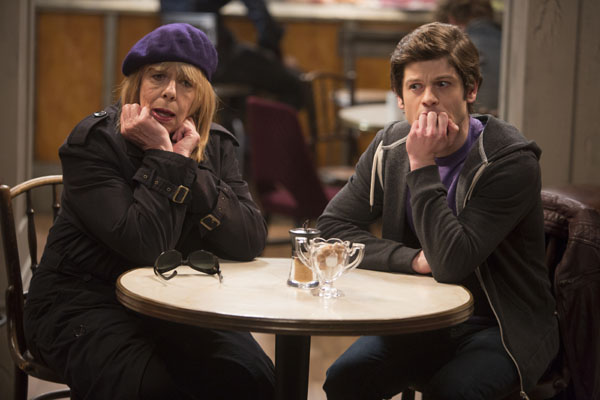 The couple's bickering comes to a head and the two fall out, causing Stuart to move in with Ash and Freddie to take in Violet while work is being done on her flat. Neither situation goes swimmingly, so Violet and Ash hatch a plan.
"Wedding"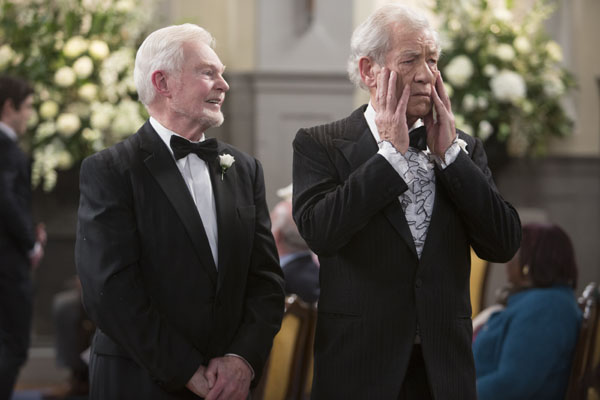 Finally, it's the big day: Freddie and Stuart's wedding, the event that Stuart's mum Mildred (Joan Linder, Doctor Who) has been waiting a half-century for. But as is wont to happen, things do not go off without a hitch. Mason and Penelope have problems with the wedding cake, Jasper (Michael Cochrane, Downton Abbey) shows up unexpectedly and causes trouble, and Ash has an issue walking Mildred down the aisle.
Seriously, you'll howl laughing, put hand to heart and exclaim "Aww…" and even shed a tear or two watching the septuagenarian lovebirds and their friends.
"Don't wanna let you go." You bet.
Vicious: Season 2 premieres this Sunday, 23 August 2015, at 10:30 PM ET, on PBS. (Check your local listings.)
__________________
Add your comments on our Facebook, Google+, and Twitter pages.
Share this post/page.

Vicious: Season 2: Freddie, Stuart, and Friends Are Back and Funnier than Ever