The Detectorists are coming! The Detectorists are coming! Paul Revere would be shouting this as fabulous news if he were around today, and you should be excited about it, too!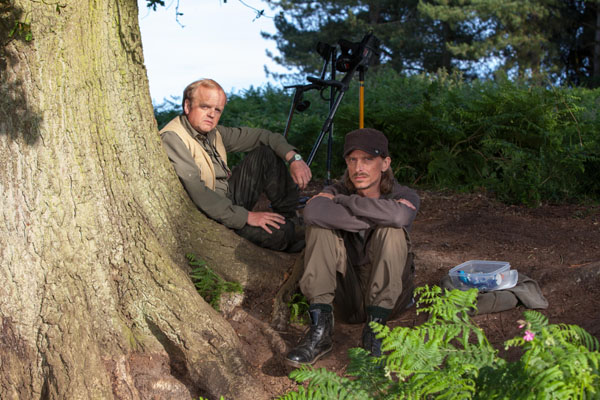 I am over the moon that Detectorists, the 2015 BAFTA TV winner for Best Situation Comedy, is headed to telly in the US. One of my favorite shows that premiered in the UK in 2014 (it ranked in the top 3), it will soon be available for stateside Brit TV fans to watch via streaming and broadcast.
Hailed as "a glittering find" by Mark Braxton of Radio Times, and "indispensable viewing" by The Guardian, Detectorists follows the friendship between best mates and fellow detectorists Andy Stone and Lance Stater, as they search for buried treasures in the (fictional) Essex town of Danbury.
British Comedy Awards nominee and the series' creator, writer, and director Mackenzie Crook (The Office, Pirates of the Caribbean) stars as Andy, and Primetime Emmy® nominee Toby Jones (Marvellous, The Hunger Games) stars as Lance — two blokes with metal detectors, membership in the DMDC (Danbury Metal Detecting Club), and a shared dream of discovering the priceless Saxon hoard they believe is buried somewhere in their part of the Essex countryside.
While Andy and Lance's lives do revolve around their hobby (read: obsession), there's more besides, including Andy's live-in relationship with his schoolteacher girlfriend Becky (Rachael Stirling, The Bletchley Circle), Lance's lopsided relationship with his shopowner ex-wife Maggie (Lucy Benjamin, EastEnders), and their being reluctant mentors to uni student and newbie detectorist Sophie (Aimee-Ffion Edwards, Peaky Blinders).
Among the other cast members are Gerard Horan (WPC 56), Adam Riches (A Touch of Frost), David Sterne (Hunted), and Sophie Thompson (EastEnders).
Detectorists is quirky, funny, bittersweet, intelligent, and above all charming — a situation and observational comedy that makes you go "hmmm" and "awww" as much as "ha ha ha."
To sum up Detectorists, allow me to echo another of Braxton's sentiments: "Bleeping brilliant."
The six episodes of Detectorists: Series 1 are set to premiere nationally in the US on Monday, 17 August 2015, exclusively at Acorn TV.
Acorn Media releases the DVD on 25 August 2015 (date subject to change), and local public TV stations begin airing the first series on or after 1 September 2015. (Stay tuned for details about carriage.) The list of public TV stations airing Detectorists is here.
The second series of Detectorists is currently in production.
__________________
Add your comments on our Facebook, Google+, and Twitter pages.
Share this post/page.

Detectorists: There's Treasure in This Brilliant British Comedy, and It's Headed to the US!