Sir Arthur Conan Doyle is becoming a telly celeb in his own right, with not one but two series featuring the creator of Sherlock Holmes headed stateside.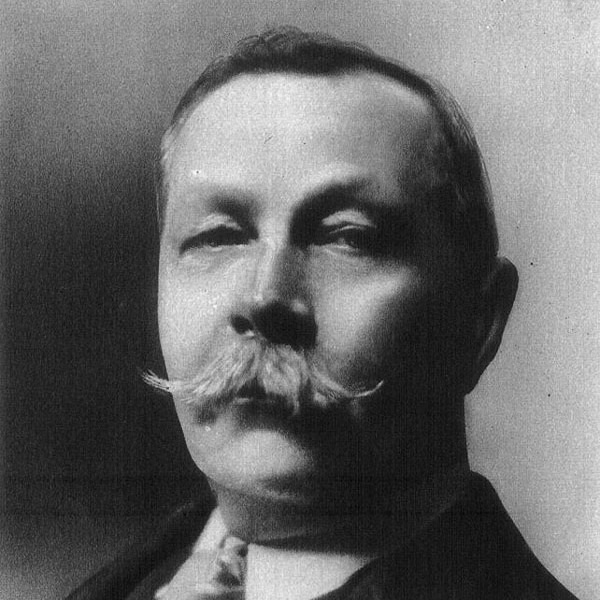 Sherlock Holmes has had many an outing as the high-functioning sociopath of a sleuth, and soon viewers on both sides of the pond will get to thrill to the adventures of Sir Arthur Conan Doyle when his character headlines another new drama.
The first, Arthur & George, has already screened in the UK and will premiere in the US this fall as part of PBS' MASTERPIECE Mystery! line-up.
In 2016 Fox (yes, Fox) will debut Houdini & Doyle, a ten-part supernatural crime drama starring Stephen Mangan (Episodes, Dirk Gently) as Arthur Conan Doyle and Michael Weston (House, Law & Order: SVU) as Harry Houdini — two fascinating and iconic characters who were real-life friends and adversaries, and as it turns out, crime solvers.
It's the early 20th century, and New Scotland Yard is mired in the 19th-century ways of crime-solving and overwhelmed with bizarre cases for which they need outside help.
Enter Houdini and Doyle.
Professional magician, escape artist, master of illusion, and the highest paid performer in the world, Harry Houdini knows there is nothing supernatural about magic, and he refuses to believe in the paranormal. To him, everything unexplained is a trick, a gimmick, or a fraud.
On the other hand, Sir Arthur Conan Doyle, creator of Sherlock "the greatest detective of all time" Holmes, is a passionate believer in the paranormal. He's lost someone very close to him, and desperately wants to find a way to communicate with them.
This fundamental difference between the two men leads to conflict, not to mention humor in their high-minded yet petty competition in the pursuit of the truth.
Other members of the Houdini & Doyle cast include Rebecca Liddiard (Murdoch Mysteries) as Constable Adelaide Stratton, whose character in the series is the first female Police Constable ever to work for the Met, Tim McInnerny (MI-5) as Inspector Horace Merring, and Adam Nagaitis (Happy Valley) as Sergeant George Gudgett.
Written and created by David Hoselton and David Titcher, Houdini & Doyle is a UK/Canada treaty co-production of Big Talk Productions and Shaftesbury in association with Shore Z.
The series is executive produced by David Shore, Hoselton, and Titcher for Shore Z (House), Kenton Allen, Luke Alkin, and Matthew Justice for Big Talk Productions (Mr. Sloane), and Christina Jennings, Scott Garvie, and Maggie Murphy for Shaftesbury (Murdoch Mysteries, of which three episodes feature Conan Doyle's interest in the paranormal). The lead director is Stephen Hopkins (24) and the producer is Adrian Sturges (The Enfield Haunting).
Principal photography is due to begin in Manchester and Toronto this summer.
Houdini & Doyle will premiere in the US on Fox, in the UK on ITV Encore, and in Canada on Global, all in 2016.
__________________
Add your comments on our Facebook, Google+, and Twitter pages.
Share this post/page.

Houdini & Doyle: Second Drama Featuring Sherlock Holmes Creator Coming to the US