There isn't much to say about Pompidou aside from this latest Netflix Original series is, for the most part, not funny.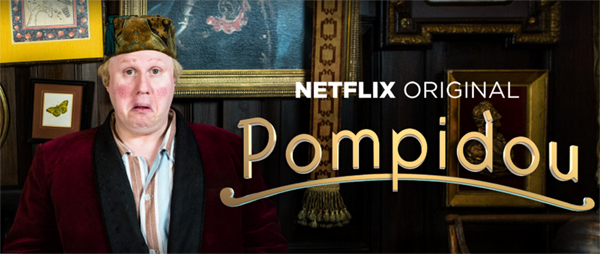 Perhaps it takes a certain sensibility to get the humor in the visual comedy Pompidou. If so, then I don't have it.
The series centers on Pompidou, "a tubby, pompous, penniless eccentric" aristocrat played by Matt Lucas (Little Britain, Come Fly with Me, Alice in Wonderland, Bridesmaids), who also created and co-directed the show.
Having fallen on hard times, Pompidou has taken to living in a clapped-out old caravan parked in front of his crumbling manor house. His long-suffering butler Hove (Alex MacQueen, Hunderby, The Inbetweeners, Holby City) continues to serve him, and his Afghan hound Marion still keeps him company.
Each of the six episodes finds the two in various vignettes where they face "challenges," from extracting a live bird nesting in Hove's stomach, to stealing back a priceless bowl Pompidou once owned.
I smiled at one bit in the first episode. That's it. No guffaws. No chortling. Not even one "Hah!" And I didn't watch the remaining five, having opted to spend those 2.5 hours on a show that would actually entertain me. (Harsh, but true.) Maybe the episodes get better, but I've moved on.
Pompidou is like a wanna-be Mr-Bean meets Blandings, with little dialogue aside from gibberish and Pompidou's occasional tsk-tsking "naughty." Except unlike those two Britcoms, this one doesn't generate much in the way of laughs.
I get Lucas' intention with the gibberish, though. He "wanted to make something that would have international appeal" and for "this show to be as inclusive as possible," meaning family-friendly. So perhaps Pompidou plays better to the much-younger set and in others of Netflix's territories.
Pompidou is currently streaming in the US exclusively at Netflix.
__________________
Add your comments on our Facebook, Google+, and Twitter pages.
Pompidou: A Mostly-Not-Funny Netflix Original Brit Comedy