People from New Zealand and Australia have always been the ones asking questions like how much does hulu nz cost? How can I watch Friends in Oz? Is there any way I can get the latest season of *insert popular show* where I am? And this is because there was so much more content being made in the US and UK that everyone down under wanted to watch these amazing shows! But now, the tables have started to turn. As television shows from the UK continue to capture fans on this side of the pond, more and more series from the Southern Hemisphere are making their way to the Western. That is, from Australia and New Zealand to the United States.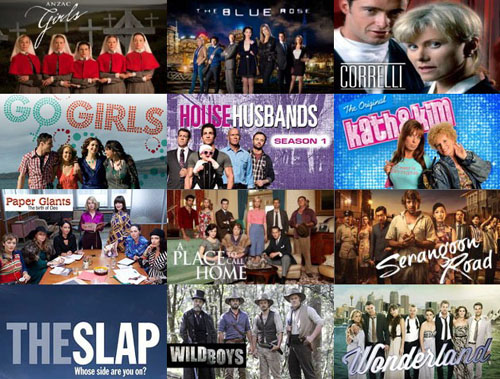 Stateside viewers have been watching TV programs from Down Under since before Miss Fisher's Murder Mysteries splashed onto our screens, but it's safe to say that this delightful fan favorite was the show that left audiences across America craving more, more, more. And more is what we have gotten.
As noted in this post, the Acorn TV subscription VoD service followed up its premiere of Miss Fisher's with the Guy Pearce crime drama/thriller, Jack Irish, and the mystery series, Mr. & Mrs. Murder. (All three have since been screening on public TV stations.) More recently, Acorn TV debuted the following fours dramas:
(UPDATED as of March 2015: Anzac Girls, A Place to Call Home, and Serangoon Road are now available for streaming at Amazon Instant Video.)
Earlier in January, Acorn TV also added the hilarious hit Aussie comedy, Kath & Kim (not the American remake), and Martin Clunes' New Zealand-set dramedy, The Man Who Lost His Head, to its library.
Hulu's library of shows from Australia and New Zealand has been growing like wildfire, with titles in genres from comedies and dramas to how-to and reality programs. A short list of titles added since this post includes, but is certainly not limited to, these shows:
All Saints – There are 493 episodes of this multiple award-winning medical drama set at a fictional Australian hospital, and Hulu has all of them.
New! Home And Away – Another multiple award-winner, this long-running soap centers on the residents of the fictitious coastal town of Summer Bay in New South Wales. Hulu is now streaming the first 13 episodes of the current Season 28, which began airing Down Under in February.
House Husbands – This dramedy, the winner of the 2013 Logie Award for Most Popular Drama Series, centers on the lives of four stay-at-home dads. Hulu is now streaming the first two seasons; the fourth is airing in Australia this year.
Laid – The 2012 AFI winner for Best TV Comedy Series follows a twenty-something single gal who needs to figure out her life and the weirdness in it, especially since three ex-boyfriends have died.
Outback House – Fans of historical reality shows such as The 1900 House and Manor House should enjoy this miniseries, which follows a modern-day family living and working alongside shepherds, station hands, and others at an 1861 sheep station (replica) in the Outback.
Packed to the Rafters – A multiple award winner that consistently showed up on the list of Australia's top 5 programs, this family dramedy centers on the lives of the Rafter clan.
Paper Giants: The Birth of Cleo and Paper Giants: Magazine Wars – The former is a miniseries that tracks the beginnings of the real-world women's monthly magazine, Cleo, and the latter is another that follows the battles between the editors of Woman's Day and New Idea magazines.
Puberty Blues – The winner of the 2013 AFI Award for Best TV Drama Series is a coming-of-age drama, based on the novel by Kathy Lette and Gabrielle Carey, that revolves around two inseparable teens and their friends and families in Sydney's beachside suburb of Cronulla in the 1970s.
Reef Doctors – This medical drama revolves around single mum (and venom enthusiast!), Dr. Sam Stewart (Lisa McCune, Sea Patrol), and her team of doctors, who tend to the residents and visitors of the islands on the Great Barrier Reef.
The Slap – This multiple award-winning drama, adapted from the Commonwealth Writers Prize-winning novel by Christos Tsiolkas, follows the life-changing effects on several adults in the aftermath of one man's slap of another couple's young son. (The NBC remake debuted in January.)
Tangle – Several cast members won Outstanding Performance awards in this ASTRA Awards-winning drama. The series follows the Kovac and Williams families, their friends and extended family members, who are entangled in their relationships by love, sex, secrets, politics, and money.
Underbelly NZ: Land of the Long Green Cloud – This true crime drama, the first in the Underbelly series produced in New Zealand, recounts the rise-and-fall story of Marty Johnstone (Dan Musgrove, Go Girls), a small-time crook who became the first drug cartel magnate in the country.
Water Rats – A multiple award nominee, this crime drama follows members of the Sydney Water Police as they fight crime across Sydney Harbour and surrounding locales. Colin Friels (Killing Time) and Catherine McClements (Rush) won two Best Actor and Actress awards each. Hulu is now streaming the first five of six seasons.
Wonderland – This romantic dramedy centers on four couples who live in and around the Wonderland apartment building in Sydney.
Netflix hasn't been a slouch when it comes to Aussie and Kiwi shows, either, although it does have fewer exclusive titles that Acorn TV and Hulu. That said, though, the ones below have been added since this post and are only available for streaming at Netflix.
Hounds – Described as "the best Kiwi comedy," this two-time Best Comedy award winner centers on Will Carrington (Toby Sharpe, Jake), a job-hating lawyer whose life changes dramatically after inheriting half a house, half a racing greyhound (complete with trainer), and a half-sister following his father's death.
Secrets & Lies – Nominated for a 2015 AFI Award for Best Telefeature or Miniseries, this six-part Aussie thriller stars Kiwi Martin Henderson (The Red Road) as Ben Gundelach, a married father of two who discovers the dead body of a young boy, becomes the prime suspect in the murder, and sets out to find the killer. And that's just for starters! (The ABC remake just debuted.)
Wentworth – If you were a regular viewer of Prisoner: Cell Block H back in the late '70s/early '80s (like my mom), then Wentworth is for you. (Ditto if you weren't.) This drama, set at a women's prison, is not an Aussie version of OITNB, but a dark Prisoner prequel that follows Bea Smith's (Danielle Cormack, Rake, Underbelly) early days in prison for the attempted murder of her husband. The first two seasons are currently streaming at Netflix, and the third is slated to screen Down Under this year.
But wait, there's more! Other titles from Australia and New Zealand are exclusive to other programmers, too, including these:
There are many more shows where these came from, but just the titles above make for hours, days, weeks of Aussie and Kiwi entertainment.
And more shows from Australia and New Zealand are headed to the US in the coming months, so stay tuned.
__________________
Add your comments on our Facebook, Google+, and Twitter pages.
The Invasion from Down Under Continues: More TV Programs from Australia and New Zealand [UPDATED]