About a month before ITV debuted the third series of Doc Martin, it screened a delightful made-for-TV movie — The Man Who Lost His Head — that starred the doc himself, Martin Clunes. And starting next week, local public television stations will begin broadcasting it for viewers in the US.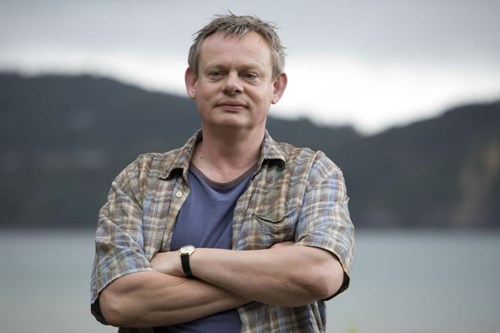 The dramedy The Man Who Lost His Head opens with the conservative Ian Bennett (Martin Clunes, Men Behaving Badly, Reggie Perrin), a curator at the British Imperial Museum, discussing his idea for a new Egyptian exhibit with colleague Adrian (Gareth Reeves, Underbelly) and boss Nigel (John Callen, The Hobbit Trilogy). Like Ian, Adrian is up for the deputy directorship, so to up his chances of getting it, he snarkily dismisses Ian's idea as boring and suggests a more exotic one: the voyages of Captain Cook.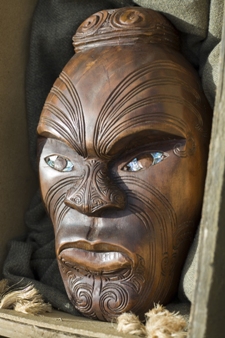 As Ian rummages through the museum's holdings of artifacts from Cook's travels, he comes across the wood carving of Chief Takataka, a Maori who had crafted it to send to his people until he could return home from England. Unfortunately, he died, and neither he nor the statue made it to New Zealand.
In the Maori village of Otakataka, the very intense Zac (Calvin Tuteao, Top of the Lake) sees a photo of the carving on the museum's website, while back in England Ian and his fiancée Fiona (Caroline Harker, A Touch of Frost) are planning their wedding.
Fast forward: Zac has filed a repatriation claim for the statue to be returned to Otakataka, not simply for its value as a cultural artifact but because it is "the embodiment of [their] sacred chief, whose destiny is to return and deliver his people from their misery."
So Ian is charged with going to New Zealand to meet with Zac and other members of the Otakataka community, ostensibly to investigate their claim and determine if they have the appropriate facilities for housing the statue, but really (at least to Nigel) to ensure that the statue stays at the museum.
Before Ian has even packed, spooky stuff starts to happen, such as his being awoken by enchanting, exotic music and Fiona's finding a gekko walking across her desk. The weirdness is not limited to the couple, either. Ian and Lollie (Nicola Kawana, Shortland Street), an Otakataka local, both have the same disturbing dream in which a red/orange full moon grows larger and larger and falls toward each of them. An omen, perhaps?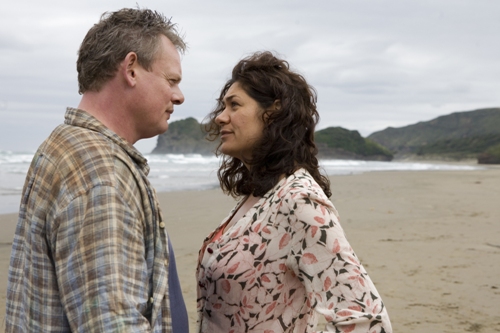 At last Ian arrives in Otakataka, and so begins his introduction to Maori culture, the beauty of the west coast of New Zealand, and the surprises that will change his life.
The following local public TV stations are confirmed for airing The Man Who Lost His Head beginning the 1st of August 2014. Check your local listings or contact the station serving your area for broadcast dates and times, and check back here for station updates.
| State | City | Station |
| --- | --- | --- |
| Arizona | Tucson | |
| District of Columbia | Washington, DC | |
| Idaho | Boise, Coeur d'Alene, Moscow, Pocatello, Twin Falls | |
| Kentucky | Ashland, Bowling Green, Covington (Cincinnati), Elizabethtown, Hazard, Lexington, Louisville, Madisonville, Morehead, Murray, Owensboro, Owenton, Paducah, Pikeville, Somerset | |
| New York | Buffalo | |
| Rhode Island | Providence | |
| Washington | Seattle | |
__________________
Add your comments on our Facebook, Google+, and Twitter pages.
Martin Clunes Is "The Man Who Lost His Head"