Kick off the dancing shoes and leave the singing in shower, because there's a new competition coming to town, and to PBS at that: The Great British Baking Show.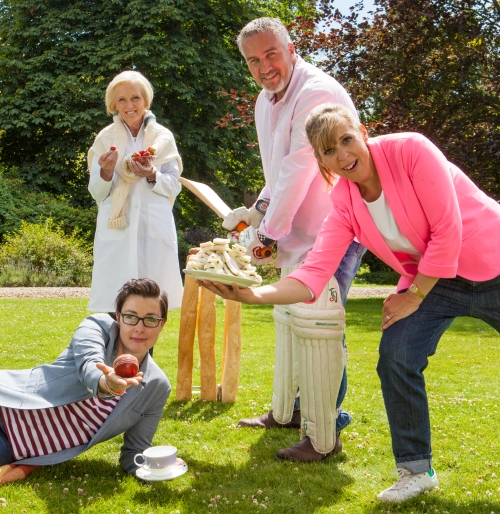 Yes, it's time to get your bake on with the mega-hit bake-off program, The Great British Baking Show, the highest-rated food show ever in the UK, where it's known as The Great British Bake-Off.
Over ten weeks of competition, twelve passionate amateur bakers from across Great Britain get down and dirty (with flour) to be crowned la crème de la crème of British baking. From breads and pastries, to cakes and desserts of all kinds, the bakers must rise to the occasion (with or without yeast) and tackle a different skill each week, the difficulty of which increases as the competition unfolds. But that's not all.
Each episode features challenges in three categories: the Signature Bake, which tests the bakers' personality, creative flair, and baking ability; the Technical Bake, when bakers are given one basic recipe, with the same ingredients and instructions, but no other guidance; and the Showstopper Bake, in which the competitors showcase their depth of skill and talent. In this category, judges seek the most impressive and elaborate creations that taste first-class, too.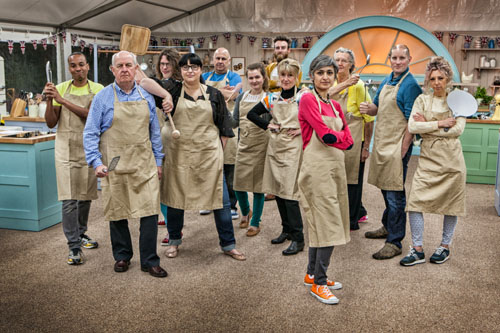 Doing the judging are the UK's "doyenne of baking," Mary Berry,
and Paul Hollywood,
a top British artisan baker. Berry has been cooking for nearly 60 years, sold millions of copies of her 70 cookbooks around the world, and been recognized by the Queen for her contribution to the culinary arts with an appointment as Commander of the Order of the British Empire (CBE). The innovative Hollywood has worked in some of the world's most exclusive hotels, including the Dorchester in London, and cemented his reputation as a leading authority with his bestselling 100 Great Breads, which has been translated into seven languages to date.
Hosting the series are the successful and long-time comedy duo of Sue Perkins (who has appeared on Celebrity MasterChef and QI) and Mel Giedroyc (whom you may recall from The Vicar of Dibley and Miranda), who add a dash of naughtiness to the kitchen as they tease and encourage the bakers while serving as comedic foils to Berry and Hollywood.
Produced by Love Productions, the BAFTA-winning UK series became the most popular program on BBC Two and has since moved to the flagship BBC One, where it continues to hold sway over audiences. (It even beat the 2014 World Cup finale!)  The fifth season, which received both critical and audience acclaim for its quick pace, lively comedic tone, and competitor diversity, will be the first to be screened in the US.
The Great British Baking Show premieres on Sunday, 28 December 2014, at 8 PM ET, exclusively on PBS. (Check your local listings.)
__________________
Add your comments on our Facebook, Google+, and Twitter pages.
Get Your Bake On When The Great British Baking Show Comes to PBS