Holiday gifts have arrived early in the form of new video streaming titles, including a few comedies and a drama. Go ahead. Get your binge-watch on.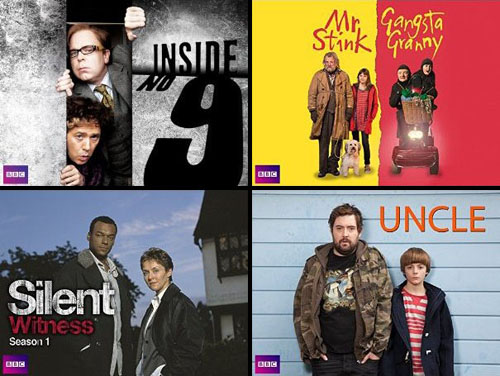 Several BBC titles have finally made it to this side of the pond for streaming, including…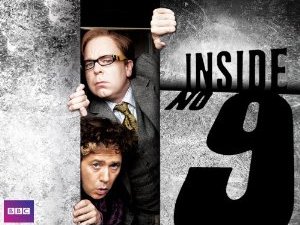 Inside No. 9
In this award-winning anthology series written by Reece Shearsmith (The Widower) and Steve Pemberton (Happy Valley), each of the six self-contained, dark-comedy tales are set inside a No. 9, from the address of a family mansion to a couple's flat.
Both Shearsmith and Pemberton, usually together but also solo, appear in each episode, as do loads of guest stars. The first episode, "Sardines," counts Anna Chancellor (Fleming), Katherine Parkinson (Doc Martin), Luke Pasqualino (The Musketeers), Anne Reid (Last Tango in Halifax), Julian Rhind-Tutt (The Hour), Timothy West (Bleak House), and Ben Willbond (The Thick of It) among them.
My favorite episode is "A Quiet Night In," in which all of the action — by the homeowner (Denis Lawson, New Tricks), his wife (Oona Chaplin, Game of Thrones), and the two burglars (Shearsmith and Pemberton) trying to steal a painting — happens with next-to-no dialogue. Honestly, it's a scream.
Inside No. 9 is now available for streaming/download at Amazon Instant Video,
Google Play, iTunes, and Vudu.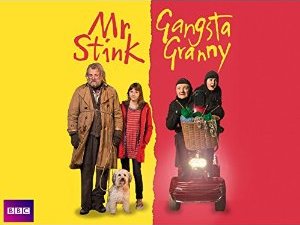 Mr. Stink & Gangsta Granny
Just in time for the holidays are these two made-for-TV movies, adapted from the books written by British TV actor and writer David Walliams
(Little Britain).
Mr. Stink, which aired on PBS last year, stars Hugh Bonneville (Downton Abbey) as the titular character, a seemingly homeless man befriended by young Chloe (Nell Tiger Free, Endeavour), who shelters him and his dog in the shed behind the family home. This does not sit well with her MP-wanna-be mum (Sheridan Smith, Mrs. Biggs), although her dad (Johnny Vegas, Moone Boy) is a bit more relaxed about it. But troubles on the home front don't compare with the nastiness from a group of schoolmates, and Mr. Stink has an interesting, and rather pungent, way of helping her handle them in return.
In the eponymous Gangsta Granny, Julia McKenzie (Agatha Christie's Marple) stars as the granny to young Ben (Reece Buttery, The Dumping Ground), who dislikes having to spend every Friday evening with her while his mum Linda (Miranda Hart, Miranda) and Mike (Walliams) go dancing. To him, Granny is boring… until she lets him in on a secret: she's an international jewel thief about to steal the Queen's Crown Jewels from the Tower of London!
Both Mr. Stink and Gangsta Granny are available as a bundle and separate titles for streaming/download at Amazon Instant Video,
and Google Play, iTunes, and Vudu.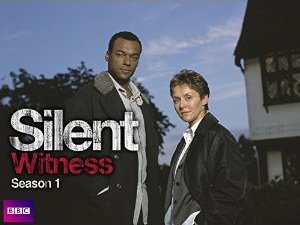 Silent Witness
This crime drama has been airing since 1996, and its first and seventeenth seasons are also now streaming and available for download at Amazon Instant Video,
and Google Play, iTunes, and Vudu.
The first season stars Amanda Burton (The Commander) as Sam Ryan, a university professor and a forensic pathologist for the police in Cambridge. The seventeenth stars Emilia Fox (The Wrong Mans) as Dr. Nikki Alexander, who joins the team soon after Sam's departure (in Season 8). The cases that both Sam and Nikki work on include, you guessed it, murder.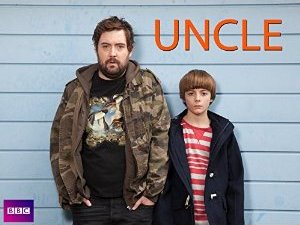 Uncle
The titular uncle in the sitcom Uncle is Andy (Nick Helm, Big Babies), an unemployed musician who begins his own journey of growing up out of his unlikely bond with Errol (Elliot Speller-Gillott, Holby City), his sister Sam's (Daisy Haggard, Episodes) son.
Through storylines take the pair from a gay strip club to a battle of the bands, Uncle is rude and crude, dark as well as enlightening. It's also quite touching and hilarious.
The first season of Uncle (its second will screen on BBC Three in 2015) is now available for streaming/download at Amazon Instant Video,
and Google Play, iTunes, and Vudu.
__________________
Add your comments on our Facebook, Google+, and Twitter pages.
Brit TV Shows to Add to Your Streaming List