The holidays haven't even happened yet, and I'm already feeling both giddy and glum, knowing that two new episodes of Miranda will premiere in a couple weeks, and also that there will be no more afterward.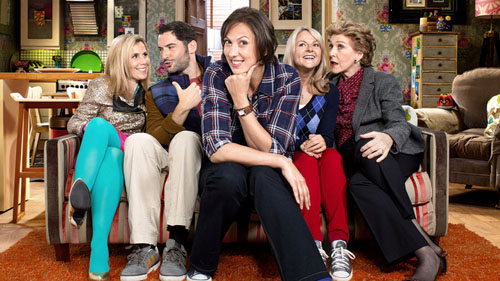 Alas, Series 4 of the award-winning comedy, Miranda,
is not to be. Instead, series creator and star, Miranda Hart (Call the Midwife), is bringing her titular program to a close with two holiday specials, noting that she didn't want the mock version of herself to be forever hapless. She wants her to be happy!
So, with proposals from both Gary (Tom Ellis, Rush) and Michael (Bohdan Poraj, The Musketeers) in the Series 3
 cliffhanger, which one will Miranda choose?
Either way, Penny (Patricia Hodge, Rumpole of the Bailey) will be, what she calls, tickled pink, that her daughter will finally have a husband and a life of (pratfall-free?) domestic bliss. For joke shop manager and friend, Stevie (Sarah Hadland, The Job Lot), getting married is what Miranda will do to make herself feel proud. And, bear with, friends Tilly (Sally Phillips, Clatterford) and Clive (James Holmes, Psychoville) will be sharing such fun with Miranda on her big day.
The final two episodes of Miranda — "I Do, But to Who?" and "The Final Curtain" — debut on Christmas Day at 7:15 PM and New Year's Day at 8 PM, respectively, both on BBC One.
Fans of Miranda in the US will have to wait to see if Acorn TV and/or Hulu will add these last episodes to the 18 from Series 1-3.
__________________
Add your comments on our Facebook, Google+, and Twitter pages.
My, What I Call, Holiday Ho Ho Oh No: Last Two Episodes of 'Miranda' Ever