The Season One DVDs for DCI Banks, Death in Paradise, and Scott & Bailey — three of the highest-rated British TV programs that premiered exclusively on local public television stations in the US — are finally here.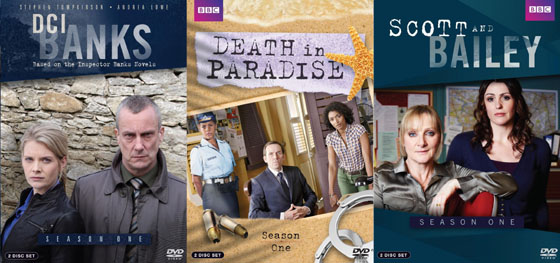 The first season of DCI Banks, Death in Paradise, and Scott & Bailey debuted on select local PBS member and independent public television stations within the past 15-18 months, and the DVDs were available for preorder for the past 12 months, give or take. So I am happy to say that, as of today, they have been released at last.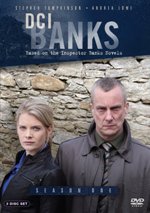 DCI Banks: Season One

Good detective dramas are supposed to be gripping and engrossing, and that is what DCI Banks is. It is also gritty, includes gruesome murders, and delivers great stories based on the novels by Peter Robinson.
DS Annie Cabot (Andrea Lowe, Murphy's Law), previously in the Professional Standards department, has joined DCI Alan Banks (Stephen Tompkinson, Wild at Heart) to investigate crimes instead of fellow cops. In "Playing with Fire," she becomes involved with an art expert while he assists her on a case of art forgeries, a scam that could have been behind two arson deaths and could make Annie the killer's next target.
Two seemingly unrelated murders are the focus of "Friend of the Devil" — one of a young woman, the other of a teenage girl. When a member of Banks' team is also murdered in the same manner as one of the victims, Annie is convinced there is a connection between all three. All she needs to prove it is the evidence.  And "Cold is the Grave" has the team investigating the killing of an armed robber while Banks is (unofficially) asked by his boss to bring his runaway daughter home. Links between the two situations arise, as does the possibility of a conspiracy.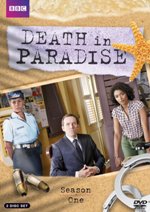 Death in Paradise: Season One

When the mystery series Death in Paradise first arrived on telly, it was a breath of fresh air, and not just because the setting is the (fictional) Caribbean island of Saint-Marie. It is as humorous as it is clever, and therein lies the fun of it.
Ben Miller (Primeval) stars as DI Richard Poole, an English keep-calm-and-carry-on (until he doesn't) copper from The Met in London. His arrival on the island is for the investigation of the murder of a fellow detective, and his subsequent stay is the source of his displeasure and occasional friction with DS Camille Bordey (Sara Martins, Paris, Je T'Aime) and Officers Dwayne Myers (Danny John-Jules, Red Dwarf) and Fidel Best (Gary Carr, Downton Abbey).
Poole might suffer from fish-out-of-water-itis and a lack of social graces, but his knack for piecing together unlikely clues means he's the man who solves the cases — whether it involves the murder of a new bride, a lothario, or a prisoner in his custody.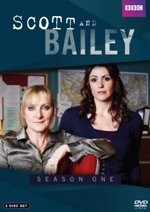 Scott & Bailey: Season One

With just the first episode, the BAFTA-nominated Scott & Bailey skyrocketed into my list of favorite British TV shows. It has everything you'd want in a good police procedural (crimes, inestigations, culprits getting nicked) as well as the good, bad, and ugly of a solid drama (relationships, relationships, relationships).
What makes it so compelling a watch is the authenticity. Its crime stories could be those covered by your local news, and its characters could be people you know. Individuals who work hard, have rows, and screw up royally — whether on or off the job. In this series, we get to see it all play out for friends and fellow detectives DC Rachel Bailey (Suranne Jones, Vincent) and DC Janet Scott (Lesley Sharp, Starlings), and to a lesser degree for their boss DCI Gill Murray (Amelia Bullmore, Twenty Twelve).
Season One includes two arcs — Janet's unofficial cold case investigation into the decades-old murder of a childhood friend and Rachel's turbulent relationship with her lover, a womanizing, married-with-children barrister — alongside self-contained storylines involving various cases of manslaughter and murder.
If crime dramas and crime dramedies are your thing, check them out.
—————————
DCI Banks, Death in Paradise, Scott & Bailey Season One DVDs