Hooray! The hit British crime drama, DCI Banks, is coming to PBS stations in cities across the U.S. starting this week!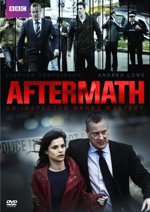 Adapted from novels in the bestselling Inspector Banks Mystery series by award-winning author Peter Robinson,
DCI Banks
stars Stephen Tompkinson (Ballykissangel, Wild at Heart) as long-time cop Detective Chief Inspector Alan Banks. For those who haven't read the books (such as me), we learn in the pilot episode, "Aftermath," that he is devoted to his work in Yorkshire, divorced with two children, and a jazz fan (of Miles Davis, at least).
In Aftermath",
Banks discovers the home of a serial rapist and murderer after two of his officers responded to a domestic disturbance call and found an injured woman and the dead bodies of four girls who'd been reported missing. A fifth girl, also missing, might still be alive, and Banks wants to find her, but he has to wait for the suspect to come out of a coma to interrogate him. During his investigation he meets DS Annie Cabbot (Andrea Lowe, The Tudors, Murphy's Law), a cop from Professional Standards who's arrived on the scene to investigate one of the officers for assault.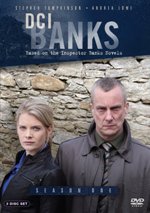 The pilot, which aired on ITV in the UK in 2010, was utterly engrossing, and a full series of three stories was commissioned. They included "Playing with Fire," in which Banks and Cabbot are on the hunt for an arsonist/murderer; "Friend of the Devil," in which they investigate murders in different parts of Yorkshire that are disturbingly similar; and "Cold Is the Grave," in which Bank's superior, Chief Superintendent Gerry Rydell (Colin Tierney, Cracker, Island at War), asks Banks to find his missing daughter.
Those aired in 2011, after which a second series was commissioned. As with the first, it consisted of three two-part episodes adapted from the stories "Strange Affair," "Dry Bones That Dream," and "Innocent Graves," which were broadcast in Q3 2012.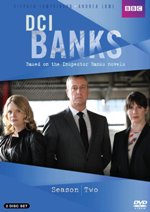 As of this writing, most of the 60 public television stations carrying DCI Banks begin premiering it this month, many this week. To find out if your local PBS station is one of the 60 and for air dates and times, check out the chart (PDF) that Robinson provides on the Inspector Banks website.
(Note that there are actually way more than 60 stations. Many of the ones listed on the PDF are networks that comprise multiple stations. Please see our complete list of stations here.)
For viewers in the Washington, DC area, WETA UK debuted "Aftermath" yesterday, but fear not if you missed it! The station is re-airing it today at 4PM Eastern and again on Saturday, 5 January, at 6:30PM.
UPDATE: See "DCI Banks Returning for Third Series" for a list of stations that have added the show to their schedules. All told, there are 166 (!) PBS and independent public television stations that carry the program.
—————————
DCI Banks Coming to PBS Stations! [UPDATED]