More hit British TV shows are making their way to this side of the pond, thanks to dozens of local PBS stations. Following on the heels of their airing DCI Banks and Death in Paradise comes the hit ITV detective drama Scott & Bailey.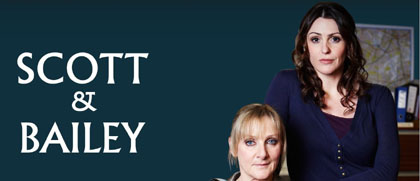 This BAFTA-nominated Scott & Bailey
(Best Drama Series 2012) stars Suranne Jones (Five Days, Strictly Confidential) as DC Rachel Bailey and Lesley Sharp (Afterlife, The Shadow Line) as DC Janet Scott, homicide detectives assigned to the Manchester Metropolitan Police department's Major Incident Team headed up by DCI Gill Murray (Amelia Bullmore, Ashes to Ashes, Twenty Twelve).
Based on an idea by the BAFTA-nominated Jones and fellow Coronation Street cast member Sally Lindsay, and created and written by BAFTA-nominated writer Sally Wainwright (Unforgiven, also staring Jones) and former real-world detective Diane Taylor, Scott & Bailey is a character-centric police procedural drama that delves into the lead characters' personal and professional lives as well as the crimes they investigate.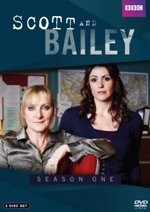 The show's focus on their friendships, working partnerships, and relationships with their families and significant others gives viewers an authenticity not found in many other programs in this genre and a whole other dimension from which to develop a vested interest in the characters themselves, not just in their solving crimes and catching bad guys.
(These multidimensional aspects of the characters have paid off. The first two series of Scott & Bailey delivered consistently high viewership numbers, and ITV commissioned a third series, which is set to air aired in the UK in Spring 2013 and in the US not too long afterward.)
Scott, a married mum of two in her 40s, is smart, even-keeled, and in a marriage that is becoming untenable, leading to her having an affair with colleague DS Andy Roper (Sharp's real-life husband Nicholas Gleaves of Public Enemies and Survivors). She joined the police after her childhood friend, Veronica, was murdered and the case went unsolved.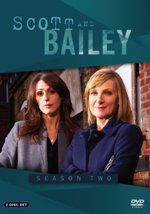 Bailey, on the other hand, is 30-something, single, and given to bouts of impulsive, take-no-prisoners behavior, which often lands her in hot water with Murray, amongst others. She's been having an affair with barrister Nick Savage (Rupert Graves, The Forsyte Saga, Garrow's Law), who, unbeknownst to her for the first two years of their relationship, is both married with children and a serial womanizer.
And Murray, who's been friends with Scott for many years, is a single mum who has her hands full with an ex-husband, teenage son, and demanding job, not to mention Bailey.
The personal storylines in Scott & Bailey thread one episode to the next, and certain investigations. e.g. Veronica's unsolved murder, make up arcs through each season's episodes. So, to get the lowdown on who did what to whom (and I don't mean just crimes based in law), it's best to watch the series from the beginning. The PBS stations listed below are currently airing or (as of today) will be airing Scott & Bailey. Check your local listings for dates and times.
UPDATE: Many stations are still airing Series 1 and 2 of Scott & Bailey, and since the start of September 2013, some have begun airing Series 3
(which is just as fabulous as the first two). Check your local listings for details.
UPDATE 2: This is the FULL LIST of PBS member stations and independent public television stations airing the first three series of Scott & Bailey.
| State | City | Station |
| --- | --- | --- |
| ARIZONA | Phoenix | |
| ARKANSAS | Arkadelphia, El Dorado, Fayetteville, Jonesboro, Little Rock, Mountain View | |
| CALIFORNIA | Los Angeles | |
| CALIFORNIA | San Diego | |
| CALIFORNIA | San Francisco/Oakland, San Jose | |
| CONNECTICUT | Bridgeport, Hartford, New Haven, Norwich | |
| DISTRICT OF COLUMBIA | Washington, DC | |
| FLORIDA | Tampa/St. Petersburg | |
| GEORGIA | Atlanta | |
| IDAHO | Boise, Coeur d'Alene, Moscow, Pocatello, Twin Falls | |
| ILLINOIS | Carbondale (Paducah, KY/Cape Girardeau, MO/Harrisburg, IL) | |
| ILLINOIS | Chicago | |
| IOWA | Council Bluffs, Davenport (Quad Cities), Des Moines, Fort Dodge, Iowa City, Mason City, Red Oak, Sioux City, Waterloo | |
| KENTUCKY | Ashland, Bowling Green, Concinnati/Covington, Elizabethtown, Hazard, Lexington, Louisville, Madisonville, Morehead, Murray, Owensboro, Owenton, Paducah, Pikeville, Somerset | |
| MARYLAND | Annapolis, Baltimore, Frederick, Hagerstown, Oakland, Salisbury | |
| MASSACHUSETTS | Boston | |
| MICHIGAN | Detroit | |
| MINNESOTA | Minneapolis/St. Paul | |
| MISSISSIPPI | Biloxi, Booneville, Bude, Greenwood, Jackson, Meridian, Oxford, Starkville | |
| MISSOURI | Kansas City | |
| NEVADA | Las Vegas | |
| NEW HAMPSHIRE | Durham, Keene, Littleton | |
| NEW JERSEY | Camden, Montclair, New Brunswick, Trenton | |
| NEW YORK | Buffalo | |
| NEW YORK | Garden City/New York City | |
| NEW YORK | New York City | |
| NEW YORK | Plattsburgh | |
| NEW YORK | Watertown | |
| NORTH CAROLINA | Asheville, Chapel Hill/Raleigh-Durham, Charlotte/Concord, Edenton/Columbia, Greenville, Jacksonville, Linville, Lumberton, Roanoke Rapids, Wilmington, Winston-Salem/Greensboro/High Point | |
| OHIO | Bowling Green | |
| OHIO | Dayton/Portsmouth, Oxford/Cincinnati | |
| OHIO | Cleveland/Akron, Youngstown | |
| OREGON | Bend, Corvallis, Eugene, La Grande, Portland | |
| TEXAS | Dallas | |
| TEXAS | San Antonio | |
| UTAH | Salt Lake City, Richfield, St. George | |
| VERMONT | Burlington, Rutland, St. Johnsbury, Windsor | |
| VIRGINIA | Charlottesville, Richmond | |
| WASHINGTON | Seattle | |
| WASHINGTON | Spokane | |
| WEST VIRGINIA | Grandview/Bluefield-BeckleyHuntington, Morgantown | |
| WISCONSIN | Milwaukee | |
| WISCONSIN | Green Bay, La Crosse, Madison, Menomonie (Eau Claire), Park Falls, Wausau | |
| WYOMING | Casper, Lander (Riverton), Laramie (Cheyenne) | |
—————————
Hit Detective Series Scott & Bailey Comes to Local PBS Stations [UPDATED]