In "What to Watch When Felled by the Flu," I mentioned the hit BBC One program Death in Paradise. A number of PBS affiliate stations across the U.S. have been airing it or will be, so if you haven't seen it yet and enjoy mysteries, I've put together a list of the stations where you can watch it.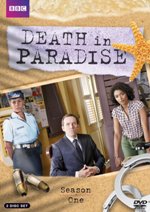 But first, a bit about the program. Death in Paradise
is a crime dramedy starring Ben Miller (Primeval, The Worst Week of My Life) as DI Richard Poole, a detective with the Metropolitan Police who's been sent from the UK to the (fictional) Caribbean island of Sainte-Marie to investigate the murder of the inspector there. (The series is filmed on Guadeloupe.) Once done, and much to his dismay, he must stay on as the new police chief.
He isn't out of his depth as far as detective work goes, but he is out of his element in the sun, sand and surf, and thus opts to remain in his suit, tie and dress shoes while he searches for clues to solve cases. Although Poole asks, "Why are the most obvious things the hardest to see," he eventually does see them, and uses his skills in deduction to get the culprits.
Working with Poole are Officers Dwayne Myers (Danny John-Jules, Red Dwarf) and Fidel Best (Gary Carr, Silent Witness), and DS Camille Bordey (Sara Martins, Maigret, Paris, Je T'Aime), a former undercover detective whose cover was blown during the investigation of the previous inspector's murder. Her relationship with Poole reminds me of that between Martin and Louisa on Doc Martin. So, too, does the show itself, with its quirkiness and low-key drama and comedic bits.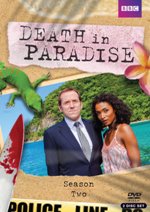 Storylines are clever, characters are engaging, and popular British TV actors appearing as guest stars abound. They include Lenora Crichlow (Being Human), Paterson Joseph (Survivors), Nicholas Farrell (Torchwood), Miranda Raison (MI-5), Sarah Smart (Wallander), Shirley Henderson (Hamish Macbeth), Lisa Faulkner (New Street Law), Adrian Dunbar (Line of Duty), and Danny Webb (The Bill).
Series One aired on BBC One in 2011 and delivered strong ratings. Series Two is currently airing and ratings have been even higher. A third series was commissioned last month and is expected to will air in 2014.
All in all, Death is Paradise is delightful and well worth a watch. Here's a clip:
And here's the list of the PBS stations airing Death in Paradise:
UPDATE: This is the FULL LIST of PBS member stations and independent public television stations airing Series 1 and 2, and the upcoming Series 3, of Death in Paradise. Check your local listings for dates and times.
| State | City | Station |
| --- | --- | --- |
| ARIZONA | Phoenix | |
| ARIZONA | Tucson | |
| CALIFORNIA | Fresno | |
| CALIFORNIA | Los Angeles | |
| CALIFORNIA | San Diego | |
| CALIFORNIA | San Francisco/Oakland, San Jose, Watsonville | |
| COLORADO | Denver, Durango, Grand Junction, Pueblo/Colorado Springs, Steamboat Springs | |
| CONNECTICUT | Bridgeport, Hartford, New Haven, Norwich | |
| DISTRICT OF COLUMBIA | Washington, DC | |
| DISTRICT OF COLUMBIA | Washington, DC | |
| FLORIDA | Pensacola | |
| FLORIDA | Tallahassee | |
| FLORIDA | Tampa/St. Petersburg | |
| IDAHO | Boise, Coeur d'Alene, Moscow, Pocatello, Twin Falls | |
| ILLINOIS | Carbondale (Paducah, KY/Cape Girardeau, MO/Harrisburg, IL) | |
| ILLINOIS | Charleston (Champaign/Springfield/Decatur | |
| ILLINOIS | Chicago | |
| INDIANA | Indianapolis | |
| IOWA | Council Bluffs, Davenport (Quad Cities), Des Moines, Fort Dodge, Iowa City, Mason City, Red Oak, Sioux City, Waterloo | |
| LOUISIANA | Alexandria, Baton Rouge, Lafayette, Lake Charles, Monroe, Shreveport | |
| MARYLAND | Annapolis, Baltimore, Frederick, Hagerstown, Oakland, Salisbury | |
| MASSACHUSETTS | Boston | |
| MICHIGAN | East Lansing | |
| MICHIGAN | Grand Rapids | |
| MINNESOTA | Minneapolis/St. Paul | |
| MONTANA | Billings, Bozeman, Great Falls, Kalispell, Missoula | |
| NEVADA | Las Vegas | |
| NEW HAMPSHIRE | Durham, Keene, Littleton | |
| NEW JERSEY | Camden, Montclair, New Brunswick, Trenton | |
| NEW YORK | Albany/Schenectady | |
| NEW YORK | Binghamton | |
| NEW YORK | Garden City/New York City | |
| NEW YORK | Plattsburgh | |
| NEW YORK | Rochester | |
| NEW YORK | Watertown | |
| NORTH CAROLINA | Charlotte | |
| OHIO | Columbus | |
| OHIO | Dayton/Portsmouth, Oxford/Cincinnati | |
| OHIO | Cleveland/Akron, Youngstown | |
| PENNSYLVANIA | Erie | |
| PENNSYLVANIA | Harrisburg | |
| SOUTH CAROLINA | Allendale, Beaufort, Charleston, Columbia, Conway, Florence, Greenville, Greenwood, Rock Hill, Spartanburg, Sumter | |
| TENNESSEE | Knoxville, Sneedville | |
| TENNESSEE | Memphis | |
| TEXAS | Killeen/Waco | |
| UTAH | Provo | |
| UTAH | Salt Lake City, Richfield, St. George | |
| VERMONT | Burlington, Rutland, St. Johnsbury, Windsor | |
| WASHINGTON | Tacoma | |
| WEST VIRGINIA | Grandview/Bluefield-BeckleyHuntington, Morgantown | |
| WISCONSIN | Milwaukee | |
—————————
List of PBS Stations Airing Death in Paradise [UPDATED]