The UK's Freesat Awards were held this past Tuesday, and the winners in the three categories most relevant to British TV fans in the US — Best TV Sitcom, Best TV Drama, and Best of British TV — are all available for stateside viewing right now.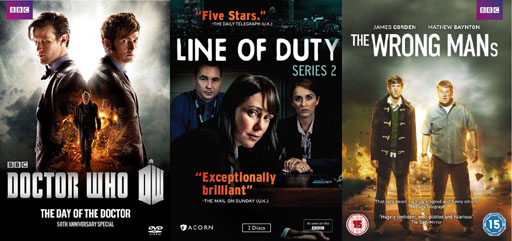 Best TV Sitcom: The Wrong Mans

Comedy-thriller serial The Wrongs Mans was up against sitcoms Birds of a Feather and Toast of London, comedy anthology series Inside No. 9, and Irish stage-show-turned-sitcom Mrs. Brown's Boys — and won.
Series creators James Corden (Gavin & Stacey) and Mathew Baynton (Peep Show) star as Phil Bourne and Sam Pinkett, office workers who decide to save a kidnapped woman despite a case of mistaken identity, and unwittingly become victims of their own heroics when they encounter an underworld crime boss, Russian spy, and MI-5 agent. The story was gripping and the comedic aspect was genius.
Check out The Wrong Mans exclusively at Hulu.
Best TV Drama: Line of Duty
The competition was fierce, and in the end the police corruption serial Line of Duty bested the psychological crime thriller The Fall, mystery-thiller miniseries Lucan (which hasn't screened in the US), detective drama Scott & Bailey, and mystery drama Sherlock.
Keeley Hawes' performance as DI Lindsay Denton, the primary suspect in the investigation of a police ambush that ended with the deaths of several officers, was hailed by the award judges as "nothing short of a masterclass in character acting." (Look for Hawes to receive a slew of Best Actress nominations for upcoming awards ceremonies.)
Catch Line of Duty exclusively at Hulu.
Best of British TV: Doctor Who: The Day of the Doctor
The game was on for the top honors in the flagship category. The nominees: variety series Ant & Dec's Saturday Night Takeaway, feature-length sci-fi special Doctor Who: The Day of the Doctor, period drama Downton Abbey, mystery drama Sherlock, and celebrity competition program Strictly Come Dancing.
The winner: the Doctor Who 50th Anniversay special The Day of the Doctor — a thrilling tale of choices, consequences, and courage that took Whovians across time and space with one companion, two alien forms and not just three but thirteen Doctors. The judges' proclamation: "There is nothing more British than this programme."
Get your "nothing more British" on and watch The Day of The Doctor at Amazon Instant Video,
TheBBCStore on YouTube, Google Play, and Vudu.
—————————
Freesat Awards 2014: The Winners to Watch in the US