Headlines are made when a member of the British monarchy gets wed or gives birth. In advance of Prince George's birth, the documentary film Born to Royalty was made, and Royal watchers in the US who missed seeing it in theatres can now get an inside look on what his life as an heir to the throne might be like when it airs on local PBS member stations.
Narrated by Hugh Bonneville, Born to Royalty
reveals the nature and nuances of growing up a future monarch since the days of Queen Victoria. Archival footage, photographs, commentary, and anecdotes from Margaret Rhodes, a first cousin of Queen Elizabeth (and author of the memoir The Final Curtsey),
a former bodyguard of Princess Diana, and former Royal staff members, including biographers, correspondents and photographers, offer insights into the changing ways the Royal Family has raised their children.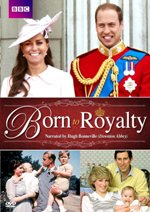 As we explore the childhoods of members of this "symbol of continuity and stability both in Britain and abroad," we glimpse how traditional and strict upbringings, such as that of King George VI, have given way to the more modern and relaxed parenting styles of Prince Charles and Princess Diana and the Duke and Duchess of Cambridge, William and Kate.
Of particular note is what we witness and glean about the current reigning monarch, Queen Elizabeth II — from her forebears and youth as the future queen, to her descendants and their families, including the now six-month-old Prince George of Cambridge.
Since Born to Royalty was released just prior to Prince George's birth, commentators could only speculate about his upbringing at time the film was being made, but knowing now that William does, in fact, change his son's nappies, doesn't diminish the entertainment factor.
Following are the local PBS and independent public television stations airing Born to Royalty.
Check your local listings for broadcast dates and times.
| State | City | Station |
| --- | --- | --- |
| ARKANSAS | Arkadelphia, El Dorado, Fayetteville, Jonesboro, Little Rock, Mountain View | |
| CALIFORNIA | San Francisco | |
| COLORADO | Denver, Durango, Grand Junction, Pueblo/Colorado Springs, Steamboat Springs | |
| CONNECTICUT | Bridgeport, Hartford, New Haven, Norwich | |
| DISTRICT OF COLUMBIA | Washington, DC | |
| FLORIDA | Miami/Ft. Lauderdale/West Palm Beach | |
| FLORIDA | Pensacola | |
| FLORIDA | Orlando | |
| FLORIDA | Tampa | |
| GEORGIA | Athens/Atlanta, Chatsworth, Cochran/Macon, Columbus, Dawson, Pelham/Albany, Savannah, Waycross, Wrens/Augusta | |
| GEORGIA | Atlanta | |
| ILLINOIS | Chicago | |
| INDIANA | Indianapolis | |
| IOWA | Council Bluffs, Davenport (Quad Cities), Des Moines, Fort Dodge, Iowa City, Mason City, Red Oak, Sioux City, Waterloo | |
| MICHIGAN | Detroit | |
| MINNESOTA | Minneapolis/St. Paul | |
| MISSISSIPPI | Biloxi, Booneville, Bude, Greenwood, Jackson, Meridian, Oxford, Starkville | |
| NEVADA | Las Vegas | |
| NEW MEXICO | Albuquerque | |
| NEW YORK | Albany/Schenectady/Troy | |
| NEW YORK | Buffalo | |
| NEW YORK | Garden City/New York City | |
| NEW YORK | New York City | |
| NEW YORK | Plattsburgh | |
| NEW YORK | Rochester | |
| NORTH CAROLINA | Asheville, Chapel Hill/Raleigh-Durham, Charlotte/Concord, Edenton/Columbia, Greenville, Jacksonville, Linville, Lumberton, Roanoke Rapids, Wilmington, Winston-Salem/Greensboro/High Point | |
| OHIO | Cincinnati | |
| OHIO | Cleveland | |
| OHIO | Columbus | |
| OHIO | Youngstown/Akron | |
| RHODE ISLAND | Providence | |
| TENNESSEE | Memphis | |
| TEXAS | Dallas | |
| VIRGINIA | Richmond | |
| WASHINGTON | Seattle | |
| WISCONSIN | Milwaukee | |
—————————
Born to Royalty Airing On Local PBS Stations (On Some Stations, Tonight!)