Sundance Now released today the trailer for Season 2 of thriller anthology series The Pact, which features a new storyline and cast, led by BAFTA winner Rakie Ayola.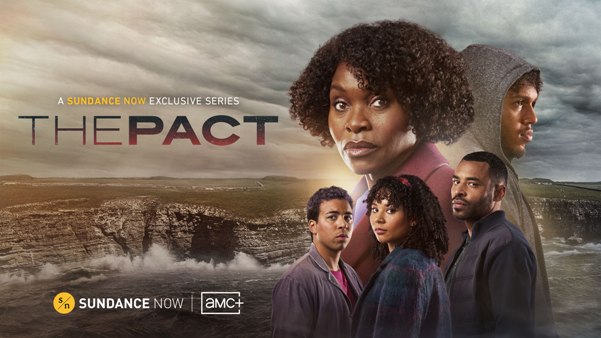 Created by Pete McTighe (A Discovery of Witches, Clickbait), Season 2 of The Pact maintains the Welsh setting and its focus on secrets and lies, but tells a whole new story with a brand-new cast led by Rakie Ayola (Grace, Black Mirror), whom you might remember from Season 1 — although here she plays a totally different character.
Social worker Christine (Rakie Ayola) and her adult children — Will (Lloyd Everitt, The Sandman, Flack), Jamie (Aaron Anthony, Emmerdale Farm, Behind Her Eyes), and Megan (Mali Ann Rees, Keeping Faith, Fflam) — are trying to move on after the tragic death of their son and brother, Liam. As Megan's wedding approaches, all of their lives are turned upside down when a stranger, Connor (Jordan Wilks, Lagging, The Devolution of the Species), arrives in town, claiming a surprising connection to the family.
There is much debate over whether to meet this stranger, and loyalties are tested even before a decision is made. Ultimately, though, the siblings meet the man who claims to share their DNA — a strange loner from out of town and the spitting image of their long-dead brother, Liam. As Christine realizes her hold over her family is under threat, she seeks to keep Connor at bay, denying his claims. But it's clear to Connor that Christine is keeping a dark secret, and he is determined to uncover the truth.
The Pact: Season 2 has its SVOD premiere in the US and Canada with two episodes on Thursday, August 31, exclusively on Sundance Now and the AMC+ streaming bundle. Additional episodes will drop weekly on Thursdays on both platforms.
A project of Cardiff-based Little Door Productions, this season is written by Pete McTighe along with Joy Wilkinson (Lockwood & Co.), who scripted two episodes, and directed by Nicole Volavka (The Bay) and Christiana Ebohon-Green (Outlander). It is executive produced by McTighe, Elwen Rowlands, Hayley Manning, Ben Irving, Helen Perry, Rakie Ayola, and Adam Knopf.
__________________
As an affiliate of Amazon and other cos, affiliate links on this blog allow us to earn income from qualifying actions (at no extra cost to you).

The Pact: Sundance Now Drops Trailer for Thriller Series' Second Season