Paramount+ has announced the global premiere dates for historical crime drama miniseries The Gold, as well as details about film spinoff series Sexy Beast.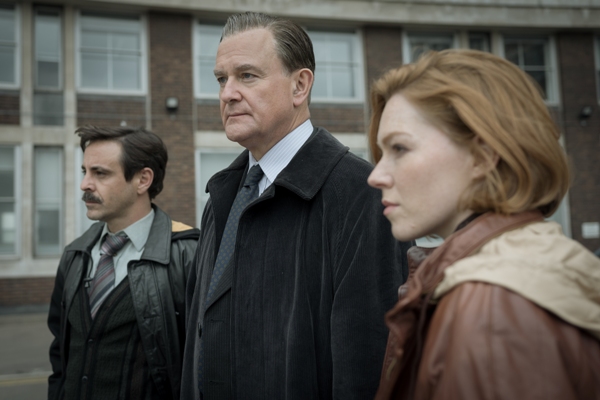 Paramount+'s announcement for key internationally-produced originals comes as the service's international slate of content sees strong performance amongst its global subscribers and continues to expand with 85 international originals already produced, in production, or greenlit for Paramount+. Two of them are The Gold and Sexy Beast.
The Gold
The Gold is inspired by the real-life events that took place on  November 26, 1983, when six armed men broke into the Brink's-Mat security depot near London's Heathrow Airport, and inadvertently stumbled across gold bullion worth £26 million (roughly £112.3 million / US$143.3 million / €130.3 million in today's value).
According to detectives at the time, what started as "a typical Old Kent Road armed robbery" became a seminal event in British criminal history, not only for the scale of the theft but for its wider legacy. It was the biggest theft in world history then, leading to the heist being called "the crime of the century." The subsequent disposal of the bullion led to the birth of large-scale international money laundering, provided the dirty money that helped fuel the London Docklands property boom, united blue and white collar criminals, and left controversy and murder in its wake.
Created and written by Neil Forsyth (Guilt), The Gold stars Hugh Bonneville (Downton Abbey, Paddington 1 and 2) alongside Jack Lowden (Slow Horses, Small Axe: Mangrove), Dominic Cooper (The Preacher, Spy City), Charlotte Spencer (Sanditon, Ted Lasso), Tom Cullen (Becoming Elizabeth, Knightfall), Emun Elliott (Guilt, Trust Me), Sean Harris (Southcliffe, Mission: Impossible- Fallout), Ellora Torchia (Grantchester, The Split), and Stefanie Martini (Prime Suspect: Tennison, The Last Kingdom).
The Gold premieres in international markets — Canada, the UK, Australia, Latin America, the Caribbean, Austria, France, Germany, Ireland, Italy, Switzerland, and South Korea — with all episodes on Thursday, September 14. In the US, the series premieres with two episodes on Sunday, September 17, with new episodes being released weekly through October 15.
Co-produced by Tannadice Pictures, an Objective Fiction partner, and Paramount Television International Studios, The Gold is distributed by Paramount Global Content Distribution outside of the Paramount+ markets.
Sexy Beast
Sexy Beast the series is a prequel to Sexy Beast, the 2000 British crime drama film starring Ray Winstone, Ben Kingsley, and Ian McShane.
The series stars James McArdle (Mare of Easttown, Angels in America) as Gal Dove and Emun Elliott (The Gold, The Rig) as Don Logan — best friends and small-town thieves living the good life in '90s East London. Sarah Greene (Bad Sisters, Normal People) plays Deedee, a captivating adult film star, who has the potential to turn Gal's life upside down. Stephen Moyer (True Blood, Shots Fired) is Teddy Bass, a rising name in the gangster world, with whom Gal and Don are offered the chance to work on a high profile heist. And Tamsin Greig (Episodes, Friday Night Dinner) plays Cecilia, Don's stern and formidable older sister.
The prequel explores Gal and Don's complicated relationship, as Gal finds himself descending into the seductive madness of the London criminal world during the vibrant and volatile 1990s, while falling in love with Deedee.
Sexy Beast is produced by AC Chapter One Pictures, Anonymous Content, and Paramount Television International Studios. It is distributed by Paramount Global Content Distribution outside of the Paramount+ markets. The premiere date will be announced in due course. Stay tuned for updates.
In addition to The Gold and Sexy Beast, Paramount+'s announcement also includes news about three new series from South Korea and one from Latin America. You can read about them on The Global TV Place.

__________________
As an affiliate of Amazon and other cos, affiliate links on this blog allow us to earn income from qualifying actions (at no extra cost to you).
The Gold: Paramount+ Sets Premiere Date for Historical Crime Drama Miniseries