The second season of the terrific mystery series Dalgliesh is set for its multi-territory premiere (yay!), opening with "Death of an Expert Witness."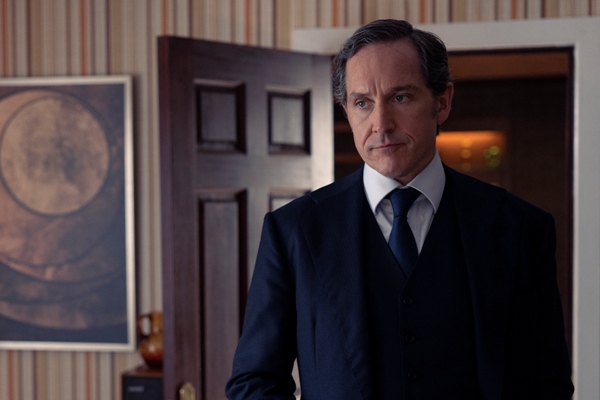 The motive for murder is usually one of three things: money, power, or sex/love (not the same, but in the same ballpark for the purpose here). And all three of these could have been the motive for the central murder in "Death of an Expert Witness" — the first two-part whodunit in Season 2 of Dalgliesh, which is based on the eponymous novel in P.D. James's "Adam Dalgliesh Mysteries" series. (For folks who are sticklers about this, I can assure you that this adaptation hews closely to the source material.)
Returning as the poetry-writing, Jaguar-driving, crime-solving Detective Chief Inspector Adam Dalgliesh is Bertie Carvel (The Crown, Jonathan Strange & Mr. Norrell). Also reprising her role from Season 1 is Carlyss Peer (The Crown, Doctors) as DS Kate Miskin.
The story opens with Dalgliesh doing a public reading from his poetry book, which is selling briskly in America, such that the publisher wants him to do a book tour in the States. At the same time, the dead body of a girl is discovered in a clinch pit in an area of Norfolk. But it's another death that causes the police commissioner at Scotland Yard to send Dalgliesh and Miskin from London to the East of England.
It is the murder of Dr. Lorrimer, the senior forensic biologist who was at the dead girl's crime scene and is the story's titular expert witness. As Dalgliesh and Miskin investigate the case, they learn that the victim was brilliant in his work at Hoggatt's Forensic Laboratory, but also that, by most accounts, he was an insensitive, abusive boor. He was more besides, both in positive and negative ways, which the detectives learn with further questioning of potential suspects (including new ones) and others who knew him.
Then there's another death. Was it a suicide or a homicide? Dalgliesh is convinced it was murder and that this death is connected to Dr. Lorrimer's; he just needs to work out how — and find the murderer.
Both episodes of Dalgliesh: Death of an Expert Witness premiere tomorrow, Monday, April 24, in North America, Australia, and New Zealand, exclusively on Acorn TV.
(For viewers in the UK, "Death of an Expert Witness" launches with the first episode on Thursday, April 27, at 9 PM, on Channel 5, followed by the second episode on Friday, April 28, at the same time.)
Guest stars in the two-part story include Margaret Clunie (Andor), Deborah Findlay (The Split), Stuart Graham (Harry Wild), Richard Harrington (Gangs of London), Sam Hoare (Grace), Carolina Main (Blood), and Dominic Rowan (Law & Order: UK), amongst others.
__________________
As an affiliate of Amazon and other cos, affiliate links on this blog allow us to earn income from qualifying actions (at no extra cost to you).

Dalgliesh: Season 2 of Terrific Mystery Series Opens with "Death of an Expert Witness"