IFC has announced the US premiere date for the British comedy series Hullraisers, which will be available for streaming on Sundance Now and AMC+. Check out the trailer.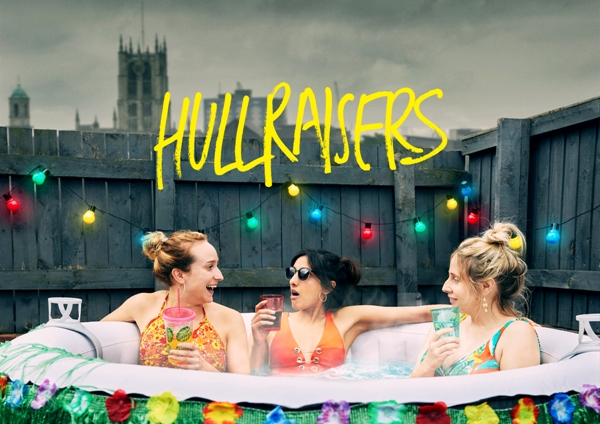 Adapted from the Israeli sitcom Little Mom and with a second season commissioned, the hilarious British comedy series Hullraisers follows the messy yet joyful lives of three working-class women living in the Yorkshire city of Hull as they navigate the ups and downs of life, friendship, and family.
Toni (Leah Brotherhead, Whitstable Pearl, Bridgerton) is a whirlwind of chaos. Mother to her young daughter, Grace (Matilda Firth, The Power), and partner to her soul mate, Craig (Perry Fitzpatrick, Line of Duty), Toni is a self-described actress who longs to leave Hull.
Rana (Taj Atwal, Line of Duty, Cold Call) is Toni's best mate. She's a police officer and a sexually-confident woman who can't even think about settling down and having kids.
And Paula (Sinead Matthews, The Crown, Midsomer Murders) is Toni's down-to-earth and self-deprecating older sister. Married to Dane (Yanick Ghanty, Coronation Street), her childhood sweetheart and Rana's big brother, she's a mum like Toni, but unlike her, Paula can't imagine being anywhere other than Hull.
Hullraisers: Season 1 premieres in the US on Wednesday, April 5, at 11 PM ET/PT, on IFC, with new episodes airing weekly through May 10. The full six-episode season will be available to binge on Sundance Now and AMC+ the same day.
Season 1 is written by Lucy Beaumont (Meet the Richardsons), Caroline Moran (Raised by Wolves), and Anne Marie O'Connor (Trollied), and directed by Ian Fitzgibbon (Raised by Wolves).
__________________
As an affiliate of Amazon and other cos, affiliate links on this blog allow us to earn income from qualifying actions (at no extra cost to you).

Hullraisers: British Comedy Series Gets US Linear & Streaming Premiere Date