Fans of The Last Kingdom, rejoice! Seven Kings Must Die, a film sequel to the series, premieres globally next month. Check out the trailer!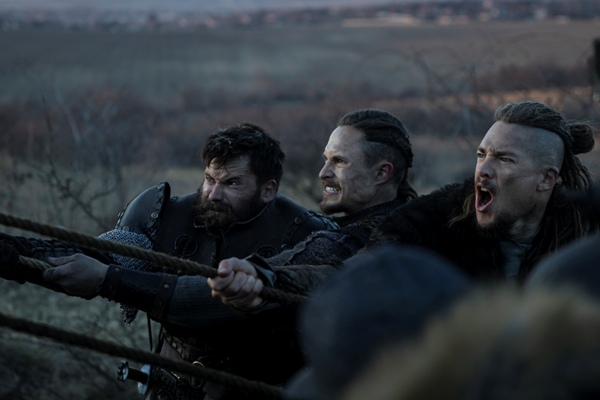 Based on Bernard Cornwell's best-selling series of "Saxon Stories" historical novels, the action drama series The Last Kingdom will return to the screen one more time, this time as the feature film Seven Kings Must Die.
The two-hour sequel sees Alexander Dreymon (American Horror Story) reprise his lead role as the great warrior Uhtred of Bebbanburg alongside The Last Kingdom alums Mark Rowley (The Spanish Princess) as Finan, Arnas Fedaravicius (The Wheel of Time) as Sihtric, Rod Hallett (Outlander) as Constantin, Harry Gilby (Tolkien) as Aethelstan, James Northcote (SS-GB) as Aldhelm, Ross Anderson (The King's Man) as Domnal, and Ewan Horrocks (Domina) as Aelfweard.
Also in the cast are Ingrid García Jonsson (Apaches), Laurie Davidson (Will), Zak Sutcliffe (No Offense), Tom Christian (Gangs of London), and Nick Wittman (Strike Back).
In the film, a battle for the crown ensues following the death of King Edward, with rival heirs and invaders competing for power. When an alliance seeks Uhtred's help in their plans, Uhtred faces a choice between those he cares for most, and the dream of forming a united England.
Seven Kings Must Die, a Netflix Film, premieres globally on Friday, April 14, exclusively on Netflix. (You can set a reminder for it now.)
__________________
As an affiliate of Amazon and other cos, affiliate links on this blog allow us to earn income from qualifying actions (at no extra cost to you).

Seven Kings Must Die: New Film Returns Viewers to "The Last Kingdom"