Nurses and nuns. Headstrong heroines and heiresses. And a queen. These are some of PBS's "Strong Women," coming soon to a screen near you. Check out their teaser!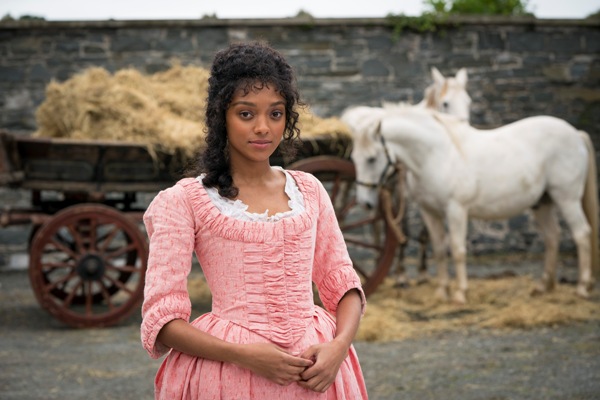 In just under two weeks, a couple of fan-favorite dramas return to PBS with new seasons, joined by a brand new series — all three of which feature women who demonstrate their own brand of strength. And that's just for starters.
From midwives and nuns who handle all manner of crises while helping to bring new life into the world, to young women who face the prejudices of their time head on to forge their own paths in the world, these "sisters are doin' it for themselves" as well as for others — all with a bit of humor, style, and romance.
Call the Midwife: Season 12 — Premieres Sunday, March 19, 8 PM ET
It's 1968, and the nuns and nurses from Nonnatus House welcome a new nun, Sister Veronica (Rebecca Gethings, The Serpent Queen), who is an instant hit with everyone — except Nurse Crane (Linda Bassett, C.B. Strike). And tensions arise in Poplar following Enoch Powell's "Rivers of Blood" speech.
Sanditon on Masterpiece: Season 3 — Premieres Sunday, March 19, 9 PM ET
In the third and final season of this period drama inspired by Jane Austen's unfinished novel, Charlotte Heywood (Rose Williams, Reign) returns to Sanditon, where she and Alexander Colbourne (Ben Lloyd-Hughes, The Ipcress File) have an awkward reunion. Other goings-on in the seaside resort include Georgiana Lambe (Crystal Clarke, Roadkill) 21st birthday celebration, although things aren't exactly fun for her when she is called on to meet a startling new challenge.
Marie Antoinette — Premieres Sunday, March 19, 10 PM ET
Emilia Schüle (Berlin Dance School) stars in this new drama as Marie Antoinette, a teenager when she leaves Austria to marry the dauphin of France (Louis Cunningham, Bridgerton). With pressure to continue the Bourbon line and secure the Franco-Austrian alliance, she must follow the complex rules of the French court while attempting to charm her reluctant king-to-be, Louis XVI. Transforming into the Queen of Style and a true fashion icon, Marie Antoinette tries to recreate Versailles in her image: free, independent, and feminist. But defamatory pamphlets and persistent rumors about her private life undermine her status, and her opponents within the Royal Family do everything they can to bring her down.
And coming soon…
Tom Jones on Masterpiece — Premieres Sunday, April 30, 9 PM ET
This four-part adaptation of The History of Tom Jones, A Foundling by Henry Fielding, one of the greatest novels in the English language, offers a new twist to the tale of a young man's love for a wealthy heiress. Starring Solly McLeod (The Rising) as Tom, Sophie Wilde (You Don't Know Me) as the heroine Sophia, and Hannah Waddingham (Ted Lasso) as the iconic temptress Lady Bellaston, Tom Jones brings mid-18th-century England to life in all its passion, prejudice, luxury, and loose morals.
__________________
As an affiliate of Amazon and other cos, affiliate links on this blog allow us to earn income from qualifying actions (at no extra cost to you).

PBS Releases "Strong Women" Teaser Video in Advance of Upcoming Program Premieres