Acorn TV, AMC+, and BBC America jointly announced today the US premiere date for the third and final season of the hit crime drama Happy Valley.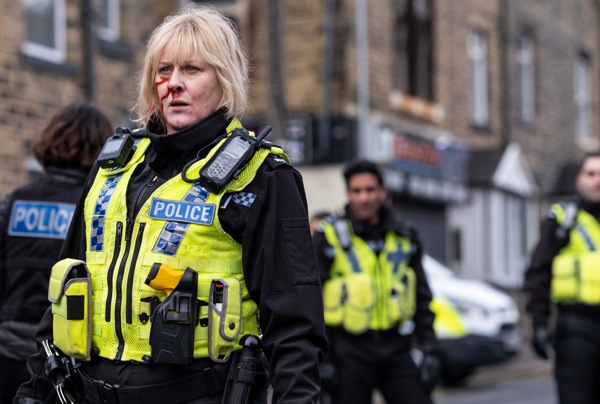 Without any further ado, Season 3 of Happy Valley — the multi-BAFTA Award-winning series created and written by multi-award winner Sally Wainwright (Scott & Bailey, Gentleman Jack) — will premiere in the US starting Monday, May 22, exclusively on Acorn TV, AMC+, and BBC America (at 10 PM ET/PT). New episodes will debut weekly on all three.
In the epic and unmissable final season of Happy Valley, which is set seven years after the events in Season 2, Sergeant Catherine Cawood (Sarah Lancashire, Julia, Last Tango in Halifax) discovers the remains of a gangland murder victim, sparking a chain of events that unwittingly leads her straight back to murderer and rapist Tommy Lee Royce (James Norton, McMafia, Little Women). Meanwhile, Catherine's grandson, Ryan (Rhys Connah, The Runaways), now sixteen years old, has ideas of his own about what kind of relationship he wants to have with Tommy, the man Catherine still refuses to acknowledge as his father.
Still battling the seemingly never-ending problem of drugs in the valley and those who supply them, Catherine is on the cusp of retirement. Will she solve this final case?
The six-episode final season also sees Siobhan Finneran (Downton Abbey) returning to her iconic role as Clare Cartwright, the devoted sister of Catherine.
Here's what we can expect in Season 3:
Episode 1 (May 22) — When Catherine discovers the remains of a murder victim, it bizarrely leads her straight back to Tommy Lee Royce.
Episode 2 (May 29) — Catherine learns of a painful betrayal close to home. Pharmacist Faisal (Amit Shah, The Other One) comes under increasing pressure from all sides.
Episode 3 (June 5) — Catherine confronts Clare and presents Ryan with an ultimatum. Faisal and Halifax local Joanna (Mollie Winnard, All Creatures Great and Small) hatch a plan that takes an unexpected turn.
Episode 4 (June 12) — As Tommy's big day approaches, Catherine becomes suspicious, and Ryan finds a new way to defy her.
Episode 5 (June 19) — Catherine races to protect her family. A murder investigation begins.
Episode 6 (June 26) — On Catherine's final shift, scores are settled for good and Ryan faces a moral dilemma.
For folks in the US who need/want to catch up on/rewatch Seasons 1 and 2, here's how:
Acorn TV: Season 1 is available now, with Season 2 available to binge starting Monday, April 3
AMC+: Both seasons are available to binge now
BBC AMERICA: Catch a Season 1 marathon from Monday, May 8, through Wednesday, May 10, when two back-to-back episodes begin airing at 11 PM ET/PT. The same two-episode scheduling applies to the Season 2 marathon, which will air Monday, May 15, through Wednesday, May 17, starting at 11 PM ET/PT, again.
Happy Valley: Season 3 is a Lookout Point production for the BBC, co-produced with AMC Networks. Episodes in Season 3 are directed by Sally Wainwright, Patrick Harkins (Guilt) and Fergus O'Brien (Gentleman Jack), with Jessica Taylor serving as producer. Executive producers are Sally Wainright and Sarah Lancashire, with Faith Penhale and Will Johnston executive producing for Lookout Point, and Ben Irving and Rebecca Ferguson for the BBC. BBC Studios, who wholly own Lookout Point, is handling the distribution of the series.
__________________
As an affiliate of Amazon and other cos, affiliate links on this blog allow us to earn income from qualifying actions (at no extra cost to you).

Happy Valley: US Premiere Date Set for Season 3 of Hit Crime Drama