Today Peacock released the official trailer for the its new Original cyber thriller series The Undeclared War. Check it out!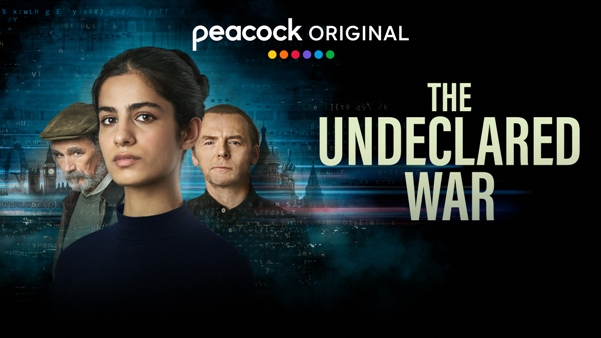 Set in 2024, The Undeclared War tracks a leading team of analysts buried in the heart of GCHQ, secretly working to ward off a series of cyber-attacks on the UK in the run up to a general election. When a routine stress test of internet infrastructure goes awry, 21-year-old GCHQ intern Saara Parvan (Hannah Khalique-Brown, Doctors, Muse) suddenly finds herself operating on the invisible frontier of high-stakes cyber warfare.
In a thrilling cat-and-mouse game, Saara and the team at GCHQ must try to stay one step ahead and anticipate their opponents' every hidden move. The clock is ticking as a battle with high stakes and unpredictable enemies takes place entirely online, with very real consequences.
The series is a result of meticulous research by BAFTA award-winning creator Peter Kosminsky (Wolf Hall, The Government Inspector, Britz), lifting the veil on the most urgent battle of our time.
Said Peter Kosminsky, writer, director, and executive producer:
"The Undeclared War has been many years in the making. It imagines how the next few years might play out in the domain of cyber warfare – a battle unseen by the public but with potentially devastating consequences. In my work, I've tried to shine a light on aspects of publicly policy which affect us all but where the details of what is taking place, often behind the scenes, are not well understood. I hope this drama will give audiences an insight into a world certain to impact our lives significantly in the years ahead."
The cast of the six-part, hour-long drama includes Mark Rylance (Wolf Hall, Bridge of Spies), Simon Pegg (Star Trek, Mission: Impossible), Adrian Lester (Riviera, Mary Queen of Scots), Alex Jennings (This Is Going to Hurt, The Crown), and Maisie Richardson-Sellers (DC's Legends of Tomorrow, The Originals), amongst others.
The Undeclared War, a Peacock Original series, premieres in the US in its entirety as a binge-drop on Thursday, August 18, on Peacock.
__________________
As an affiliate of Amazon and other companies, ads & affiliate links on this blog allow us to earn income from qualifying actions and purchases (at no extra cost to you).

The Undeclared War: Peacock Releases Official Trailer for New Cyber Thriller