If you haven't watched sci-fi series The Man Who Fell to Earth on Showtime, here's your chance to stream the first three episodes for free on Pluto TV.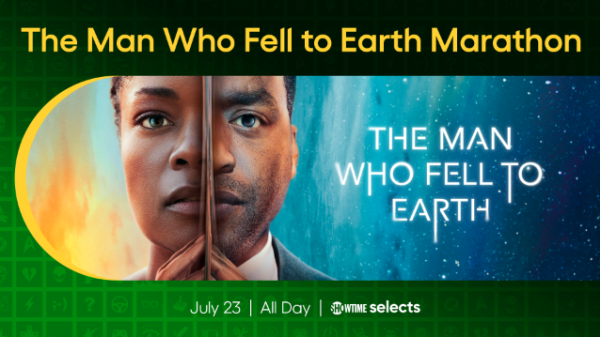 Tomorrow, Saturday, July 23, the Showtime Selects channel on Pluto TV (channel 215) will be running a marathon of the first three episodes of The Man Who Fell to Earth, which stars Academy Award® nominees Chiwetel Ejiofor (12 Years a Slave, Dancing on the Edge) and (Naomie Harris, Moonlight, Skyfall) in the lead roles.
Inspired by Walter Tevis's novel of the same name and the iconic film that starred David Bowie, this sci-fi drama follows an alien (Chiwetel Ejiofor) who arrives on Earth at a turning point in human evolution. He has come in search of Justin Falls (Naomie Harris), a brilliant scientist and engineer and the only person on this planet who can help save his species. As he is forced to confront his own past and she her own demons, together they discover that, in order to save his world, they must first save ours.
The ten-episode series costars Jimmi Simpson (Star Trek: Prodigy), Rob Delaney (Catastrophe), Sonya Cassidy (Vera), Joana Ribeiro (Das Boot), Annelle Olaleye (Ted Lasso), Kate Mulgrew (Star Trek: Voyager), Clarke Peters (Foundation), and Bill Nighy (Love Actually).
The Man Who Fell to Earth premiered in the US exclusively on Showtime back in April to favorable reviews by both critics and the general audience. And tomorrow you can stream the first three episodes of the series — without a subscription to the premium channel — on the Showtime Selects channel on advertising-supported Pluto TV.
__________________
As an affiliate of Amazon and other companies, ads & affiliate links on this blog allow us to earn income from qualifying actions and purchases (at no extra cost to you).

The Man Who Fell to Earth: Stream Sci-Fi Series Marathon for Free on Pluto TV